Scorpion Covert Solid Helmet
Item # : 535629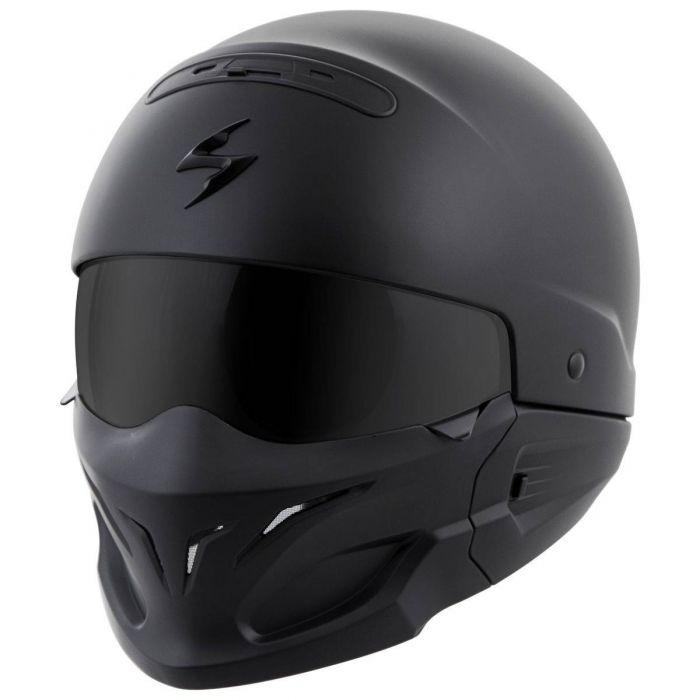 Scorpion Covert Solid Helmet
Item # 535629
Description
Scorpion Covert Solid Helmet
Scorpion adds a whole lot of "but wait, there's more" to the classic half shell with the Scorpion Covert Helmet. They start off strong with a tune-able ventilation system. Next they mix in a no-frills drop down sun visor system. One pull on a tab lowers the shades then pushing the same tab retracts them; it couldn't be easier. Snapping in a rear bottom sleeve transforms your lid into a 3/4 helmet and helps to muffle some of the cries from your lives-saving exhaust. Despite the extra coverage, Scorpion's Kwikwick liner keeps your head in the game by channeling heat and humidity up to the ventilation ducts to be piped out the back. You'll be cool as a cucumber. But wait, there's more. Attaching the front mask shields your pretty face from bugs, and you-name-it debris as you're blasting down the interstate. If you're one who frequently needs to transition from being seen to only heard, the Scorpion Covert is there for missions ranging from the twisties to the impossible.
Features:
Advanced Polycarbonate shell
SpeedView internal tinted sun visor with EverClear no fog coating
Kwikwick 2 anti-microbial fabric liner
Dual density EPS
Easily removable front mask with neodymium magnets included
Aero-tuned ventilation system
Removable ear flaps
Double D-ring chinstrap system
DOT approved
Comes with dark smoke installed and an additional clear visor for night-time riding.
Reviews
Rated

4

out of

5
by
Danesa
from
Great style with a few glitches.
I got my Scorpion Covert in the mail today and did a quick ride. Here are my first impressions. First the good. I bought this helmet primarily because of its looks. It really is a bit of stand out. I road to work today and had it on my desk and my co-worker who is not into bikes made a comment about how good it looked. So non-motorcycle people pick up on its style. The fit is true to size. I wear an XL and it is spot on. No tight spots or pressure points. The visor is optically clear. It's light and comfortable. That's the good. There are a couple of issues on the negative side. The magnets that hold the chin bar in place are only attached with white two-sided tape. On the third time I took the bar out the magnet dropped to the floor. Not a big deal, but two sided tape seems a cheap way out. A little gorilla glue and all is well. Secondly because of the shape the viewing area it is much smaller than a standard modular or full face helmet. It took a bit to adjust to a limited viewing area. Third, this is a loud helmet. The wind blows through all kinds of places which makes it cool but as I said, noisy. Lastly if you regularly wear glasses this helmet is not that accommodating. For me, the temple and forehead fit snugly and trying to put glasses on after puts a lot of strain on the arms of my glasses. So I have to take the chin bar off and put it on with my glasses on, no problems, then put the chin bar on after. Same with taking it off. Chin bar comes off and then I can take the helmet off. This is in part because of the small opening and snug fit. Not a big deal but it is a bit of process. As mentioned time and again by users and several times in the book that comes with it, this is a half helmet, not a full face so protection is limited. Overall a nice addition to the helmet collection. One last little thing, would it kill Scorpion's budget to put a couple of stickers in the box. I need to decorate my lunch kit with something.
Date published: 2018-07-19
Rated

5

out of

5
by
Renato
from
Great looking helmet
I bought this helmet on my trip do Canada and now, back here in Brazil, I'm loving it. Great fit and great ventilation. A little noisy, but that's ok. I love the sound of my bike. Also the two lenses included are awesome. I can use the darker during the day and still use the clear at night.
Date published: 2018-11-19
Rated

4

out of

5
by
Peg citys PRINCE
from
Own the road with this lid
I bought this lead about 2 months ago and I thoroughly enjoy it. It is the definition of owning the road with this lid! Everytime I wear it out criusin, I get compliments. The only issue I have with this helmet is that any speed over 80 kilometers per hour creates an Extremely Loud wind tunnel sound effect which becomes deafening on Long rides
Date published: 2017-10-27
Rated

4

out of

5
by
Karlito66
from
Great look!
Great looking and comfortable. The only big issue, very noisy above 70 km/h. Excessive wind noise drowns engine and even sirens.
Date published: 2017-09-23
Rated

5

out of

5
by
Dean
from
Scorpion Covert Ratnik Phantom Helmet
Great helmet, fits well. Before ordering check out the Scorpion helmet sizing chart. Going one size up as recommend for a full face helmet is good advise as I did this and the helmet fits perfectly. Not sure of the noise level rating as I wear ear plugs. Air flow vent I have not tried yet as the weather was not to warm. Going from a half helmet to a full face helmet there is narrower vision with the Scorpion.
Date published: 2019-04-19
Rated

5

out of

5
by
yves bedard
from
Super trois dans un !! Viens avec 2 visières un teinté et une clair !! Tres confortable En mode intégral pour le froid et en mode ouvert lorsqu il fait chaud !! Niveau sonore tres bas !!! Vraiment satisfait !!
Date published: 2017-05-06
Rated

5

out of

5
by
Meldi
from
J'a i acheté ce casque pour un cadeau. la personne est super contente.
Date published: 2019-11-18
Rated

4

out of

5
by
Phil101
from
Tres beau look
Le casque a un look qui fait sensation. Il a fallut que je le retourne du que la forme de ma tête ne correspondait pas avec la forme du casque. Pas de chance.
Date published: 2019-11-18
Questions
For which type of head it is 
This helmet is designed for an intermediate oval head shape.
Date published: 2020-02-17
Will the scorpion covert allow installation of Sean 20s ebony headset? If not what modular do you recommend?
Unfortunately, no. The Sena 20S would not fit the Scorpion Covert Solid Helmet. The type of modular that would be compatible is any with a flat side on the helmet to install the Sena module.
Date published: 2019-09-23
Is this helmet snell approved
This helmet is unfortunately not Snell approved - only DOT.
Date published: 2018-08-24
Have a scorpion exo 750. Would sizing be the same?
Yes, it should be very similar
Date published: 2019-10-15
I wear large glasses. Will this helmet fit with them?
If your glasses are larger in height than the average pair of sunglasses and go above your eyebrows you'll find that the helmet will push your glasses down slightly when you put the helmet on. Once the lid is on you may be able to adjust your glasses (with the visor up) and slide them between your face and the helmet if they're thin enough. I wear sunglasses underneath Without any issues. 
Date published: 2018-05-01