Scorpion EXO-AT950 Solid Helmet
Item # : 535518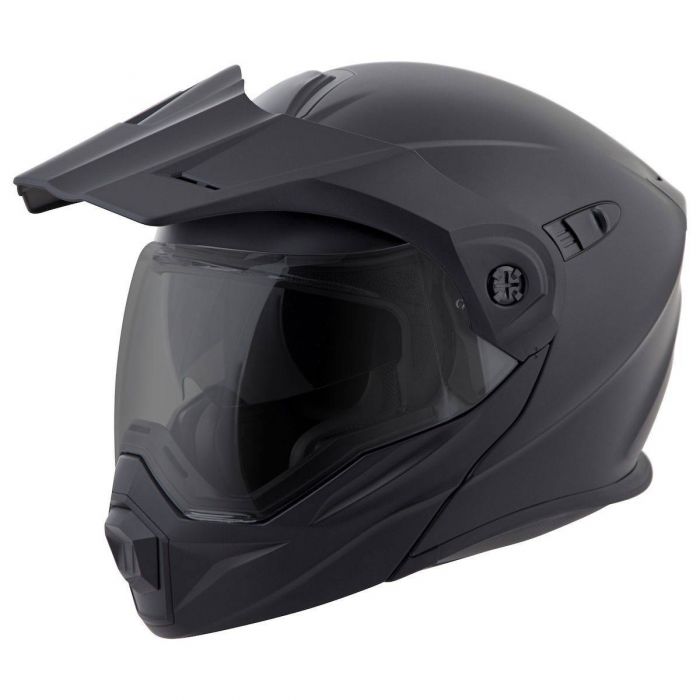 Scorpion EXO-AT950 Solid Helmet
Item # 535518
Description
Scorpion EXO-AT950 Solid Helmet
Scorpion has redefined a segment, melding the best features of touring helmets with the versatility of an off-road lid. Scorpion EXO-AT950 Helmet is the all-in-one swiss army knife of the helmet world. The modular chin bar allows you to relieve your claustrophobia or ask for directions while the off-road style peak and large eye port deflects roost, blocks the sun and allows you to wear googles when tearing up the trails. Additional features such as a Everclear anti-fog face shield and Speedview drop-down internal sun visor keeps your vision clear and ready for whatever is around the next corner. If you're going to be hitting the highway, the peak visor is easily removed to give you an aerodynamic profile so you can bug out at speed. Eyeglass compatible cheek pads and a KwikWick II liner ensures total comfort.
Features:
Advanced LG Polycarbonate shell engineered to be lightweight, strong and maximize impact displacement
Dual Density EPS advanced multi-layer EPS provides superior energy displacement
Intake vents on top force cool air in while exhaust vents maximize movement of hot air out of the helmet
Dual position mouth vent 1st position acts as defroster and 2nd position acts as defroster and ventilation
Ellip-Tec Ratchet System uses an elliptical motion that creates 7.6mm of travel which pulls the shield securely against the eye port, ensuring a proper seal and allows for 100% tool-less shield changing in a matter of seconds
EverClear No-Fog Face Shield optically-clear shield with state-of-the-art fog-free technology, anti-scratch hardened coating, 100% UV-A & UV-B protection
Wide eye port (11cm tall) allows for greater peripheral vision and downward visibility
EverClear SpeedView drop down sun visor features EverClear anti-fog coating on both surfaces
KwikWick II anti-microbial helmet liner keeps you cool and dry in warm weather, and warm in cool weather
Kwikfit cheek pads allow easy on and off of the most common styles of eye glasses.
Easy-use flip-up chin bar allows the chin bar to be raised or lowered with either hand.
Communication system speaker pockets
Removable block off plates included for use when visor is not on helmet
Folding metal visor hardware
DOT
5 year warranty
Note: Equipped with dark smoke EverClear SpeedView drop-down sun visor. Clear face shield included, dark smoke and other face shield options are sold seperately
Reviews
Rated

5

out of

5
by
Mike
from
Good protection
I bought this helmet about 2 months ago and it did a great job protecting my head in the accident I had 3 weeks ago!!!
Date published: 2017-09-21
Rated

4

out of

5
by
cj_rezz
from
Great helmet especially for the price. I find it quiet, about the same as my Shoe Multitec, great vision through the large visor, sunshade works well, peak doesn't cause any issues at all. Love that it's a modular dual sport helmet. My Sena SMH10 fit in the helmet well. The chin skirt is a nice touch. Cons: you really have to close the flip up portion of the helmet with intention otherwise it doesn't latch which could be dangerous. The first opening on the visor is at about 3/4" open, wish it was smaller just to crack it a tad for fogging. Although visor is anti-fog, it did fog up on me on a mountain pass when I pulled over to put on warmer clothes. I was standing still and when I started moving the airflow seemed to clear it up again. Although it says it's compatible with eyeglasses, there really isn't much of a channel for the arms of your glasses and it does create a very slight pressure point with my sunglasses with thicker arms. For a dual sport helmet, I wish the vents were more substantial. Even with these drawbacks, it's still a great helmet and I would buy it again for the price. Sizing: I ordered a size up from what the measuring guide suggested like others have recommended and I'm glad I did.
Date published: 2018-07-16
Rated

4

out of

5
by
Bighopper
from
Great Looking Helmet But Tight Fitting
I purchased the 2X which is my size on my Neo-Tech, but the Scorpion was a very tight fit. So had to return. Waiting for the 3X to become available. I did like the big opening & looking forward to riding with one.
Date published: 2017-02-17
Rated

5

out of

5
by
Rocket
from
Great overall value.
This helmet is well made and very versatile. It dose fit a little tight at first so getting a size up is a good idea.
Date published: 2017-09-19
Rated

5

out of

5
by
XLCC
from
The perfect helmet
I bought this helmet to replace an LS helmet .Both good lids but this Scorpion has a flip up chin bar.This lid has very good vision.I like the sun shade.The locking system is positive and does not shake around.The quietest helmet I've owned.I was in some rain and foggy conditions and it didn't fog up.If the clear screen had a detent position so it would stay open about an eighth inch just enough to let in some fresh air that would be best.The top vent I can not tell any difference if it is open or closed.The chin vent works fine.Being able to lift the chin bar and talk to someone at a border crossing or get directions or spit is what I was looking for.I just returned from a 6840 kms. ride to Death Valley and back with my new helmet and are very happy with this helmet.
Date published: 2018-05-09
Rated

4

out of

5
by
Honda Guy
from
Great performance for the price
Been riding with this helmet for a month now and have been very happy with it. I wear a size L motocross helmet and got a size L AT950. The fit is excellent for me other than the cheek pads being tight when new. Its fairly quiet at speed with minor wind noise and a faint whistle. Its quiet enough for me to ride comfortably without ear plugs. Ventilation is adequate but not outstanding and it doesn't fog easily. Surprisingly I noticed next to no difference with the sun peak on or off. It doesn't lift at all even with strong head winds or a semi truck wake. Pull when looking to the side is about the same whether its on or off. It does its job and doesn't provide any downsides. The sun visor is one of the best features, I love being able to flip it up or down as needed with a flip of the switch. Its just dark enough without being overly dark. Some reviewers wish for a darker tint but I find it comfortable on bright days with the sun in my eyes. Field of view is massive. There is no obstruction to my peripheral vision, the low-cut face shield allows me to see my controls on the bike without looking down and there's only a small amount of helmet visible looking up. Overall I'm very happy with the helmet for the price. I think you would have to spend a lot more to really get a noticeably better adventure helmet.
Date published: 2018-08-26
Rated

4

out of

5
by
rideflight
from
Good value.
Good Helmet with nice features. Fit nicely and comfortable, a bit snug on the cheek, it should loosen up with time. Vision is great, except for the very upper part of the shield where there is a bit of distortion. Overall, this is a nice helmet for the price.
Date published: 2017-05-05
Rated

4

out of

5
by
2buckfifty
from
Nice helmet
Great quality at a Reasonable price. Very pleased. Good visor and sunshade works well.
Date published: 2017-07-04
Questions
Is this helmet good for snow and cold weather?
This is the summer motorcycle version of the helmet. You can find the snow versions under the snowmobile section for scorpion helmets.
Date published: 2020-01-29
Did you choose a bigger size than suggested? Sizes look similar to my shoei rf1200
For Scorpion full face helmets, we recommend selecting the size above the size suggested by the size chart
Date published: 2019-12-27
Is the padding removable to accommodate the install of a comm system?
This helmet has communication system speaker pockets, so it will accommodate most, if not all, comms systems
Date published: 2019-09-04
Could anybody with the matte black version just confirm what colour the 'S' logo is? In some pictures it's chrome and others it's black. Thanks!
I have matte grey. It's silver logo. You could probably make it black with a sharpie. Hopefully someone with a black answers you.
Date published: 2018-04-03
stupid question time.... does the visor ACTUALLY do anything? will it be a pain in the neck at high speeds such as 100 kph or more?
Apparently its to reduce the rocks and dust raining down on your goggles from the rider in front of you...its not a sun visor.
Date published: 2019-10-07
Does the shield that comes with it work with pinlock or do I need to buy a separate shield?
This shield or visor is not compatible with pinlock, but it does not have a tendency to fog.
Date published: 2018-12-21
I NEED A QUIET HELMET FOR RIDING ON HIGHWAY. IS THIS ONE QUIET ENOUGH ??
No. The Scorpion AT-950 is not a quiet helmet, however few modular helmets can be considered quiet. The AT-950 is the best bang-for-buck modular adventure helmet available. The Shuberth E1 will probably be quieter, but is super expensive.
Date published: 2017-10-31
I was wondering if any body could tell me what kind of fastening mechanism that this helmets has?
It has a double d-ring type fastener.
Date published: 2018-08-06