Scorpion EXO-ST1400 Carbon Helmet
Item # : 660456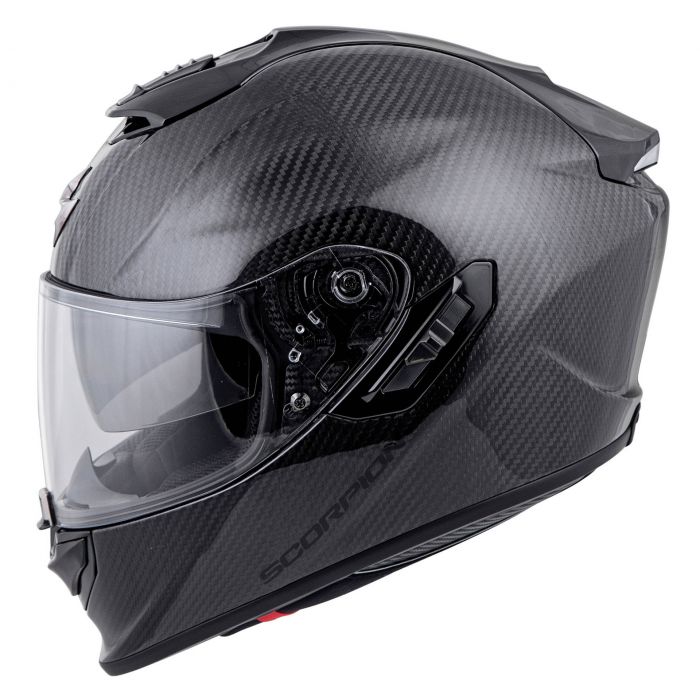 Scorpion EXO-ST1400 Carbon Helmet
Item # 660456
Description
Scorpion EXO-ST1400 Carbon Helmet
The EXO-ST1400 is Scorpion's top-of-the-line carbon fiber helmet with resin-infused TCT-U 3K composite weave for superior impact energy protection. The AirFit system allows for a personalized fit no matter your riding style, while the 3D sculpted cheek pads are both eyeglass-friendly and quick-release in case of emergency. The Scorpion ST1400 includes not only a breath deflector and chin curtain, but also a Pinlock-ready face shield and insert lens in addition to the Everclear face shield.
Features:
Resin-infused TCT-U 3K carbon fiber shell composite weave provides aircraft-grade impact dispersal properties
CAD-refined aerodynamics resulting in a streamlined profile and balanced footprint minimizing both lift and turbulence for a smoother, quieter and more stable ride
Aero-tuned ventilation comprised of a Venturi-effect channeling system linked via adjustable dual ram-air intakes and spoiler integrated exhaust
AirFit inflation adjustment system provides user-defined fit customization not only for comfort but for specific riding situations ranging from spirited canyon rides to long distance tours
Fully removable, washable and replaceable Kwikwick III anti-microbial interior absorbs and dissipates odor and humidity
Speaker pockets allow for easily installation of BlueTooth communication system speakers
KwikFit 3D sculpted cheek pads accommodate eyeglasses
Large eye port design creates a superior horizontal and vertical visual field
Distortion free, no-fog Everclear internal Speedview sun visor features 99% protection from UVA and UVB rays
Everclear no-fog treated face shield with integrated center locking mechanism ensures a secure and evenly distributed seal across the eye port
Additional Pinlock MaxVision face shield and Pinlock anti-fog insert lens included
Adjustable chin bar vent intake redirects airflow to the interior surface of the shield reducing fog build-up
Ellip-Tec II ratchet system featuring a 2-axis movement pulls the face shield firmly into the eye port gasket for maximum seal while preset City Position adjustment provides added airflow for stop-and-go riding
Emergency quick-release cheek pad system
Integrated reflective piping on cheek pads
Includes breath deflector and chin curtain
3 shell sizes for a precision fit
DOT/ECE approved
5-Year warranty
Reviews
Rated

5

out of

5
by
muffy514
from
Best helmet I have ever used!
Ryan F9's review on youtube of this helmet is spot on! The helmet is light and fits my head perfectly. I wear a 7 1/2 new era hat size which put me in the max range of the large model, putting it on it is excellent and with the air bag system which tightens the cheek and neck area the helmet really clamps down. Driving at highway speeds the helmet does not lift or shift at all, very secure. Some complaints online (revzilla review stated that the sun visor does not come down far enough, I personally did not find this to be an issue at all, finding that the sun visor is more than sufficient. I also wore a pair of oversize Ray-Ban sunglasses and were suprised to find they fit in without any issue. The aero on the helmet is top notch as well, a huge improvement over the HJC i70 i bought in the spring, this thing cuts through the wind and provides easy ability to check blind spots at highway speeds. The only negative i can find is that it is not a very quiet helmet, that is not to say it is overly loud it is still a large improvement over the before mentioned HJC i70 model. Also the "city position" of the visor seems to click closed when approaching about 70km/h on my naked bike. Overall i would obviously highly recommend this helmet. I am extremely happy with this purchase.
Date published: 2019-08-06
Rated

5

out of

5
by
TheDijon
from
Great helmet
Really light, the sun visor does poke out a little bit after a while, but nothing blocking your view. Probably something you could fox yourself as well. All in all a great helmet
Date published: 2019-11-18
Rated

5

out of

5
by
jledou1
from
Très bon casque léger.
J'ai acheté la casque il y a 1 mois et très satisfait. Fait beaucoup de kilomètre et pas d'inconvénient ou d'inconfort. Le air fit système fonctionne très bien. Pour moi que du positif.
Date published: 2019-09-10
Rated

5

out of

5
by
Kelownalowrider
from
Quietest helmet I have owned in 49 years of riding
Have had the helmet for a month, it is amazingly quiet, comfortable, and lightweight.
Date published: 2019-08-28
Rated

5

out of

5
by
Thierry
from
Je suis très content de ce casque. Le seul petit détail est que la forme de casque a rendu la pose de mon communicateur bluetooth un peu difficile.
Date published: 2019-08-28
Rated

5

out of

5
by
Lonewolf379
from
Excellent helmet
One Saturday in July I bought myself a birthday present and got this helmet. Shipping was very fast. Helmet came in on the next Thursday. At first I was very upset. I couldn't even get it on, the neck roll wouldn't fit around my head. Finally got it on and have been wearing it for about a month anytime I'm on the highway. I got the 2XL and it does not move when it is on. While the neck roll has compressed it is still tight putting it on and off, I have to wear a balaclava to make it slide on and off easier. I tried it with and without the neck curtain and did not notice a difference in noise level. Air flow is much better without the neck curtain in it. The top and chin vents work well and I have not felt hot in the helmet despite some up to 8 hour days on the bike, and wearing a neck tube and balaclava, plus having a big beard. Noise level is much better compared to my Scorpion Covert, but that is to be expected. Airbags are a nice touch and do help make the helmet quieter when inflated, and help secure it in place. Tinted visor works excellent and I have no issues with how far down it goes. I have not noticed the main visor clasp interfering with vision when the visor is open as some have complained. My only issue is that it is so tight to put on or take off, that is not the helmets fault but simply my head size. If you can handle the tight on and off, or dont mind wearing a balaclava to help slide the helmet on/off easier, then I highly recommend this helmet. Super light weight (3lbs), quiet (I still wear earplugs), built in tinted visor, reasonable price, ECE rated, and a very reasonable price for a quality helmet then you can't really go wrong.
Date published: 2019-08-27
Rated

4

out of

5
by
John
from
First real helemet
I have had a few helmets since first starting to ride 2 years ago. This one was purchased for the long haul. The first one I purchased from Fortnine was too large, but it was returned without problems, and the second fits very well. Tight fit, comfortable and good vision. Fogs easily due to fit, controlled with anti fog spray. Integrated sun visor appears to have been made with inferior plastic, and is a bit dull. Wind noise is considerably decreased from my previous helmets.
Date published: 2019-08-28
Rated

5

out of

5
by
maximusprime
from
Hits the spot
Everything about this helmet is amazing. You definitely get your money's worth.
Date published: 2019-09-05
Questions
There are 3 shell sizes but you offer 6, what are the real shell sizes?
Shell size is different to helmet size. Helmet manufacturers may produce one shell size for all the small fitments, another for all medium and a third larger shell moulding for all larger helmets. The size of the padding then varies between sizes. In this case XS through MD share a shell, XL through 2XL share sizes, and L gets its own shell.
Date published: 2019-09-05
How much does it weigh ? In grams
1440gr, says so in the video!
Date published: 2019-10-07