Scorpion Tempest Waterproof Gloves
Item # : 535780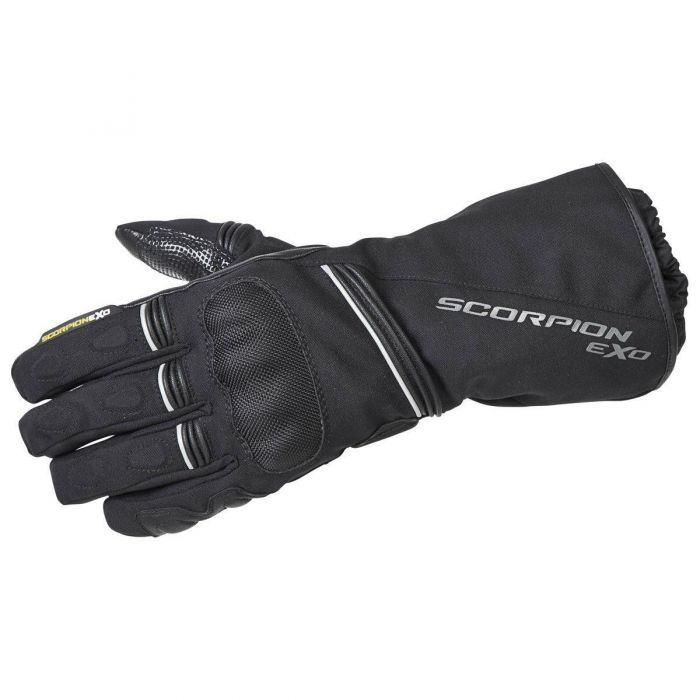 Scorpion Tempest Waterproof Gloves
Item # 535780
Description
Scorpion Tempest Waterproof Insulated Gloves
You can have your favorite motorcycle all set up with all the custom parts you want and have the best riding gear, but if your hands are cold and wet from water running down your sleeves you won't be enjoying your ride. That's why Scorpion came up with the Scorpion Tempest Gloves - waterproof insulated gloves with a unique double gauntlet that prevents water from running down your sleeve and getting your hands wet. One gauntlet goes inside your sleeve, and the other goes over your jacket, creating an effective barrier to water ingress. The Scorpion Tempest Gloves are insulated with 100g of Thinsulate to make sure your hands stay warm as well as dry. Now you're ready to ride through a tempest.
Features:
Unique double gauntlet with dual drain holes
Waterproof Hypora lining
100g Thinsulate insulation inside the waterproof liner
Palm does not have insulation to allow heated grips to be felt
Goat leather palm
Reinforced areas on gripping area with silicone gripping areas
Fully bonded palm for secure grip
4 way stretch materials on back of hand for excellent fit and comfort
Dual wrist closures
Hard knuckle protectors
Dual visor squeegee
Reflective piping
Reviews
Rated

3

out of

5
by
Big dog
from
Sized extremely small !!!
Bought these for a 10k km Great Lakes tour, mainly for the awesome features like knuckle armour, insulated (a little, not a winter glove), reflective accents, and the biggie: visor squeegee on each index finger. My normal gloves are XL, so I ordered the same. Big mistake. Can barely fit a scrunched up hand past the wrist. Can't extend fingers inside gloves when on either, but stayed warm and dry in 6hrs of thundrestores. Fortunately, SO wears a medium and these "xl" gloves fit her perfectly. Still looking for bigger gloves with these features...
Date published: 2017-08-10
Rated

5

out of

5
by
Dave
from
Parfait
La description est exact! chaud , impermeable et a l'épreuve du vent. Je roule tout les jours peut importe le froid (2°C) ou la pluie (déluge total) et je dois dire que vu leur prix c'est une aubaine. Très bonne investissement!
Date published: 2019-06-12
Rated

4

out of

5
by
Chucklebee
from
Warm and cozy
Trying to get this on can be a chore in itself especially with wet hands. Not the most dexterous gloves for riding dirt but plenty for road riding. It kept my hands warm but the backside was getting chilled during 5degree.celcius rides. I typically wear a size medium in mechanix gloves and the large fit perfectly for this glove.
Date published: 2019-03-21
Rated

2

out of

5
by
nordie
from
Tight Fit
Bought 3XL gloves for my 1XL hands. Too tight, so I returned. I didn't really care for the shape of the hard knuckes either. IMHO
Date published: 2019-03-15
Rated

5

out of

5
by
Pilsner3000
from
Sizing Review
Just a quick sizing review after just receiving my gloves. I plan to update this after the next riding season. I am an XL in Alpinestars and Rev'it gloves (9 1/4" hand), and went with a 2XL based on other reviews. They fit very well, snug but comfortable, with good insulation. The quality appears very good and the protection is adequate.
Date published: 2019-01-23
Rated

5

out of

5
by
Brazilian Nut
from
Great quality (but fits small)
Great quality you would expect for a 100.00 pair of gloves and very well insulated. I've ridden few times in October with temperatures close to 0oC and I didn't need to turn the heated grips. My actual size should've been medium but I bought large. (Maybe an XL wouldve been better but I am sure it will get better with time)
Date published: 2018-11-05
Rated

5

out of

5
by
Colgy13
from
Nice gloves for cold temp
I purchased these gloves for fall riding and it does a really great job, pretty comfortable and good protection. I haven't tried them during rain, but I'm sure they are waterproof to keep my hands dry. It is worth the price for all the features that Scorpion offers. Normally I wear XL, but I took 2XL and fits perfectly
Date published: 2018-11-05
Rated

4

out of

5
by
CaroMoto
from
Good Option for Women
Ladies who moto know how difficult it can be to find decent gear for women, especially decent gear that doesn't break the bank. The Scorpion gloves are sized quite small (as other reviews have pointed out) and fit women's hands well. I typically wear a women's medium glove and bought these in small. They fit perfectly. On to the glove itself, I have not had the opportunity to test the waterproofing. What I can say is that they are comfortable, warm (warm enough for late October on the West Coast anyway) and appear well constructed. The armour seems sold and there is a decent amount of impact protection around the palm. Despite the thickness, I can still manipulate my zipper pulls and operate my Cardo.
Date published: 2018-10-20
Questions
Are these gloves really waterproof and would they be to hot for 3 season riding?
Yes, the gloves are waterproof.  I purchased them last year and have worn many times in the rain.  For summer wear in the rain they are fine, not too hot.  But if it is not raining, they are a warm glove, and more appropriate for spring/fall/winter.  
Date published: 2018-08-06