Sena 10U Bluetooth Communication System
Item # : 297692
$350.99 - $389.99
$350.99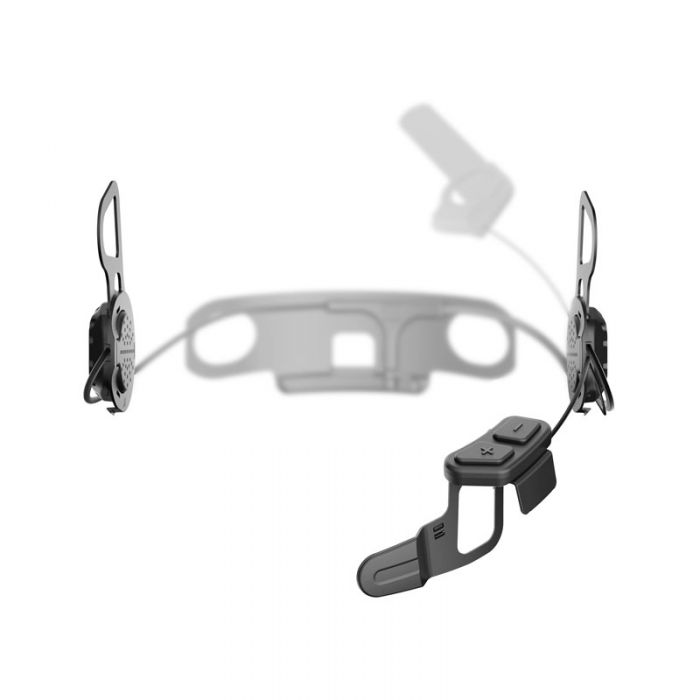 Sena 10U Bluetooth Communication System
Item # 297692
Description
Sena 10U Bluetooth Communication System
The Sena 10U is a motorcycle Bluetooth communication system with handlebar remote designed for premium helmet brands including Shoei and Schuberth. Reflecting Sena's commitment to providing real, innovative solutions for riders across the globe, the initial 10U release includes the support for the following helmets: Shoei GT-Air, Shoei Neotec, Schuberth C3/C3 Pro Shoei J-Cruise as well as the Klim Krios Helmet - with the possibility of more to come.
With Bluetooth 4.1 technology the 10U is an invisible beauty with custom design that fits into the helmet ear pockets allowing for easy and versatile use. The 10U features four-way intercom communication up to 1 kilometer with Universal Intercom™ and Group Intercom™ technology as well as intuitive voice prompts and voice commands. Through the use of innovative technology the 10U offers safe and easy operations with a wireless remote as well as a two-button control pad for emergency control.
If that isn't enough to take on the open road with ease and powerful connectivity, other key features include music sharing, built-in FM radio tuner, Advanced Noise Control™, external wired antenna for in-helmet with installation, up to 10 hours talk time and an exclusive smartphone app for iPhone and Android all while being firmware upgradeable.
Features
Bluetooth 4.1
Invisible beauty with custom design
Safe and easy operations by Bluetooth Low Energy Handlebar Remote
Bluetooth intercom up to 1 kilometer (in open terrain)
Four-way intercom
Voice prompts
Smartphone App for iPhone and Android
Built-in FM radio tuner with a station scan and save function
Universal Intercom™
Music sharing
Advanced Noise Control™
Firmware upgradeable
General
Talk time: 10 hours
Dimensions (main module)

Microphone with control unit: 77 mm x 68 mm x 58 mm (3.0 in x 2.7 in x 2.3 in)
Bluetooth
Bluetooth 4.1
Profile: Headset Profile, Hands-Free Profile (HFP), Advanced Audio Distribution Profile (A2DP), Audio Video Remote Control Profile (AVRCP)
Intercom
Working distance (intercom): up to 1 kilometer (0.6 miiles) in open terrain
Audio
Built-in SBC Codec

Advanced Noise Control™
Wide volume control
Sample rate: 48kHz (DAC)

Built-in wide band Codec (HFP)
FM Radio
Built-in FM radio with RDS AF (Radio Data System Alternate Frequencies)
Radio region: worldwide
Radio frequency specifications: 64 ~ 108MHz
10 preset station memory with automatic scan function
Radio on time: 8 ~ 10 hours
Battery
Charging time: 3 hours
Type: Lithium polymer battery
Certificates
In the Box
10U Headset
Handlebar Remote
Foam Speaker Snap Holders
Handlebar Rubber Band
USB Power and Data Cable (Micro USB Type)
Manufacturer Part Numbers:
10U-AR-11 - Arai Full-face
10U-SH-11 - Shoei GT-Air
10U-SH-12 - Shoei Neotec
10U-SH-13 - Shoei J-Cruise
3776-000-000-000 - Klim Krios
Reviews
Rated

4

out of

5
by
Shawn
from
Completely stealth on the neotec
This is my 3rd sena unit. Decided to get a new neotec as my old one had 4 seasons on it - and was torn between the 20s and this. Feature wise you're better off with the 20s for sure - but I prioritized the clean looks and no brick on the outside. I had thought the Sena app would help with connecting to other Sena's like it does with the 20s - but it doesn't - just allows you to program your speed dail and radio stations. The unit fits the neotec perfectly (install is bit of a pain, but easier then my last sena) and the speakers are good and loud. Overall if you want an easy system to connect to other intercoms this isn't it... Get the more fully featured 20s - But it you want a system that is perfectly integrated into your helmet with no brick on the outside this is the best yet. Battery life is incredible - 9 hours no problem.
Date published: 2015-10-17
Rated

4

out of

5
by
Dave S
from
Sound quality a lot better than I expected.
Ok so I spent a while looking at different communication systems and reading all the blurb etc.. as we all do. Back before I ever thought of getting a system I bought a Shoei GT Air which is a fabulous helmet which I love so what better than a headset that completely fits inside I thought. So the parcel arrives and I start going through the contents. Installation instructions are poor so lets you tube it. Find the Sena kid doing the install in about 4 minutes so I should at least be able to manage 5 at least. Here is where it all went pear shaped. That kid must have had a helmet modified by Sena cos there is no way that you can put one of these in in 4 minutes. Every step is a struggle starting with the battery installation and finishing with reinstalling the chin skirt. In particular the headphones do not snap in quite like the Sena video but after about an hour I had it all installed but it is very frustrating as things just do not want to go where they are supposed to go. You need a good memory to remember all the button pushes and joystick toggles you have to do but after a while it becomes easier. The sound is excellent but I work with power tools every day so might not be the best to comment on this but I figure if I can hear it then it must be ok. Tricky to find a place to clip on the remote where it doesn't get in the way of something else Overall I like it. Phone calls are clear and the person on the other end has said that they could hear me as if I was in a phone booth. Music sounds great and GPS directions are clear and cut in only when required. Have not tried group communication yet as I don.t have many friends as you can tell. Anyone in Lethbridge Alberta got an adventure bike and want a friend???
Date published: 2017-06-07
Rated

2

out of

5
by
jason70
from
Seems to work ok but the fit is kind of funky
it doesn't really sit well under the neck roll. contacted Sena a bunch of times but the help desk person probably didn't even know what a helmet was. could answer direct questions just kept telling me to google or youtube the installation. oh well it works but it is not a "factory fit".
Date published: 2017-02-11
Rated

5

out of

5
by
Red Soldier
from
Great piece of kit
Love this communicator. It fits well in my helmet (Shoei GT Air), and the installation was easy. Completely streamline. The sound quality is good, and the unit is relatively easy to use with the handle bar remote
Date published: 2016-06-24
Rated

4

out of

5
by
Brian57
from
Improvise on the install
Just received the Sena 10U Arai version this week. I was attempting to install the unit in an XD-4 dual sport helmet which does not appear to be the one they used during the design phase. The battery install is not as simple as the instruction indicate so it took a little trial and error. If you remove the two plastic clips from the battery unit and turn them around to face the other way you can slip them between the fibreglass shell and the foam liner. You need to lift up the neck roll to slip them in (a plastic putty knife works well to open up the required space). Once the two plastic clips are installed you can then slip the battery unit into place one side at a time. Once you get the battery unit is installed if fits very well between the foam liner and is covered by the neck roll so it is completely hidden. The rest of the install is about a 10 minute job. So far with the BMW Navigator IV hooked up, the phone, GPS and MP3 player all work well with great sound and you can not see any evidence of the unit other than the small switch unit which blends in very well. Not cheap so I hope it holds up well.
Date published: 2016-05-12
Rated

4

out of

5
by
theyurinator
from
Satisfied
Works well and haven't had any issues with it, nor do I have any complaints. Installing was really difficult though. The instructions make no sense and I had to look up multiple YouTube videos to figure it out. I have a 2019 Arai Quantum-X helmet.
Date published: 2019-06-30
Rated

4

out of

5
by
Rottweiler 2018
from
très bien...facile à installer....un peu coûteux
facile a installer....son supérieur à mon sena 5 précédent ....le coût d'achat n'est pas a la porté de tous
Date published: 2019-06-12
Rated

1

out of

5
by
Jonnyg
from
Poor audio quality
If you're planning on using this for music, don't buy it. You will be very disappointed.
Date published: 2019-06-12
Questions
will this work for all gt-airs? Got mine in 2013 and not to sure if they've changed the design since then
Sena has confirmed this will work on all GT-Air's.
Date published: 2017-01-27
Is this the 10U-SH-11 with the 4 button remote or the 10U-SH-01 with the remote that has the joystick thing on it
Shoei Neotec - 10U-SH-12 Shoei GT-Air - 10U-SH-11 Arai Full-face - 10U-AR-11 Schuberth C3/C3 Pro - 10U-SC-01 Shoei J-Cruise - 10U-SH-13 Klim Krios - 3776-000-000-000
Date published: 2019-10-09
Is this 10U for Schubert C3 PRO Bluetooth 4.0 or 4.1?  Sena website says 4.1 but your specs list 4.0.  Which is it?
4.0
Date published: 2017-03-14
I have a GT Air at the moment and am looking at a Neotec within the next 12 months. Will the communication system fit both helmets? If not is it adaptable with the purchase of a new mic?
I own both helmets. I have the 10U on the Neotec and the SMH10 on the GT-Air (predates the release of the 10U). When you compare the mounting area on both helmets, the geometry is quite different between the two. The padding has different thickness/shape and the cheek pads have different attachment points. I don't think you're going to be able to make one 10U version work on the other helmet model, after all, that's why Sena makes the different versions ;) All the pieces of the 10U are permanently wired together, so you'd have to do some major surgery on the 10U to replace the controls/mic, assuming that you could even purchase a replacement control/mic.
Date published: 2017-05-09