Shinko 244 Dual Sport Tire
Item # : 114656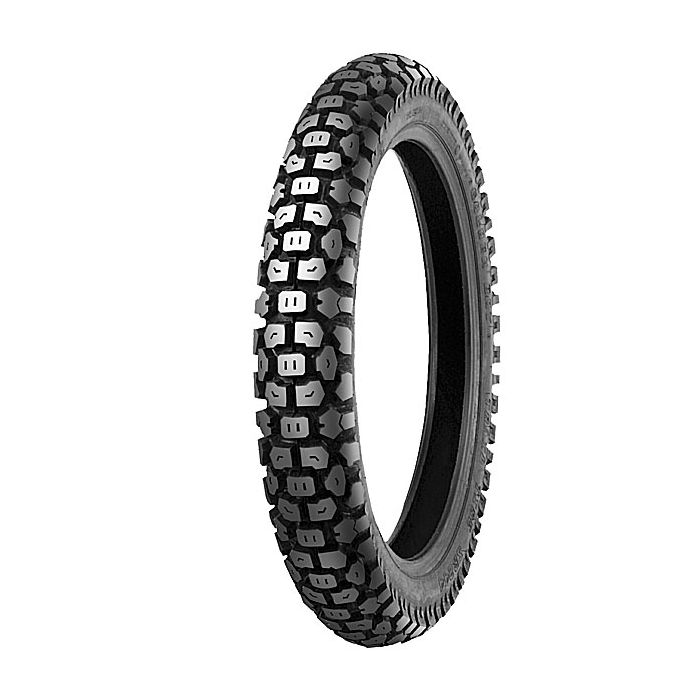 Shinko 244 Dual Sport Tire
Item # 114656
Description
Shinko Dual Sport 244 Series
Dual Purpose Street and trail design
DOT approved, tube type
4-ply rating
All sizes designed for front or rear fitment
Reviews
Rated

4

out of

5
by
nonickname
from
I'm on my second set of Shinko 244 tires. After 7000 km the rear tire was too worn for off-road use, but I would have kept using it if I only rode on the road. The front tire still had a lot of depth left but the knobs were a bit rounded, and at this price it's not hard to justify a replacement. The only place these tires don't really cut it is in the mud. The knobs are pretty close together, so they get packed up with mud pretty quickly.
Date published: 2016-05-31
Rated

5

out of

5
by
metalonmetal
from
I love these tires
They don't exactly have a long life expectancy (daily commuter, and seasonal off-roader, replacing rear every year), but are inexpensive, soft and pliable, responsive in the loose stuff and are a breeze to install and repair. Completely satisfied.
Date published: 2016-05-05
Rated

5

out of

5
by
Drzdude
from
A true 50/50 tire
I installed the Shinko 244 on my DRZ400 and am satisfied with the purchase for "my" needs which are commuting and weekend dirt roads comprising of gravel and some deep mud. If you buy these remember that a Dual Sport bike and it's tires are always a compromise between road and dirt, so don't push the limits of either and you'll be perfectly safe. Btw super fast delivery.
Date published: 2018-05-09
Rated

5

out of

5
by
Symbaman
from
Works great on Symba
Bought 2 of these for my wife's Symba. Way better than the stock tires. Gives her much more confidence on gravel and dirt roads Work fine on the pavement as well.
Date published: 2015-10-20
Rated

5

out of

5
by
Julien369
from
Pneu parfait pour semi route
Ils vont super bien pour route/trail (50/50). Satisfait
Date published: 2019-03-18
Rated

4

out of

5
by
DR_Rider
from
Inexpensive do-all tire
This is the third Shinko 244 I've installed on my bikes. It is a good-performing tire that grips well on pavement or dirt. For what it's worth, I am NOT an aggressive rider.
Date published: 2018-02-05
Rated

4

out of

5
by
Bear
from
Handles great
These tires were easy to install. They have better traction than the Oem dunlops. I only have 1000 kms on them and they show little wear. Hopefully they will last longer than 5000 kms for the Oem dunlops
Date published: 2015-10-17
Rated

4

out of

5
by
Dual sport
from
Great value
Ordered the tires on a Tuesday , received them three days later. Installed and running fine , great dual sport tire ! Excellent tire !!
Date published: 2016-06-25
Questions
Can these fit on tubeless wheels?
Yes, these would work with tubeless wheels.
Date published: 2019-03-01
watt size is equal to 130/90 18 its a 2014 honda xr650l lookin at a shinko 244 for the rear
The standard tire size for 130/90-18 is 5.00-5.10-18.
Date published: 2019-09-23
Is this for a set of two or each ?
The prices shown are for 1 tire.
Date published: 2018-12-20
Is the latest Shinko 244 made in China?
To my knowledge there are made in Taiwan,not Communist China. these are good tires. Gf
Date published: 2018-07-04