Shinko 705 Series Dual Sport Rear Tire
Item # : 114870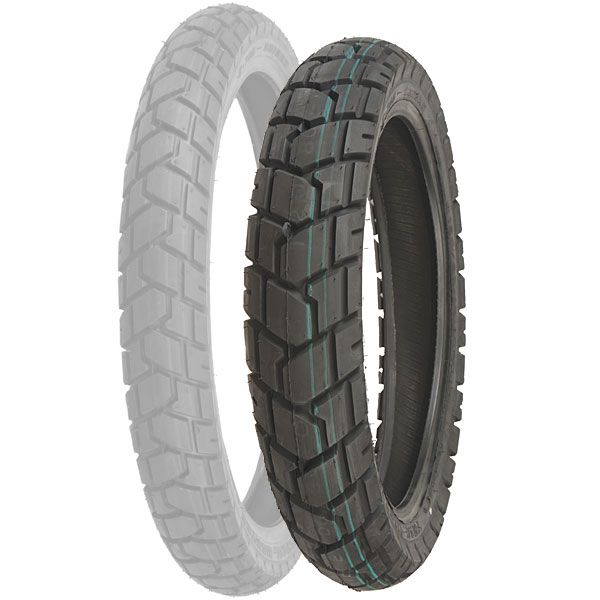 Shinko 705 Series Dual Sport Rear Tire
Item # 114870
Description
Shinko 705 Series Dual Sport Rear Tire
The 705 is a DOT approved dual sport tire designed for 80% street and 20% trail riding. A versatile tread pattern provides excellent wet and dry weather adhesion and smooth running on the highway.
Tubeless (TL) or Tube Type (TT) as noted
Rubber compound resists tearing during off road use
4-ply construction
H Rated (130 MPH), Q Rated (99 MPH) or P Rated (94 MPH)
Reviews
Rated

5

out of

5
by
rappy
from
Great Value
I just completed a 20,000km (13,000 miles) trip from Canada into South America with these tires on a Vstrom 1000 fully loaded. The rear tire was good for about 14,000km (8,000 miles), the front tire lasted the entire trip and still has about 50% left. I did find the handling from the front tire to be more twitching then other brands in low speed corners (<40km/hr) and got worse with tire wear. Nothing bad just something to get used to. Overall these are the best bang for the buck tires I had ever purchased. I will stick them for future purchases.
Date published: 2015-12-28
Rated

5

out of

5
by
yamahaha
from
Perfect for my ride
This is the second time purchasing the Shinko 705 for my Yamaha wr250r. I did about 12000 klicks on the first one, still had some ride left in it, but was going to Connecticut and wanted extra safety. This tire is great on the road and in the rain, I am confident. Gravel and sandy roads aren't a problem either! Have the same up front, and will get this when i need to replace it.
Date published: 2016-08-29
Rated

4

out of

5
by
Leftlane
from
Good tire for the price.
I have been using the Shinko 705 on my 650 V Strom and 1200 Tenere for three years. The V Strom is road and gravel forestry roads. This is the perfect size bike and use for the 705. The Tenere I have ridden to Alaska, the Colorado passes,off road in death valley and many miles rugged dirt terrain. On the road there great even in heavy rain or on a graded gravel road slightly deflated excellent. They don't hold up well on a loaded large Adventure bike in rough terrain the compound is to soft and sharp stones slice them.The fronts scallop rapidly from the weight so you may not get two back to one front. Great tire in the right conditions.
Date published: 2017-03-29
Rated

5

out of

5
by
CruisnCanada
from
Fantastic Value
When I bought my VStrom (used) it came with a Shink E-705 on the front. And after a month I really found that it was a great tire for the type of riding that i do (mainly on road - but do enjoy a nice day trip here and there on the dirt roads). My wife (who also rides a VStrom) needed new tires, so we bought the Shinko tires for her bike as well. And she has really enjoyed riding on them. Anyway my rear tire is in need of replacing so Shinko E-705 for the rear. We are going to be heading to Newfoundland (From Ottawa) this summer and look forward to seeing how they perform over the different terrain. I have a small video below if you'd like a bit more info.
Date published: 2017-04-08
Rated

5

out of

5
by
sleepyhead65
from
fantastic value with no compromises
I bought these tires to replace the Heidenaus k60s I had previously. Prior to that I had the Conti TKC. The tread design seems good for water as they are deep chevrons. Obviously this tire will not work in deep mud though that was expected. Going from bias-ply to radial was an enormous improvement in cornering over the Heidenaus. These tires are comparable in grip, feel and road noise to the Avon Distanzias which came with the bike when I first got it. The distanzias are roughly three times the price I paid so I am elated with this purchase. I've had them on gravel roads and over a few rocky bits so far and they were surprisingly adequate for an 80/20 or 90/10 tires.
Date published: 2015-11-04
Rated

5

out of

5
by
Clarence
from
Shinko 705 Dual Sport Tires
I bought these tires two months ago to replace the original Bridgestone units on my 650 V Strom. These tires are great. The ride is better and they inspire much more confidence in the corners than the Bridgestones.
Date published: 2015-10-18
Rated

5

out of

5
by
ydesl
from
Not just best bang for your buck!!
Absolutely a great quality tire! I am only in my first 2000 kms but so far plenty of road tration, ( No chicken line left ;-) ), and good traction for logging roads. I own a 2014 KLR and I wonder why they don't use these for OEM.
Date published: 2015-10-17
Rated

4

out of

5
by
Appleman
from
These tires are least expensive.
I ride a Suzuki 1000 Vstrom. The bike has over 116,000 km on it now. I have only 1.000 km on the Shinko 705 tire so far. I have found them to be as good as all the major brands (6) tires that I have installed. I can't be sure yet but I believe the 705's have less squirm under hard braking and cornering than any of the previous tires. The Pilot 4's were likely as good but almost twice the price. At low speeds they do vibrate because of the tread pattern.. After 15 KMPH and above the vibration stops and they are as smooth as a road tire.
Date published: 2016-08-13
Questions
Would you recommend radial over bias ply? Worth the extra cost? Thanks.
We do not recommend you go outside of your manufacturer's recommendations for many reasons including safety.
Date published: 2016-10-04
hi ! I would know if the shinko 705 4.10-18 size is tubeless because its not write. Thanks
Look at the tire options, and it is well written, TT which means tube type. The other is TL which is tube less!
Date published: 2016-08-29
Hey, what is the difference between the 150/70R17TL and the 150/70-17 TL.
The 150/70R17TL tire is a radial ply, and the 150/70-17TL is a bias ply tire.
Date published: 2016-10-04
hey quick question for ya would these be a good tire for a scrambler style of bike i ride mostly on roads but do tend to end up on dirt roads frequently i got a rebel 500 I've been turning into a scrambler. Are there any other tires you would suggest?
Yes, the Shinko 705 would be a good tire for a scrambler-style bike. On-road performance is excellent as in scraping the pegs in the twisties sort of excellent. Off-road performance is good on hardish surfaces but it is not a proper off-road tire so it is just OK on sand and gravel, and truly hopeless on mud. Alternatively, if you want something that is more capable on loose surfaces (e.g., sand, gravel) you might consider the Shinko 804/805 combination. The 804/805 handles loose surfaces better than the 705 via its more aggressive and deeper tread pattern. The 804/805 are made from a soft rubber compound so pavement performance is generally good but be careful with the front because it has a tendency to wash out on wet pavement when cornering aggressively. But that soft rubber compound does shorten the tire's expected life. The 804/805 also have a much more aggressive appearance, if that sort of thing matters to you.
Date published: 2019-10-02
I have An Africa Twin and will like to put the Shinkos 705 Radial on the back. My question is can I use a tube on this TL tire?
if you have spokes yes you have to put a tube in it
Date published: 2019-02-07