Shinko E804 Front Tire
Item # : 478766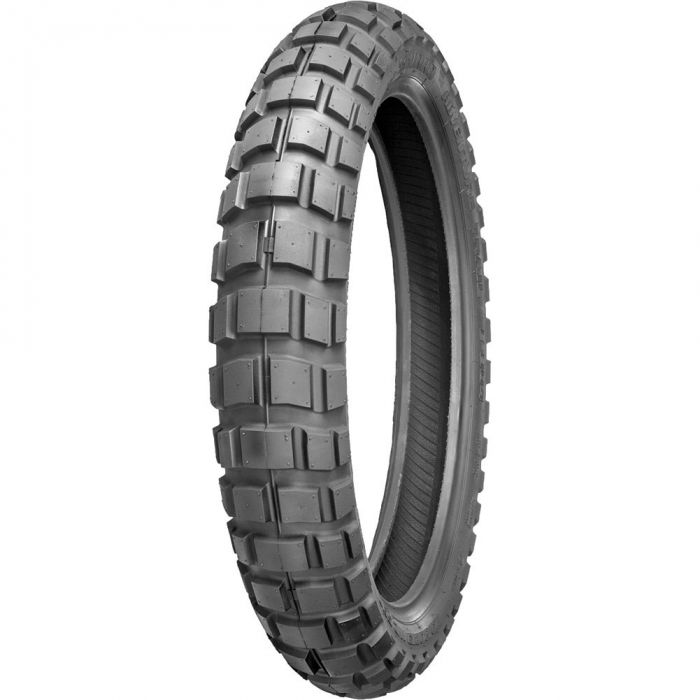 Shinko E804 Front Tire
Item # 478766
Description
Shinko E-804 Front Tire
Utilizing the latest in big block tire technology these adventure tires are ideal for situations where a rider spends 40% on-road and 60% off-road.
40% on-road and 60% off-road
Bias construction
Reviews
Rated

5

out of

5
by
The Sexy Medic
from
Best Value for Big ADV Bikes
I figured it's about time I wrote a review for the Shinko 804/805. I've been using these tires on my 2017 V-strom650XT for more than a year. With 13,000km on my front and 7,000km on my rear they are nearing the end of their life. They've handled two up fully loaded for camping ADV trips, corner carving, highway pounding, and off road riding through things that they internet has deemed "not doable" for a V-Strom650. I love these tires. Does this tire handle like a stock radial street tire? No. Does this tire handle like a intense full nobby tire? No. The only thing I would change on this tire is the lateral traction on the rear tire. When in clay/mud it does have a tendency to wander if you have a heavy throttle hand; get up on those pegs, keep two fingers on that clutch and be ready to trim power. It is pleasantly quiet and smooth on the road while proving lots of grip off road. Does it handle well enough for everything I do? Yes. Is it a super cheap tire? Yes. Would I buy anything else? Not a chance.
Date published: 2019-06-19
Rated

5

out of

5
by
Adso
from
Great 50/50
Recently had a chance to test out my new 805/804 combo on a 3000 klm ride through the Kootenays, mixed road conditions, mixed weather conditions and I couldn't be happier with the purchase. Worked equally well off road as it did at speed on the black top. Given the price even if they wear quick I would still buy these again as they are a great combo for whatever riding condition I chose
Date published: 2017-06-24
Rated

5

out of

5
by
Lornce
from
Shinko 805/804
Currently using these tires on a BMW GS and am very pleased with how well they work both on the pavement and on dirt and gravel roads. For the aggressive nature of the off-road knobs they're very quiet on pavement. A pleasant surprise. I'd buy them again without hesitation.
Date published: 2017-12-27
Rated

4

out of

5
by
Scotsman 1
from
Shinko E804 Front tire
Bought this tire for a trip out to BC doing some mixed riding of pavement & gravel roads. This tire runs tall & ended up rubbing on the front fender at speeds over 110 Km/hr. Was also very noisy compared to the TCK80. I ended up changing out the front & rear tires to a different brand & will not go back to this tire for this bike.
Date published: 2017-10-02
Rated

3

out of

5
by
Ihop
from
Too shallow on the tread depth
I ran this tire on our 10 day off pavement adventure last year and it will not make my favorites list... The worst part is that the knobs are too shallow to get good bite on loose surface tracks which did not instill confidence... Pavement manners were OK, but the off pavement manners were lacking, I will not purchase another... The Shinko 700 front tire is a much better and with 30% more tread depth it gets better bite and will last longer...
Date published: 2017-07-23
Rated

5

out of

5
by
Scott
from
Great so far
Using as a "shoulder" season tire. Great grip in the colder weather, ran it in -10c to work one morning. Great traction in the dirt as well. I bought it specifically because of it's softer rubber, no regrets so far.
Date published: 2019-10-11
Rated

5

out of

5
by
cedric
from
Excellent rapport qualité/prix
Si vous aimez le TCK80 de Continental, vous aimerez probablement les Shinko 805/804. Pour la moitié du prix en plus.
Date published: 2019-06-28
Rated

5

out of

5
by
Ruthless
from
Solid tire!
Drive mainly highway and offroad, been in wet and dry conditions and the tire has held up great, gravel roads are a breeze very confident to lean into corners, allready around decent tire!
Date published: 2018-05-26
Questions
Is this tire m+s rated?
No, it is not
Date published: 2019-12-11
Is the 110/80/ 19 tubeless?
Yes, this is as tubeless tire.
Date published: 2017-01-27
What's the difference between the TT and TL tyre on the shinko 805
The TT represents a tube-type tire and TL a tubeless tire.
Date published: 2016-09-19