Shinko SR241 Dual Sport Tire
Item # : 114671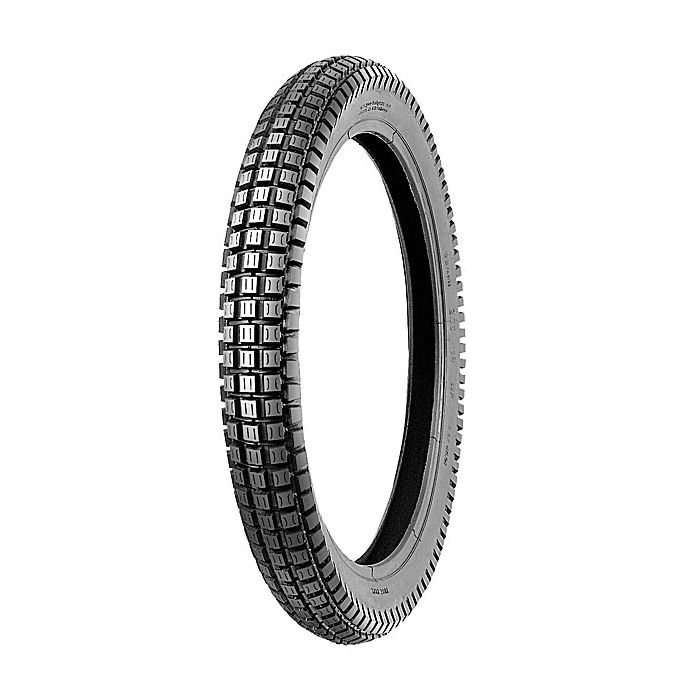 Shinko SR241 Dual Sport Tire
Item # 114671
Description
Shinko SR241 Front/Rear Dual Sport Tire
The SR241 is a versatile performer with a tough nylon carcass and high dimpled knobs work well in a variety of terrain. The narrow knobby configuration means less of a "foot-print" while on the trail.
4 ply rated
DOT approved
Tube type design
All sizes work for front or rear fitment
Reviews
Rated

5

out of

5
by
CC_Rider
from
Sticks like glue
Bought this tire as a replacement for the stock front tire on my TW200. For a small displacement bike this tire is awesome. The compound is soft yet the sidewall is strong. I've been told I have a penchant for odd tires by the local tire shop.. whatever that means :P They seemed skeptical of the softness but for the weight and requirements of a smaller displacement bike, this tire can't be beat. Also looks cool which always is a bonus.
Date published: 2015-06-01
Rated

5

out of

5
by
350 Ducati
from
I had great service and help when purchasing these tires. Also free shipping had a large influence on me purchasing the tires.
Date published: 2016-05-05
Rated

5

out of

5
by
Thumper57
from
Great tire!
Mounted easy, runs out true. Great on the highway and perfect for off road in the bush.
Date published: 2015-07-06
Rated

5

out of

5
by
Darby
from
Great!
Great product! Great price! Great shipping! Great service! Great! Great! Great!
Date published: 2015-06-03
Rated

4

out of

5
by
Lobo
from
Shinko SR241 dual sport tires
In process of re-building & re-storing a Motorcycle Cargo Trailer and the original tires were hard to find. These tires fit perfectly and they look great. The pricing was very reasonable and the shipping was quick. I would certainly deal with this company again without hesitation. Thank-You.
Date published: 2013-10-09
Rated

4

out of

5
by
Mike71
from
Great tire with vintage look
Brought a pair of these tires for my 70' ct90, great fit, good vintage look, fast service and shipping.
Date published: 2019-11-19
Rated

5

out of

5
by
RonnieC
from
Great Grip & Handling, Incredible Improvement
I had this tire installed on my Yamaha TW200 to replace the stock Bridgestone that is known for washing out in a little more technical dirt & gravel trail riding. Wow, what a difference! The Shinko digs right in. It is slightly narrower than the stock Bridgestone tire, so better steering feel and 10x better performance on dirt and gravel. Fine on the street as well. I just did the Calabogie Boogie dual sport ride and put on 300km off the pavement and up & down some knarly water-filled trails with mud, rocky terrain, sand and gravel and it performed like a champ - felt like an all-new bike. I am in my first 1000 km, so won't know how it wears for some time. Highly recommended! Lots of positive talk on the TW forums as well, as the go-to tire for replacing the stock tire.
Date published: 2019-09-12
Rated

5

out of

5
by
Titanium Dave
from
Shinko SR241 Dual Sport Tire
I bought this tire for a 1983 Honda Passport C70 scooter. With the Motion Pro Bead buddy and tire tools, it was a snap to install. The tire looks very robust and handles muddy sandy road conditions very well.
Date published: 2019-03-30
Questions
There's a "3.5-18" tire size listed. Do you mean, 3.50-18?
yes, 3.5 is the same as 3.50. fyi the 3.5 (3.50) is the approximate width of the tire in inches and 18 is the rim diameter also in inches.
Date published: 2018-07-04
Hi, I'm interested in this product. Where is this store located?
On the internet
Date published: 2016-09-13