Shorai LFX Lithium Battery
Item # : 502219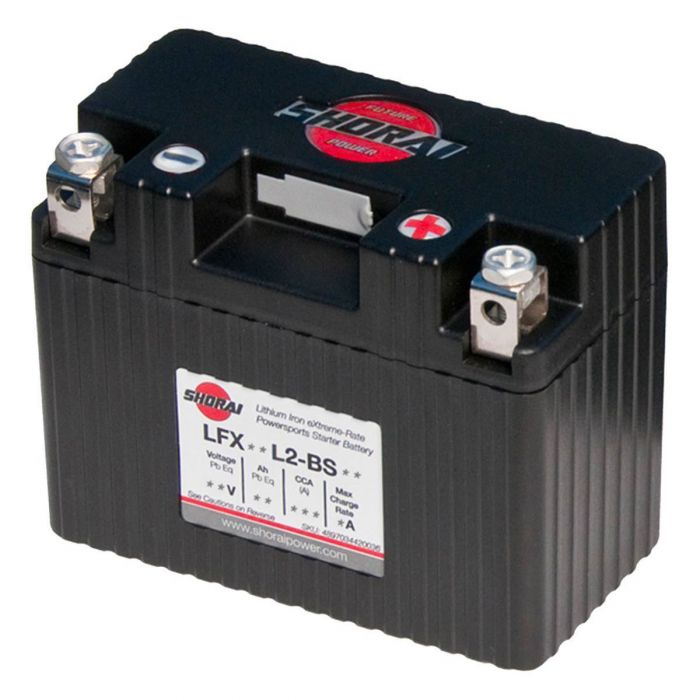 Shorai LFX Lithium Battery
Item # 502219
Description
Shorai LFX Lithium Battery
Ultra light. 1/5 the weight of lead-acid batteries on average
Zero sulfation, for longer service life
Holds unloaded charge for one year without maintenance
Drop-in replacement for your OEM battery
Military spec carbon composite case
Faster cranking for better starts
Super-fast recharge rate
No explosive gasses during charge, no lead, no acid
Environmentally friendly, just discharge and dispose
Japanese engineering
3-year manufacturers warranty
Contents and Installation
Shorai LFX batteries come in a variety of case shapes and sizes, capacity options and right/left polarity options for the best possible fitment. If the LFX is slightly smaller than the original battery in one dimension or another, high-density, adhesive-backed foam sheets are included in the package. These can be trimmed and applied to the battery box in minutes to make a solid fit and with added thermal and vibration insulation. Cable connections can be made either at tops or sides of the terminals. All these options and sizes allow Shorai LFX to offer a drop-in installation for most powersports vehicles. We also offer a 6-volt LFX in the #2 case size for vintage vehicles.
When you open a LFX battery package you will also find terminal screws and a set of spares, Shorai decals in various sizes and the user manual.
Self-adhesive foam shims insure a great fit to the battery box, as well as extra vibrational and thermal insulation.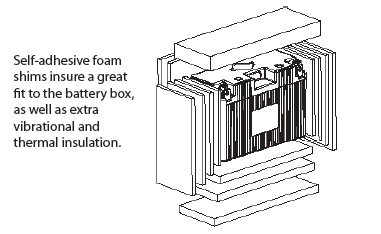 Reviews
Rated

5

out of

5
by
Hank
from
The battery is awesome. Smaller and a fraction of the weight
Date published: 2018-06-06
Rated

5

out of

5
by
Duckie
from
Good product
Good product. Purchased a month ago works well. Would recommend.
Date published: 2018-03-21
Rated

5

out of

5
by
Coolio
from
Awesome starting power.love this battery
Purchased this battery couple weeks ago.it does cost alot for a bike battery but it is far superior to the old style batteries. No acid to spill out or evaporate and weight is very light.love it
Date published: 2018-05-15
Rated

5

out of

5
by
Ldes
from
Super batterie!
Batterie achetée au printemps '18. Jusqu'à maintenant, elle paraît très performante. La batterie est très facile à remiser car elle est très légère.
Date published: 2018-05-10
Rated

5

out of

5
by
Donutpower29
from
Love these batteries
3rd one I have bought each one for a different bike. I switch to these automatically regardless of the condition of the bikes existing battery
Date published: 2017-05-12
Rated

5

out of

5
by
J W Wagonmaster
from
Powerful and weightless!
This battery has more cranking amps and larger reserve capacity than the OEM battery in my Harley Ultra Classic and being that it weighs 20 pounds less than the original the weight difference is noticeable when lifting the bike off the side stand. A bit pricey but seems worth it as long as it has a decent life span!
Date published: 2017-05-19
Rated

4

out of

5
by
Catfish
from
Starts my hog
This thing rocks. Light and oooh eiii! does she ever look good!
Date published: 2017-03-29
Rated

5

out of

5
by
Sly 878
from
Très léger et durable.
Je suis extrêmement satisfait La batterie donne un rendement supérieur a ma moto.
Date published: 2018-05-18
Questions
Hello is this a lithium-ion or lithium-iron battery?
This is a lithium-iron battery.
Date published: 2019-01-20
Do I need to buy a Lithium charger for this battery?
Yes, a lithium charger is required, such as: https://fortnine.ca/en/shorai-lfx-lithium-battery-charger-sho-bms01
Date published: 2018-04-30
Is the batterie shipped fully charged?
J'ai reçue la batterie à pleine charge.
Date published: 2018-04-05
I cannot find out how much cca these battery are?? Some one helo befor i order
Best bet, visit " shorai" website .. they have the spec's on all their products.. just type in battery i.d. Number..voila! 
Date published: 2019-10-01
The OEM battery of my motorcycle is a 12V , 10ah, 180 CCA AGM versus a 12V,19ah, 284 CCA lithium battery. I'm concerned with the increased Power output on my motorcycle's starter and my GPS electronics
Cold Cranking Amps is defined as "the number of amps a 12-volt battery can deliver at 0°F for 30 seconds while maintaining a voltage of at least 7.2 volts." These batteries have much less voltage droop and should cause less strain on the electrical system.
Date published: 2019-04-17