Sixs Carbon Underwear Shorts with Butt-Patch
Item # : 570473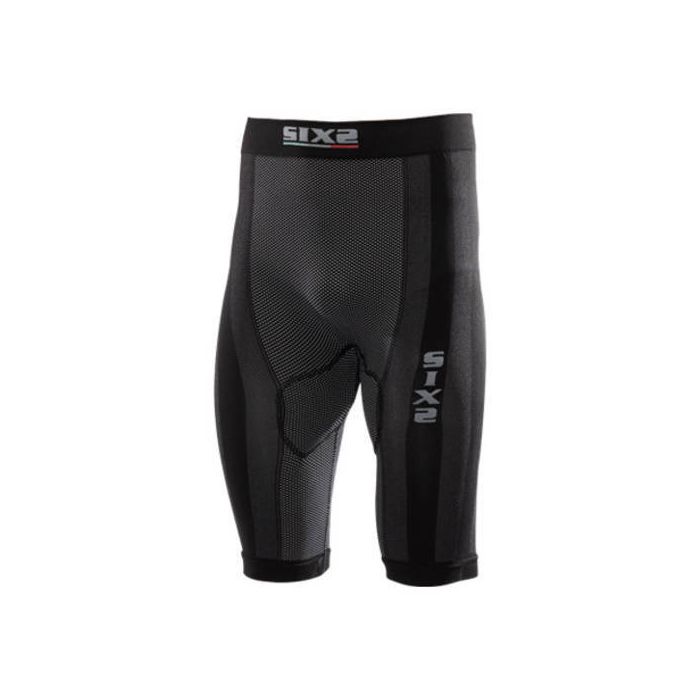 Sixs Carbon Underwear Shorts with Butt-Patch
Item # 570473
Description
Sixs Carbon Underwear Shorts With Butt-Patch - Underwear Line
Shorts made of Carbon Underwear fabric with butt-patch. Breathability, thermoregulation and protection are always first-rate. Product designed for motorcyclists who are looking for shorts able to soften vibrations and always ensure perfect comfort, even after spending several hours riding.
Product info about this model CC2 MOTO:
Product Information
Created for sports
SIXS ORIGINAL CARBON UNDERWEAR technical garments have been developed for assisting athletes in reaching top performance while also contributing to top comfort.
Thanks to their functionality, which is related to the use of SIXS patented material, it is possible – for the first time in the history of technical-functional clothing – to protect your skin from excessive perspiration.
Benefits
Cold and dampness remain far from your skin
You no longer cool down suddenly
Less fatigue
Unpleasant odours are eliminated
Unmatched comfort
SIXS products have been studied for offering top comfort: for this reason, they do not have internal seams.Anyone who tries a SIXS garment will not be able to do without it.
Quality fabrics
We are proud of offering 100% Italian design and production, thus guaranteeing a high-quality product. Thanks to this, we are able to advance constantly, quickly adapting to the market technical evolution.
Very Classic
Suitable for all sports, 12 months a year! The garments that do not make you feel hot or cold, to be worn under the regular sportswear that is being worn.Extremely flexible technical sports underwear suitable for any circumstance in which athletes sweat. No seasonality: every day is perfect for SIXS underwear garments.
Wind Protection
This line includes some products (TS4, TS4 PLUS, TS5, TS6, TS7) characterised by the presence of a front wind protection fitted with the exclusive TEXTILE INTERFERENCE system, without membrane. This protection is extremely effective and keeps a very high level of perspiration elimination, avoiding the typical defect of membranes: perspiration kept in the body.
Reviews
Rated

3

out of

5
by
tiger
from
Not bad ,could be better
The elastic at the waist could be better...The padding is good for long ride
Date published: 2019-09-05
Rated

5

out of

5
by
Fredmail
from
Perfect for hot days
These offer additional confort to the seat for a few hours. When it is very hot outside, they will get a little wet but your skin will remain dry. They avoid friction in the key area due to their lenght. I usually wear medium underware and I ordered medium and the fit is perfect. I ordered a second pair since. I got used to walk with a diaper on. Great product for the long rides.
Date published: 2018-09-06
Rated

4

out of

5
by
Eagle357
from
Proper design for motorcycle riders --finally
Used two pair of these on a recent 3500 km roundtrip ride to the Oregon coast. They performed as designed --no monkey butt or sweaty bottom. Ergonomic placement of pads correct for motorcycle seats; much better than bicycle shorts. High quality construction and material. Only negatives already mentioned are tight, almost compression, Euro fit(order one size larger than your normal) and the weird perfume odour they exude for the first few days. That smell did disappear after a couple washings, though.
Date published: 2018-08-26
Rated

4

out of

5
by
JimS
from
Good riding shorts
Wanted something for my delicate cheeks on those long rides. These seem to fit the bill as the padding protects all the right places. Tried them out on a short 2 hour ride and found them quite comfortable and cool. Minus one star for the fit. According to the sizing chart, I would be a medium, but ordered a large. The large was too small for me so had to return and get an XL, so cost me the return shipping.
Date published: 2018-06-08
Rated

4

out of

5
by
RMCF
from
Comfy but quite the flowery smell
Just got these. They fit great and are comfy. They come out of the box smelling like they've been dragged through a large field of fragrant flowers. Have doubled bagged the box and gotten rid of it. Also washed the shorts a few time sand the smell is going away. Overall I do expect these to be a good purchase.
Date published: 2018-05-11
Questions
I ride a ktm690. I want to know if these underwear have padding on the inner thigh? I find on long rides my inner thighs closest to the but, get chafed and bruised. 
Not really padding, but the button pad extends lower towards inner thigh. I too ride a 690 and overall found these lessened "monkey button" syndrome. I use them with more comfort on my mtb.
Date published: 2019-03-04