STI Heavy-Duty Tube
Item # : 197485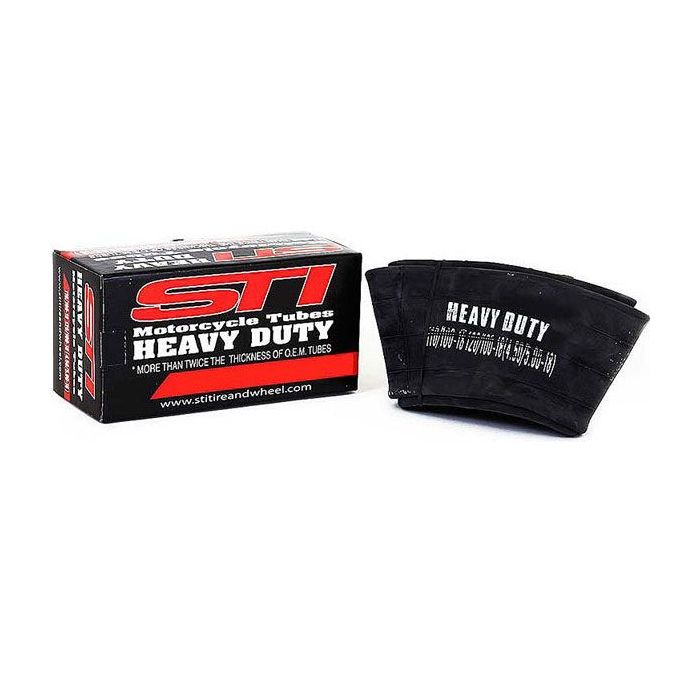 STI Heavy-Duty Tube
Item # 197485
Description
STI Heavy Duty Tube
For Motocross/Off-road use only
2mm thick, high quality butyl rubber
50% thicker than most standard tubes
Top quality and performance at an affordable price
| SIZE | THICKNESS | VALVE |
| --- | --- | --- |
| 2.50/2.75-10 | 2mm | TR-4 |
| 2.50-12 | 2mm | TR-4 |
| 80/100-12 (3.00/3.25-12) | 2mm | TR-4 |
| 60/100-14 (2.25/2.50-14) | 2mm | TR-4 |
| 90/100-14 (3.60/4.10-14) | 2mm | TR-6 |
| 90/100-16 (3.50-16) | 2mm | TR-6 |
| 70/100-17 (2.25/2.50-17) | 2mm | TR-4 |
| 100/100-18 (4.00-18) | 2mm | TR-6 |
| 110/120/100-18 (4.50/5.00-18) | 2mm | TR-6 |
| 100/90-19 (4.00-19) | 2mm | TR-6 |
| 110/120/90-19 (4.50/5.00-19) | 2mm | TR-6 |
| 70/100-19 (2.50/2.75-19) | 2mm | TR-4 |
| 80/100-21 (3.00/3.25-21) | 2mm | TR-6 |
Reviews
Rated

3

out of

5
by
Devrist
from
Caution: Not For Road Use
Appears to be a good quality tube but clearly written in the front of the box "For Motocross/Off-road " use only. I contacted the distributor and learned not DOT approved and definitely not recommended for road use as I had planned for my dual sport bike. FortNine needs to add this info to the product description since currently no mention of this
Date published: 2019-03-19
Rated

5

out of

5
by
bdog
from
like it says on the box "heavy duty"
I needed a heavy duty tube, and that's just what I got, great tube for my low air pressure off road riding
Date published: 2019-08-28
Rated

4

out of

5
by
wesmiller
from
Good Quality Tube
I was pretty rough at installing tires when I first started a year ago, I had to make frequent trips to the bike shop to replace/fix all my pinch flats. Since I started buying these tubes, things have gone a lot smoother and I've never experienced a flat out on the trail so far. Good product!
Date published: 2016-05-11
Rated

5

out of

5
by
Spcr250
from
Perfect fit for my 2008 CRF450R
This is a very thick tube. Thicker than the stock to on my 2008 CRF450R
Date published: 2019-08-29
Rated

1

out of

5
by
jerome
from
Déception
Très déçu par ce produit. j'ai acheter deux tubes pour remplacer ceux de ma KTM 250xcf 2014 que j'utilise en sigle track. Les tripes sont beaucoup moins épaisse que des Michelin que j'avais acheter pour une précédente moto. De plus j'ai fait 2 crevaisons (1 avant et 1 arrière) en moins de 200 km de trail de ZEC sur des chemin peu accidentés avec 12 et 14lb. A vrai dire tout le monde de mon groupe pensaient que je blaguais en disant que c'étaient des heavy duty. très déçu!
Date published: 2019-08-28
Rated

2

out of

5
by
Scooter
from
Heavy duty tube
Good quality product however nowhere in the ad specifies for off road use only. Also view of the packaging is from a side that does state this fact either. Ended up having to purchase other tubes for on-road use
Date published: 2019-03-15
Rated

5

out of

5
by
Mechanicalwhiz
from
Nice 'n thick
Great value - thick and durable. Real happy with them.
Date published: 2017-06-23
Rated

4

out of

5
by
Crusty
from
Sti heavy- duty Tube
Très content de cette chambre à air pour le prix ça vaut vraiment la peine
Date published: 2016-08-13