Stop & Go Tubeless Puncture Pilot Kit - 6000
Item # : 546483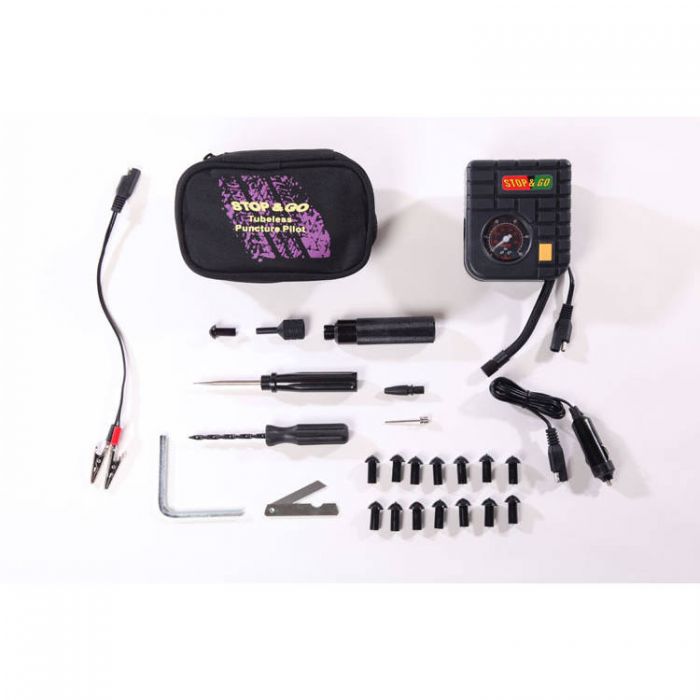 Stop & Go Tubeless Puncture Pilot Kit - 6000
Item # 546483
Description
Stop & Go Tubeless Puncture Pilot Kit
Stop & Go Tubeless Puncture Pilot Kit allows you to make an on-the-wheel repair to your tubeless tire and re-inflate it on the spot. It includes the award-winning Pocket Tire Plugger, 15 mushroom-shaped rubber plugs and the very compact Mini-Air Compressor.
The complete tire repair kit fits perfectly into a durable zipper-canvas case that measures only 7" x 4" x 3" and weighs only 1.7 lbs. The mushroom plugs measure 5/16" in diameter shaft x 3/4" in length. The Tubeless Puncture Pilot works on all tubeless tires, while the Mini-Air Compressor is intended for use on motorcycles, scooters, mowers, small tractors, golf carts and ATV's.
Some other features include:
12-Volt Compressor unit with built in Gauge & LED Light
66" Power Cord that fits Battery Tender connectors
12" alligator extension clips
36" extension lighter adapter
4" tire valve hose with sports needle and inflatable adapter
Note: This compressor is to be used only on motorcycles, scooters, ATV's, golf carts & riding lawn mowers.
Manufacturer Part Number: 6000
Reviews
Rated

4

out of

5
by
brad
from
Bought it for a trip, used it for the first time
I originally bought this for a trip to ensure that I didn't get stranded. Its nice that it fit under my seat, but I never used it during my trip because luckily I did not get a flat. I recently got a flat and got a chance to use it. 1. Instructions could be a little clearer, after reading it a couple of times I understood what needed to be done. 2. My recent flat resulted in two separate punctures in the tire. The first puncture could not be fully sealed with the plug but was sealed enough that it held air long enough to get to the shop. The second puncture did not show signs of further leaking once plugged. I'd estimate that I would need to top up the air about every 3-4 hours given the rate that air escaped the first puncture after using the plug. Some recommendations: I carry allen sockets on my bike in a tool pouch and did not take the included allen wrench. This was a big mistake as my allen sockets do not reach far enough into the tool. If you decide to use your own allen wrench (instead of the one supplied) ensure that it will be able to fully screw into the tool before use. After inserting the plug, inflate the tire and pull on the plug (the instructions say 2 inches.) On my bike the plug sits about 1/2 inch out of the tire once properly seated. Some things that was not clear about the style of plugs it came with until after I bought it is that there is a maximum speed that is recommended that is below some of the posted highway speed limits in BC. Also, I didn't realize how important it was to get your tire properly patched (if possible) as soon as you can. I've only had to patch a tire one other time, and it was with the other type of patch (the glue strips.) I found that these plugs are so much easier than the glue strips to use and plug a tire, but I found that with these strips only 1 of the 2 plugs were able to stop the air leak (so that soap and water would not show bubbles).
Date published: 2017-10-07
Rated

5

out of

5
by
Bent Pin
from
Compact peace of mind
This repair kit has lots of good features. It runs off the same connection point as your battery tender, no need for alligator clips. It has lots of cable so you can reach a long way. It fits snugly under the seat too, but i had to thin out a few sundry items (ball inflator needle and such) Keep your mushroom plugs oily, if they dry up they become brittle and don't hold air.
Date published: 2019-04-27
Rated

5

out of

5
by
julia
from
Kept me rollin'
Bought this in advance of my solo trip from Toronto to Deals Gap and had many occasions to pull out the tire inflator for myself and others , although as of now (somewhere on the way home to Canada in Pennsylvania) I haven't gotten a flat tire yet. Kit seems easy to use and comes highly recommended by friends. Small packaging that fits well in my side cases.
Date published: 2018-06-19
Rated

4

out of

5
by
1234
from
très bien, petit ce place bien dans les valise. merci beaucoup.
Date published: 2019-11-19
Rated

4

out of

5
by
BeemerBill
from
Essential gear
Purchased as prep for a ride to James Bay and back. Worked exactly as advertised but be sure to have pliers to pull plug and grip tool body, and an extension for the allen key as inserting the plug requires significant force. Compressor inflated tire quickly in spite of small size ! Fit easily under seat of R1100RT
Date published: 2019-08-30
Rated

5

out of

5
by
Ronfca
from
Comforting to have in the sattlebag.w,e
Rode the secondary highways of the Pacific Northwest in the United States for just over 3 weeks. Although I never had to repair a flat tire, it did give me confidence knowing that I wouldn't be stuck on the side of the road waiting for assistance.
Date published: 2019-08-28
Rated

5

out of

5
by
Brian
from
Good Package
A good and important flat repair kit to have. As others have commented, good quality puncture tools/system and the pump is noisy. But the pump does it's job as advertised. Neatly packaged into a small zip bag that easily fits under a seat. Happy that I have it and with the addition of the Cruz Tools kit, I'm covered for long journeys.
Date published: 2019-06-26
Rated

3

out of

5
by
Guy123
from
Feel safer riding with it but it's bulky
It's what I was looking for and it works on my bike battery A bit bulkier than I thought it would be. Pliers required but not included. Will have to get pliers
Date published: 2019-06-14