Sunstar 520 Front Countershaft Sprocket
Item # : 174403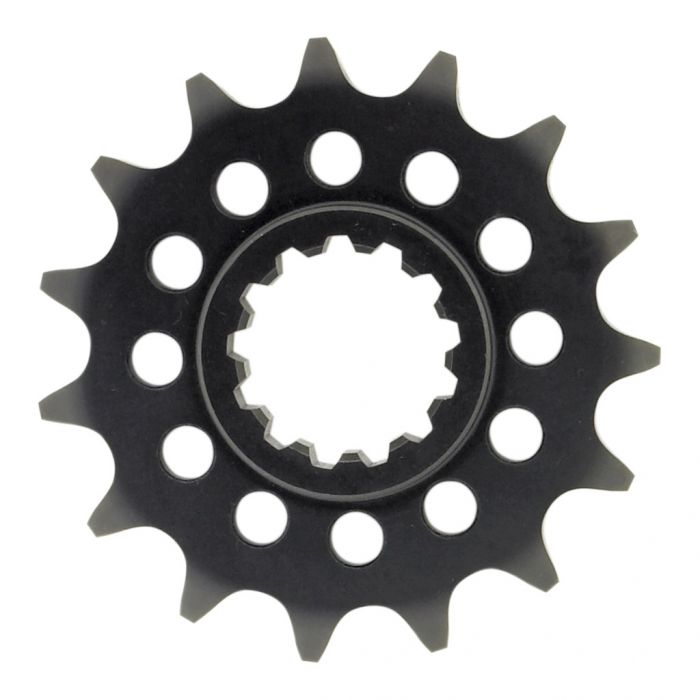 Sunstar 520 Front Countershaft Sprocket
Item # 174403
Description
Sunstar 520 Front Countershaft Sprocket
Sunstar is the largest OEM supplier of sprockets and brake rotors in the world. In fact, your motorcycle probably came from the factory with a Sunstar sprocket.
Features:
Manufactured from case-hardened chromoly steel for the ultimate in strength and durability.
"Parkerizing" surface treatment for rust and corrosion resistance.
The excellent OE quality you expect from the SUNSTAR brand.
*Note: Part is bike specific, may vary from image.
Downloads:
Reviews
Rated

5

out of

5
by
Offroader
from
Excellent product
The 16 tooth sprocket for my yamaha wr450f was here in 2 days . With the sprocket the bike still has plenty of power and torque
Date published: 2016-03-23
Rated

5

out of

5
by
uncle tom
from
Great item.
I like this item very much. It allows for a better performance, with lower RPM;s
Date published: 2015-11-11
Rated

5

out of

5
by
Gthor47
from
Great value for the money!
Easy install as any sprocket would be. Great wearing sprocket at a decent price.
Date published: 2015-10-18
Rated

5

out of

5
by
Franck
from
Very good
I replace the stock front sprocket with this one on my DRZ400S. Great product at a great price.
Date published: 2014-05-31
Rated

5

out of

5
by
Drifter
from
Does not fit but great quality
Bought this for 07 DRZ 400 sm way too big to even attempt installing unless I would've ground the swing arm
Date published: 2016-05-08
Rated

4

out of

5
by
DrNThusiast
from
Gimme the gears!
Bought this for my CBR 300R 2015 model. Have lots of experience with Sunstar over the years. Stock gearing is waaaay to low. Limited availability on oversize only the single choice offered. Installation is awkward given the minimal clearance. Of course you have to lock the spk when removing the OEM item and Twice after the wheel was aligned and tightened I noticed the tire wouldn't turn without force. which we never do. Turned out to be the Honda spk case has little a very tight fit to the cases and the lower bolthole mount can very easily be misaligned. My advice is to do it in good light and be very careful, take the time and get it right the first time. Cheers
Date published: 2019-08-28
Rated

4

out of

5
by
Stoney
from
Good replacement
Chain and sprockets needed to be replaced. This worked as expected, no indication on gear of which side should be facing out. Original was clearly marked and i matched sides. Not sure if it mattered but i wasn't interested in doing the job again. Would have been 5 if marks were on the gear.
Date published: 2019-07-10
Rated

3

out of

5
by
Yellow Peril
from
Too soon to tell
This was purchased to replace a 15 tooth sprocket in order to lower the gearing a bit. I am using a 41 tooth rear. It installed easily without removing the chain from the bike. It has no lightening holes, unlike the picture. With this gearing and a chain shortened to 110 links there is not much adjustment left to tighten further. The adjusters are on 5.5 of 7. Durability is to be determined, hence the average rating.
Date published: 2019-01-16
Questions
How many teeth
This item is vehicle specific. If you enter the year, make and model of your vehicle on the product page, you will be able to view all available tooth size options available for your application
Date published: 2019-10-09