SW-Motech Crash Bar
Item # : 273928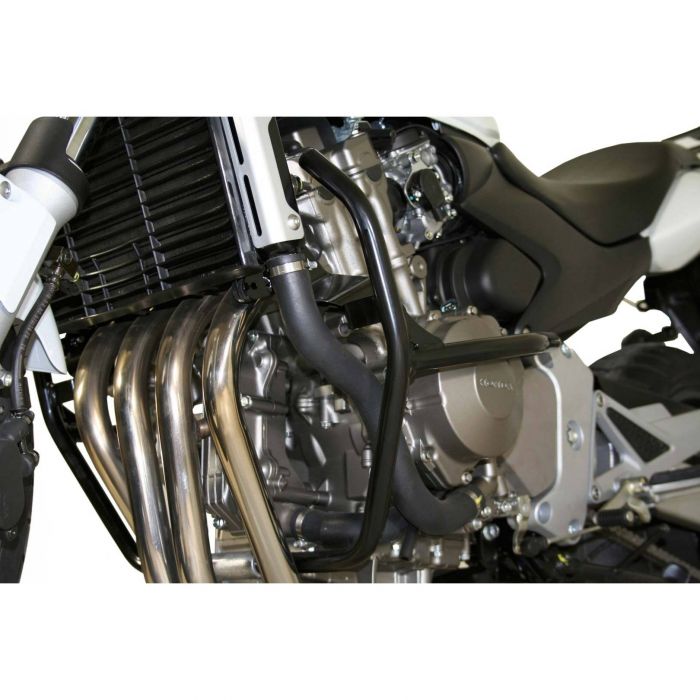 SW-Motech Crash Bar
Item # 273928
Description
SW-MOTECH Crashbar
Features:
Reliable protection of important motorcycle parts
Strong frame connection
Black powder-coated
Suits the appearance of the motorcycle
pipe diameter 22 mm
Included:
2 crashbars
Mounting material
Mounting instructions
Reviews
Rated

5

out of

5
by
Mombo
from
Excellent Product
I purchased this for my 2015 KLR. Made an appointment to have it installed at bike shop as I have no mechanical skills. When it arrived I decided to do it myself. Install was fast and simple. Love the product, look, and dealing with FortNine. Could not have arrived quicker if I drove to bike shop to pick it up. Super fast delivery, and amazing products. Second time dealing with Fortnine, and I said it before, they have a customer for life.
Date published: 2017-09-18
Rated

3

out of

5
by
Flycanuk
from
Good crash bar but
Considering SW motech is supposed to be a premium product (even says so right in the install guide) I am constantly disapointed by the fit and install of there products, this crash bar does not line up with the bike it will take some muscle and a little bit of encouragement with a deadblow to install these things, on top of that, drilling out your swing arm guard!?!? Really SW??? You send a replace,ent cover for the left side but you want me to drill out my plastics on the right side??? What the heck guys??? Throw in an extra guard or shorten up the through rod so it fits under the factory guard for crying out loud!. Honestly for the price these things should fit beautifully, but they dont
Date published: 2017-07-15
Rated

5

out of

5
by
hamer
from
super !!
Installation fesable pour un non- mécanicien, très satisfait de la rapidité du shipping et de l'emballage
Date published: 2019-04-19
Rated

5

out of

5
by
CanuckZ
from
SW Motec Engine Guards are excellent
After putting my '11 KLR 650 through its paces a few times, I realized I needed crash/engine guards. A few beer and a little bit of time were needed to install them. Instructions were easy to follow and the install went well. **NOTE** Where it says in the instructions to not remove both frame bolts at the same time, they aren't kidding. One at a time, folks. Since the installation, I've had the KLR out a few times and have tested the durability of the guards. They are holding up well - like anything that comes in contact with the ground, they are going to get scratched, but they are not bent - they are good and durable - and they also make great handles when trying to upright the bike after dropping it. The guards would also make a great location if you were to install highway lights or something of the sort. They don't look out pf place when installed.
Date published: 2018-06-20
Rated

5

out of

5
by
Berck
from
Perfect Fit !!
J'ai acheté ces crash bar à un prix très competitif après avoir magazine à plusieurs endroits. Livraison super rapide et très content de mon achat :-)
Date published: 2018-03-29
Rated

5

out of

5
by
Timber2
from
Solid Crash Bars for 2008 KLR 650
I had an easy time to install them, but I have heard of others having difficulties. So far they've done a great job of protecting my plastics when I've dropped the bike while off road. I haven't had any big wipe outs to really test them yet (I don't mind never testing them to that limit).
Date published: 2017-09-19
Rated

5

out of

5
by
irsko
from
Great product
This is a very solid, well made product, that looks great on my bike. I hope I never have to test them in a crash, but I can tell they will definitely protect my bike. Great investment and easy to install.
Date published: 2017-09-18
Rated

5

out of

5
by
Dominik
from
Solide et pratique
Quand la boîte est arrivée par la poste, j'étais impressionné par la grandeur et l'aspect solide du produit. Les soudures sont bien faites et la peinture bien appliquée. Ça prend un peu de patience pour bien aligner les trous pour les boulons mais j'ai réussi sans trop de problème. Ne pas enlever les deux boulons d'origine à l'avant du moteur en même temps. Une fois installé, on peut enlever les couvercles de côté de la moto sans difficulté. La crashbar couvre une grade partie du côté de la moto et surtout protège le radiateur de tout dommage.
Date published: 2018-03-24
Questions
Would these work in addition to the stock 2016 XcA engine guards?
The manufacturer states that this product is as good fit for the stock model of your bike. If it comes stock with those engine guards, then there should be no issue in using them together.
Date published: 2019-10-21