TCX Drifter Waterproof Boots
Item # : 526515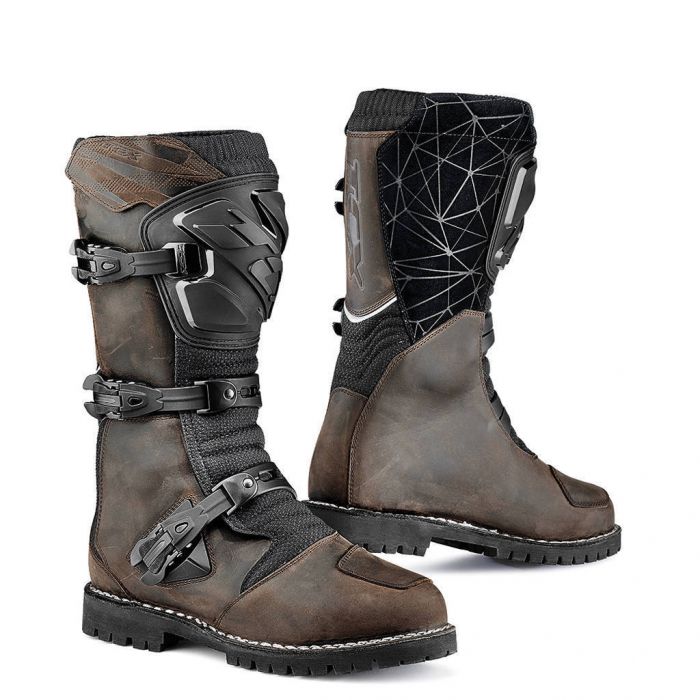 TCX Drifter Waterproof Boots
Item # 526515
Description
TCX Landscape Drifter Waterproof Boots
For the two-wheeled wanderluster who goes where the adventure takes them, the TCX Drifter Waterproof Boots will keep your feet firmly planted on the ground. Tough yet flexible, the lug-soled TCX Drifter Boots are grippy and compliant enough for shifting, walking and hiking around off the bike- whether you want to see the sights or you need to drag your ADV machine out of the thick of it. Downpours and detours, shortcuts and long ways around, the waterproof lining, malleolus inserts and polyurethane shin plates are expedition-ready. Finished with a frame-gripping suede inner calf guard, vintage leather upper and 6060 aluminum buckle closures, the TCX Drifter WP Boots are the ideal footwear to take with you when you leave the pavement behind.
Features:
Vintage leather upper
Padded front and rear microfiber to increase the level of comfort
CFS System
Suede heat guard
Waterproof lining
Polyurethane shin plate reinforcement
Malleolus inserts
Leather shift pad
3 adjustable aluminum 6060 buckles
Sole tread offers a superior grip on any terrain
Reviews
Rated

4

out of

5
by
KTM 350
from
They where a perfect fit, very light weight, actually are waterproof and have great traction.
Date published: 2017-05-05
Rated

5

out of

5
by
Thor
from
Great boots
I bought these boots for a ride down the continental divide. They worked great, although they took a little time to break in but that was expected. I treated them with mink oil right out of the box. They were a bit hot, but again expected considering it was averaging 35-40 degrees . I had lots of complements both from riders and onlookers.
Date published: 2019-08-29
Rated

5

out of

5
by
Midi14hres
from
Best boots ever!
This is a high quality product that fulfills all promises. Excellent protection, really waterproof, firm enough to allow easier standing up while riding, and quite nice to walk with as well. And the vintage look is superb.
Date published: 2019-08-28
Rated

5

out of

5
by
James
from
Perfect out of the box!
Used these on a few adventures and they've definitely met my expectations. They were comfortable out of the box. They provide some great protection and are totally waterproof—I was standing in a mud puddle up to my mid shin and stayed totally dry. Great boots.
Date published: 2019-08-27
Rated

5

out of

5
by
Tewchip
from
Looks and Fit
While i only have a couple hundred miles clocked on these boots, initial impressions are good. They fit perfectly right out of box. Adjustable buckles work good for a custom fit. They look great, not like some of the others out there. Some others make me think of Tron. Am doing a 3000Km trip at end of month through the mountains, so that will be the big test.
Date published: 2019-06-12
Rated

5

out of

5
by
Swede
from
Comfortable right out of the box
They fit, feel and look great. I don't think that I will have much of a 'break in' period.
Date published: 2019-03-29
Rated

5

out of

5
by
Danish
from
Love them
I don't usually buy expensive stuff like this, but I had a bit of extra cash and really wanted a boot that was comfortable, looked great and very protective; I get all with this boot. If you don't mind forking out the cash it's a great buy, I'm sure I'll be wearing these through all kinds of conditions for 10+ years, they look like they can withstand a beating!
Date published: 2018-11-25
Rated

4

out of

5
by
Good2BKing
from
good value and comfortable
Comfortable out of the box. Just the right mix of flexibility and stability for dual sport riding.
Date published: 2018-11-11
Questions
Do do they fit true to size? I.e do they fit larger or do they fit small. Do you need to size up.down etc.
Yes they fit the size, I was a little worried about that myself.
Date published: 2018-05-16