Thor Force XP Knee Guards
Item # : 292780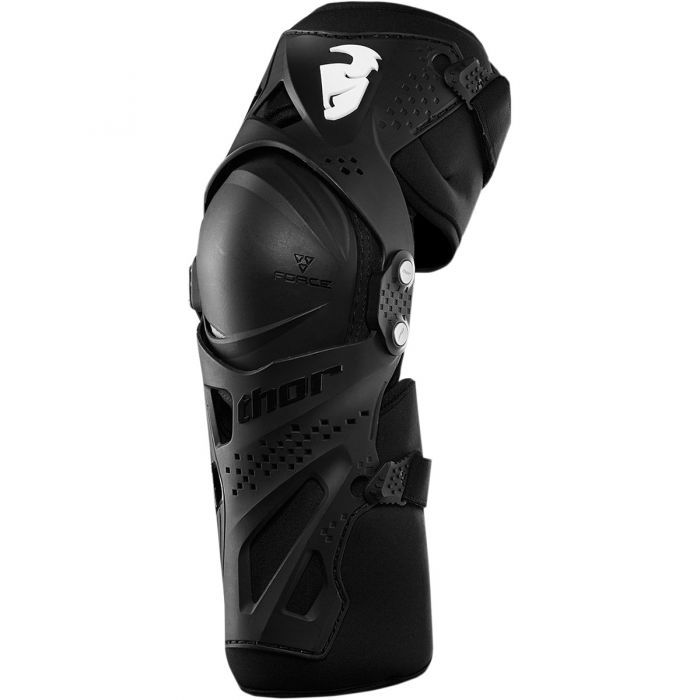 Thor Force XP Knee Guards
Item # 292780
Description
Thor Force XP Knee Guards
The Thor Force XP Knee Guards feature a polyethylene knee guard and extended thigh coverage, combined with a perforated Airprene construction and dual knee pivot for maximum protection and minimal discomfort.
Features:
Perforated Airprene chassis for support and secure fit
Extended thigh coverage
Impact resistant, polyethylene knee cap
Dual pivot system mimics anatomical action of the knee
Inverted post latching system
Adjustable hook and loop closure strap
Asymmetrical design for comfort and fit
Tested and certified to Standard EN 1621-1:2012
Sold as a pair
Sizing:
S/M fits most riders up to 5'7" tall
L/XL fits most riders taller than 5'7"
2XL/3XL fits most riders taller than 5'7" with larger than average legs
Reviews
Rated

4

out of

5
by
Feynman
from
Pretty solid!
Pretty nice design. I like the look and feel of em, but they are a little binding at the knee. I read a review of someone here that is 5'11" and 170lbs and ordered the L/XL and said they were huge. So I being a lean 6' 165lbs ordered the S/M. They are tight, and I mean uncomfortably tight, like holding back inappropriate jokes tight, ok maybe not that bad. They just fit at the loosest setting and are great when your leg is extended, it's when you bend your knees that they bind up, and if you sit on your tank they can add difficulty to shifting, but I just need to toughen up. Overall I just tough it out because I like the em. They are pretty solid when in place. I feel protected, and not just wearing knee pads protected, I mean like in a Muai Thai fight with mother nature, I feel like I'd come out on top. Relatively speaking that is. Not sure how Aussies would fare. The neoprene Velcro Straps are nice and seem to hold well. The bottom tucks into my boots well. They have two extra little straps that don't do much and basically scream "break me" louder than the pocket clip on a mechanical Bic pencil. If it wasn't for the binding when my knees are bent or the pathetic velcro straps waiting to wrap around my exhaust and stink for the next century. I'd give em 5 stars. Don't get me wrong, for the price, they are great, and I'll probably use em for other sports like swimming and Muai Thai.
Date published: 2019-05-10
Rated

5

out of

5
by
Tyler T
from
On-Point Protection
I've been using this knee guard for almost all the sports that I participate in: Biking, Rollerblading, Skating, Snowboarding and mountain biking. The protection is amazing, and I would easily trust these knee guards if and when I get into an accident. Mobility is fine, although when you are either walking or biking, the knee guard tends to start to slide down you leg, even when I strap it so that my circulation almost stops; but this doesn't happen instantly: when biking it takes a good half hour, with walking it takes about 3 to 5 minutes. One thing to note is that after a while of usage - an hour to a few hours, your sweat will make it wet. Not lightly moist but wet wet, just slightly under dunked into a pail of water; but the bright side of this is that when it's in this condition, no matter how much you walk or move, it will not slip, slide, or move from you leg as if it was glued on (you can still take it off easily if you strap off). Overall the protection it offers is amazing, and would be ideal for sports that require less energy and increased protection - like motorcycles (what it was designed for).
Date published: 2016-05-05
Rated

1

out of

5
by
Nick
from
Great protection and fit
Im 6"1' and 187 lbs. Athletic build with bigger calfs and bigger than most quads. I choose the L/XL and at first it fits really snug. But it has to at the same time. Than after an hour of walking/riding (were working on a single track) It started hurting in the back of my left knee. This is the main complaint of most reviews... 2 options to fix. Buy a knee sleeve or adjust neoprene straps so that the velcro wont bite in the flesh when you bend your knees. I was surprise at the quality of these pads. I feel 100x more secure and cannot believe I use to ride without. Buy them! They should be your 2nd armor after your helmet! I find they are very confortable for what they are... Theyre first job is to protect... 2nd is to be confortable.
Date published: 2019-07-19
Rated

5

out of

5
by
GMark
from
Great knee guards
These knee guards appear bulky but are very comfortable and I soon forget that I'm wearing them. They don't slip, don't chafe (I do wear a leg sleeve), do not interfere with standing on pegs or any other aspect of my offroad riding. Although not a knee brace, I find that the design/construction provides a bit of extra support compared to other simpler knee/shin guards, and the wrap around design protects the sides and backs of my knees/legs.
Date published: 2018-06-14
Rated

3

out of

5
by
Jesse
from
Too big for me
I'm a 5''11 170lbs mx rider and I bought the L/XL size and it was really to big for me. I still decided to tried them on track and it was incorfotable. I switched to the EVS medium size and I found them way better.
Date published: 2018-04-26
Rated

4

out of

5
by
Jango
from
Lots of protection!
I bought these for a 4,000km trip this summer. Very comfortable when done up loose. They fit inside my alpinestars corozal boots and don't slide around. They don't breath at all which is good for cold weather...
Date published: 2017-09-19
Rated

3

out of

5
by
Double D
from
They do the job, but fitment is odd.
These definitely blow away the simple shin pads I had previously, but I'd be surprised if they fit most men above 200lbs. I bought the L/XL ones and the upper section barely fits. I don't even have big legs either. I'd actually say my legs are on the skinny side. The upper part on these are almost too small, and the lower almost too big (which I'd expect with my skinny legs). So guys with large quads should not buy these.
Date published: 2017-05-04
Rated

5

out of

5
by
sparrow123
from
Great product
I find this to be a great product, fits good, is comfortable, money well spent for the protection offered and peace of mind knowing your knees are well covered in a fall. I highly recommend these knee guards to any one looking to buy some.
Date published: 2016-12-14