Tirox Chain Cleaner with Brush 400g
Item # : 152971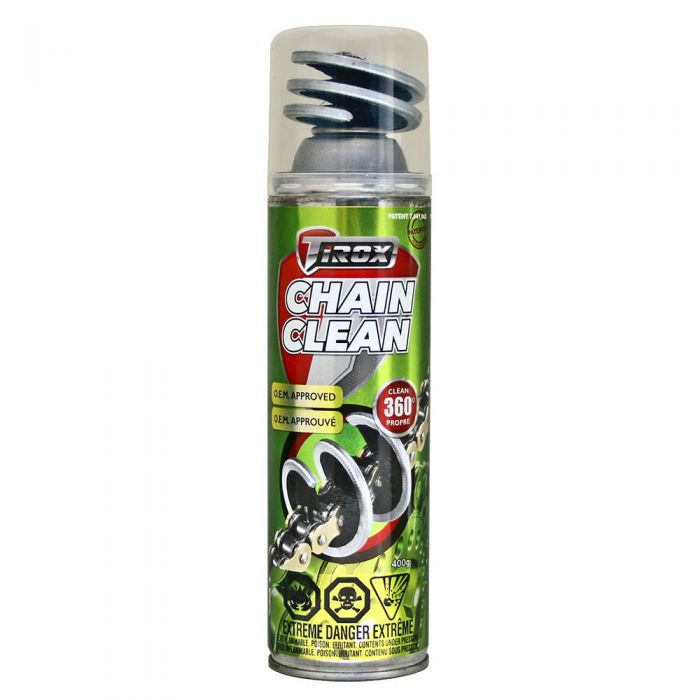 Tirox Chain Cleaner with Brush 400g
Item # 152971
Description
Tirox Chain Cleaner with 360° Brush
Features:
Quickly loosens grit and old chain lube from chains, wheels and frames
Highly effective patented 360° brush included (also available separately)
Safe on all chains/bodywork etc.
Contains kerosene (as recommended by leading chain manufacturers)
400g aerosol can
Sold each
Manufacturer Part Number: 803500
Comparison Chart
| | | | | | |
| --- | --- | --- | --- | --- | --- |
| | | | | | |
| Model | Tirox Chain Cleaner | Maxima Clean-Up | Motul C1 | Motorex Chain Clean | Ipone Chain Cleaner |
| Price | Most affordable | Affordable | Affordable | Affordable | Least affordable |
| Benefits | Great degreaser, safe on all chains, contains Kerosene | Quickly dissolves, no harm to finish, no CFC's | Chlorine-free formula, acts fast on encrusted deposits | X-ring and o-ring tested, effective residue removal | Efficient against tough grease, powerful spray |
| Sizes | 14.1 oz | 15.5 oz | 9.8 oz | 16.9 oz | 25.3 oz |
| Included Gloves | | | | | |
| Brush version | | | | | |
Reviews
Rated

5

out of

5
by
Mac871
from
Tres bon
Super cest un tres bon produit,ca fait brillé votre chaine même les chaine bien noir depuit tres longtemp permet que lhuile penetre a nouveau et prelonge lavoe de la chaine mes tchum voulais tout me l'emprunté merci super !
Date published: 2018-06-23
Rated

5

out of

5
by
Allrightfine
from
Works great. Love the brush. Brilliant design.
This chain cleaner is perfect. The brush is awesome. I don't have a garage or a mounting stand, but even manually advancing the chain this was easy to use and worked perfect
Date published: 2018-08-29
Rated

5

out of

5
by
Lewis08
from
Works great
I have always used non chlorinated brake cleaner to clean my chains which works pretty good but this tirox chain cleaner does a better job. It takes quite a bit longer since it doesnt evaporate like brake cleaner. (You have to rinse it off with a garden hose then take the bike for a ride) but the end result is a very clean chain. The brush works pretty good too
Date published: 2018-07-26
Rated

5

out of

5
by
Ducatista
from
Works very well!
I recently purchase the Tirox SnapJack SS Single Swingarm Jack Item #: 803521, Tirox Chain Cleaner with Brush 400g Item #: 152971 and Tirox Synthetic Chain Wax Item #: 188448 from FortNine. This was use on my 2017 Ducati Supersport S. I am 100% satisfied with these products and would recommend there purchase whole heartedly. The Tirox SnapJack SS Single Swingarm Jack is of very high quality and is easy to use. I was a little unsure of how it would work the first time but the bike "snapped" into place without a fuse and was completely stable. The Tirox Chain Cleaner with Brush is also easy to use. I don't understand any criticism directed towards these products. My chain was absolutely spotless with a few minutes effort. I rinsed with about a litre of warm water as a hose wasn't handy and then wiped it down with an old microfiber cloth. The Tirox Synthetic Chain Wax applies easily and doesn't fly off. I applied the wax liberally and let it dry for at least an hour. The chain runs very quietly and there is no fling off on my rear rim… none! This Tirox suite of products works perfectly. I rate them 10/10!
Date published: 2018-07-25
Rated

4

out of

5
by
Joel
from
Bang on
Cleaner worked really well! Included spiral brush was a little tricky to work out at first, but once figured out it worked like a charm.
Date published: 2017-12-11
Rated

4

out of

5
by
jefffx
from
Good Product
I use kerosene normally with wire nylon brush. I really liked the brush that came with.
Date published: 2015-08-08
Rated

5

out of

5
by
Mike
from
Makes cleaning easier
Makes cleaning the chain way easier with the brush.
Date published: 2015-07-17
Rated

5

out of

5
by
PiperPaul
from
A recommended purchase
If you already believe kerosene is the best choice to clean a chain, then this product makes it very easy to apply, and the threading brush ensures that all the gunk gets brushed off and removed. Best of all for me it provides a compact means to take on trips for regular chain maintenance.
Date published: 2015-07-13
Questions
The product mentions rinsing the chain after degreasing, are they implying using water? 
Hi Seabass, Believe it or not, yes! According to instructions on their website, Tirox strongly recommends a jet of water to rinse the chain after degreasing, followed by wiping clean with a cloth or paper towels and allowing to air dry before applying chain lube. ~Simon, Customer Service, Canada's Motorcycle
Date published: 2015-05-24