Vortex V3 2.0 Frame Sliders
Item # : 602265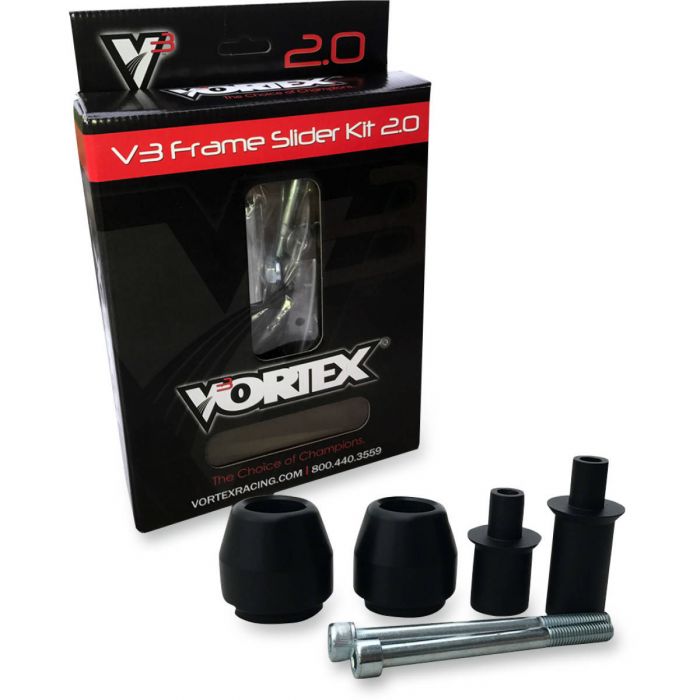 Vortex V3 2.0 Frame Sliders
Item # 602265
Description
Vortex V3 2.0 Frame Sliders
Features:
Vortex V3 2.0 Frame sliders are equipped with Controlled Flexion Areas and intelligent protections system designed to ensure that the sliders bend in certain areas to increase bike preservation by redistributing impact force away from the motorcycle frame and engine body
Strong aluminum elements (alloy class 2017) ensure that the whole protection system will stand up to the toughest race conditions
V3 2.0 Frame sliders are anodized matte black to avoid corrosion
Molded impact pucks are made from special proprietary energy-absorbing material
V3 2.0 Frame sliders are precisionmade with CNC machines, each frame slider kit is made to fit specific bike models. No extra parts are needed to assemble this product when purchased properly
Detailed assembly instructions are included, Vortex recommends that its V3 2.0 frame sliders be installed by a certified motorcycle mechanic
Modification may be required depending on the kit and selected vehicle
Reviews
Rated

5

out of

5
by
Abe Wong
from
Great Street Sliders with no drilling/cutting
Put these on my 2017 R3. Worked Great, looks clean. Only advice I have for prospective buyers is make sure you match all your screw lengths correctly as there are some slight variations between the left and right side.
Date published: 2018-06-17
Rated

4

out of

5
by
walker
from
Saved my Bike
First month riding I got caught in a torrential downpour of rain. When turning right around a sharp bend my rear tire slipped out and my bike slide about 5 meters. The right frame slider took most of the damage. Only other thing that took a scratch was my bar ends and a bit on the exhaust. No plastic cladding was damaged. Worth the money. However getting replacement rubber ends is a bit of a pain.
Date published: 2019-08-28
Rated

4

out of

5
by
Henning
from
expensive
The one bolt was hex head the other allen, didn't like that . Expensive for what it came with.
Date published: 2018-08-25
Rated

4

out of

5
by
BikeCarGuy
from
Looks great
The instructions weren't very clear but the customer service was great. Installed in 20 minutes. Definitely recommend.
Date published: 2019-11-18
Rated

1

out of

5
by
doowhoowdelayhehoo
from
Scam
Received random bolts that were not the same as in instructions. All the packaging was loose everything was sliding around. Spacers are too big, bolts I was given won't reach threads on the frame (could cut spacers to fit). Purchased for my CBR-250R 2012, since it presented itself as no-cut fairings. Which isn't the case, assuming I have to cut my fairings, since it collides, which I refuse to do. Looking at other reviews from other sources, they fail in crash and damage frame. Vortex is overpriced garbage presenting itself as racing grade, will never purchase from them again.
Date published: 2019-07-03
Rated

5

out of

5
by
Aman
from
Easy to install
Really easy to install, just make sure you have some sort of thread locker or Loctite (blue or higher). I haven't had the unpleasant experience of testing them out yet.
Date published: 2019-05-07
Questions
Packs contains 2?
This is a kit, so it includes 2 frame sliders, as well as the other parts you need for installation. Once you enter the year, make and model of your vehicle on the product page, the vehicle specific part will be recommended, and you will be able to view the installation instructions for your application
Date published: 2019-08-05
Is this a cut or no cut frame slider kit?
Depends where your slider mounting holes are in relation to your fairings.
Date published: 2018-05-01