Yoshimura R-77 Slip-On Exhaust
Item # : 156678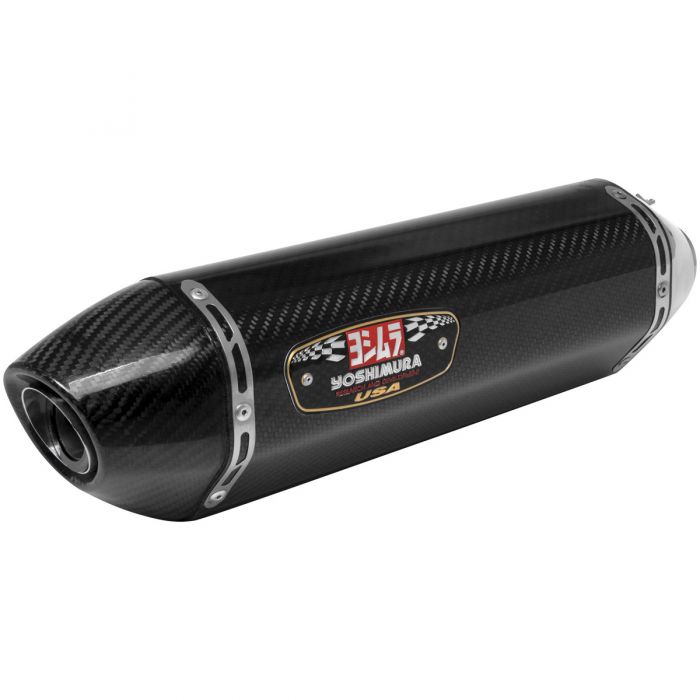 Yoshimura R-77 Slip-On Exhaust
Item # 156678
Description
Yoshimura R-77 Slip-On Exhaust
Features:
The R-77 consists of a trapezoidal-shaped sleeve, maximizing muffler volume, while offering a sharp silhouette to flow with the new body.
The innovative Carbon Fiber end-cap is reminiscent of the R-55, featuring sharp edges for an attractive, eye catching appeal.
Slip-on systems include the R-77 muffler, stainless steel mid-pipe, and all necessary hardware for installation.
Choose between Stainless Steel, Carbon Fiber and Titanium construction
EPA - EPA Noise Compliant - exhaust component or system meets EPA Noise Emission requirements of 80 dBA when installed on the specified motorcycle.
Reviews
Rated

5

out of

5
by
Waldo
from
R-77 slip on
Love the sound of this exhaust the videos on the internet don't even come close to the real sound, it's truly awesome. It will put a big grin on your face the first time you hear it..The install was easy only thing is the instructions could have been more detailed. As to where to put the spacer and witch way it would face also the rubber shield around the exhaust bracket, I did trim the rubber to fit but you should leave a little extra because once you tighten the exhaust bracket it dose stretch out. The Internet was helpful with the install It also comes with a baffle I did not install right away but ended up installing it because it dose sound awesome but it was a little loud for me without it. Also to install the baffle, the exhaust has to be off the bike.. I did learnt the hard way after I lost the screw down the hole to fasten the baffle. I would recommend a inch pound torque wrench for the install.
Date published: 2015-08-11
Rated

5

out of

5
by
Brad
from
Sweet Sound
Awesome sounding exhaust, should have did it a year ago, little pricey but what isn't these days
Date published: 2018-03-30
Rated

5

out of

5
by
Dave S
from
Looks and sounds great
Looks amazing in the carbon fibre version. Haven't really had a chance to try it out on the road as it snowed the day I fitted it and hasn't let up much since. Sounds awesome in the garage and saves a ton of weight over the barn sized stock exhaust. My only gripe is the fact that I purposely have zero chrome on my V Strom and the Yoshi, even in the carbon model, has quite a bit of chrome in its make up. Not a big deal but just an observation.
Date published: 2018-01-07
Rated

5

out of

5
by
Caramon
from
Great sound, easy install
The sound is far better than any YouTube videos, it's exactly what I wanted and the install was easy, huge weight difference too. Great product !
Date published: 2016-05-05
Rated

5

out of

5
by
Kody
from
Excellent sound and look
Awesome sound at high RPMs, non-offensive grumble at low RPMs. Good for quiet neighborhoods, early morning/late nights. Note that the heat shield can't be reused with the KTM 690 Enduro, wish it had the option to come with the one from Yoshimura.
Date published: 2019-08-08
Rated

5

out of

5
by
theoneldub
from
Great Sound vs OEM
Did a lot of research on many types of slip ons and I finally bit the bullet and went with this Yoshi. Installed in 10min and very happy with the sound. I did not remove the baffle as some do because it already sounds great. Quality product that appears will last for years to come.
Date published: 2019-04-25
Rated

5

out of

5
by
gonzo71
from
nice product
all in all satisfied. without insert piece way too loud but with it on just perfect. adds some "visibility" points for other drivers. enhances the connection to my machine. nice sound bringing out the tones of my v-twin! should of done this mod before! it is quite expensive though...i was considering akra at first but just couldn't get myself to bust out the cash. why is everything so expensive....
Date published: 2019-06-17
Rated

5

out of

5
by
R00k13M3chan1c
from
Sounds amazing
The order came earlier than expected and the exhaust sounds better than the videos on YouTube... absolutely recommend this product. I've started ordering here in FortNine about 2 1/2 years now and so far so good. No issues at all.
Date published: 2019-04-19
Questions
What insert is included with the R77 slip-on?
It comes with a removable, low-volume insert.
Date published: 2019-04-19
I have on 08 Suzuki GSF Bandit 1250SEA with factory side bags, does this pipe come with a lower hanger to accommodate the bags?
Unfortunately, the Yoshimura R-77 Slip-On Exhaust includes a clamp that adjusts to the original bike configuration; meaning without considering any bags. You would have to adapt your bags with a side rack, so they would be higher.
Date published: 2019-09-18
what is the difference between the epa and non epa option. do they both have removable baffles?
The EPA version means the exhaust is EPA Noise Compliant - exhaust component or system meets EPA Noise Emission requirements of 80 dBA when installed on the specified motorcycle. Yes, they come with removable baffles
Date published: 2019-01-13
I need to know the intake hole size on your selections of slip-ons, where do I find this info? My pipe is about 63-64mm.
This exhaust, and the other exhaust that we sell, are all bike specific. The manufacturer does not list the dimensions of the intake hole for the 50+ different options that we sell. If you enter the year, make and model of your vehicle on the product page, you will be able to order the vehicle specific part for your bike, if there is something that fits. If you need more information on a specific part number, or for something custom, we would recommend contacting Yoshimura directly.
Date published: 2019-12-02
I have a 2014 Suzuki GSX1250FA. Will the installation of this part require any other modifications to my completely stock bike?
There are no modifications required with the installation of this slip-on.
Date published: 2019-04-19
I'm would like to order one but I don't know which one has a removable baffle.
The epa one does not have a removable baffle. (Well not easily and you have to remove the epa plate if you do remove it)
Date published: 2019-04-18
Does it delete the cat on a 2016 zx10r ninja?
The R-77 slip-on is a CAT Back system and doesn't involve removing the catalytic converter only the stock exhaust. I'd also suggest getting a "servo buddy" to avoid the amber engine light that will come on after removing the stock exhaust.
Date published: 2017-11-02
do you have to retune your ecu one this is installed on a CBR 500r?
I installed this on my 2014 ZX-6R 636 and didn't have to do anything to the ÉCU. Performance enhancements we very noticeable. If you've already flashed the ECU (already made other changes or this is not your first aftermarket pipe) you will likely have to remap the ÉCU.
Date published: 2019-10-01