Yoshimura RS-4 Off-Road Full System Exhaust
Item # : 156803
$443.99 - $1,704.99
$443.99 - $1,498.99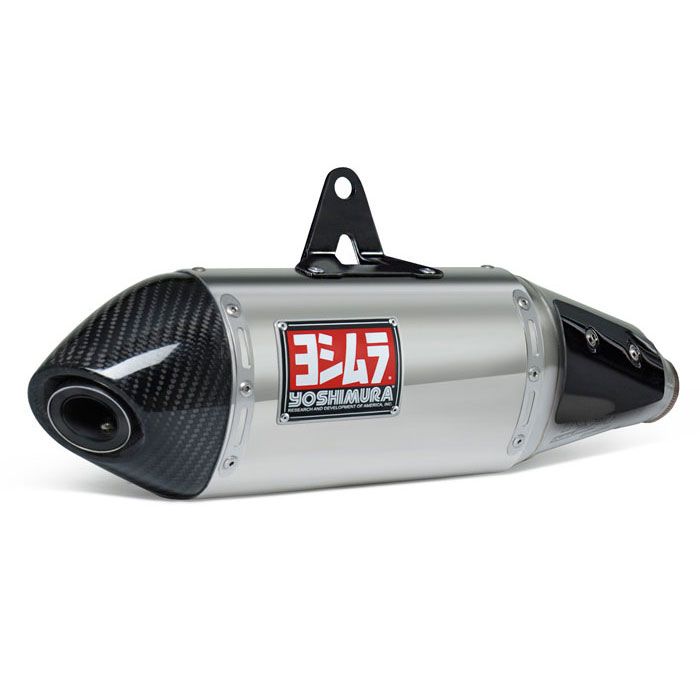 Yoshimura RS-4 Off-Road Full System Exhaust
Item # 156803
Description
Yoshimura RS-4 Off-Road Full System
The work that went into developing the RS-4 muffler design paid big dividends in 2010 with Ryan Dungey winning the AMA 450 Supercross and Motocross Championship series as a rookie in the same year, and again in 2012 with the Yoshimura-backed GEICO Honda team winning both 250 Supercross Lites titles. That same R&D has been directed to developing the current generation RS-4 - a unique design that provides an unrivaled combination of power and a quiet exhaust note. The RS-4 features a Polyresonant duplex chamber, a two-staged stepped baffle and an innovative carbon cone end cap.
Features:
Pentagonal-shaped sleeve
Front muffler cap functions as a polyresonant chamber which helps reduce noise
Two-stage stepped baffle
Carbon fiber end-cap
Header and tail-pipe available in Stainless steel or Titanium
Reviews
Rated

5

out of

5
by
BlastsFromTheSaddle
from
The best full exhaust system for CRF250L
Fit and finish is top-notch (with one exception). Performance is excellent. I am super-happy with the RS-4 system. A couple negatives: 1.) The header mounting plate did not line up with the head stud bolts (had to file-elongate the holes to fit) 2.) The stock low volume insert is difficult to remove and replace with the spark arrestor, and the spark arrestor is difficult to remove for cleaning. 3.) The spark arrestor is much louder (annoyingly loud) than the low volume insert, and diminishes performance slightly. Some positives: 1.) Yoshi exhausts are tuned with the low volume insert in place, so if you do not require a spark arrestor, the bike will preform optimally with the low volume insert installed. 2.) Bike revs much more freely, and has improved throttle response. 3.) The exhaust note is very throaty, and yet not annoyingly loud with the volume insert in place. Conclusion: I love the Yoshi RS-4 Comp Series Full System. The performance and sound is awesome. The spark arrestor however, is not well thought-out. I absolutely recommend this system, but if a spark arrestor is vital, you might want to explore other options, or modifications to this system.
Date published: 2015-11-06
Rated

5

out of

5
by
Moto man
from
Night and day
I have rode 3 times since installing the new full system and I'm amazed at the difference it makes. It's exactly what I was hoping for. It sounds great and and does everything it said it would.
Date published: 2018-05-10
Rated

5

out of

5
by
Penguin sweaters
from
Sounds and looks great
Noticeable power increase , sounds awesome, looks sick
Date published: 2017-05-05
Rated

5

out of

5
by
CRFguy
from
Great fit, awesome sound.
Great fit on the CRF250L. Makes it sound like a dirt bike. Looks good. Remember to order the heat sheild, it does not come with the full system for some reason.
Date published: 2019-08-28
Questions
Does this full exhaust require a re-map after install?
If you are installing the RS4 full system with header and muffler, then yes, you should remap your fueling. You'll be quite a bit too lean otherwise. The power gains come from being able to burn more gas at the right ratios.
Date published: 2017-12-17