Yuasa Conventional 6V Battery (Acid sold separately)
Item # : 95809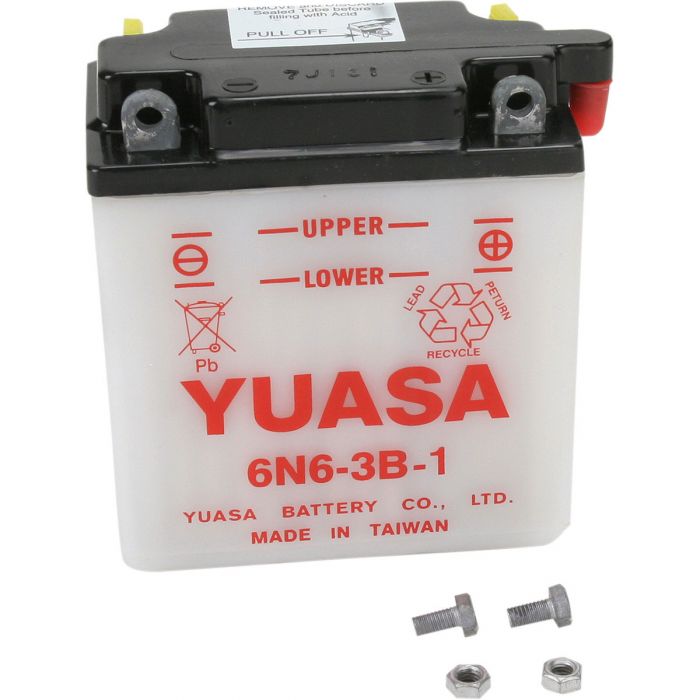 Yuasa Conventional 6V Battery (Acid sold separately)
Item # 95809
Description
Yuasa Conventional 6V Battery
Cutaway with Features & Benefits
Yuasa Conventional Battery Cutaway
A workhorse battery engineered to protect against corrosion, withstand vibration and deliver high cranking power.
The industry standard for motorcycles and riding mowers, Yuasa's Conventional Battery is anything but conventional. This workhorse is for applications requiring operation on uneven surfaces and vibrating environments - even when the weather's dealing its worst. It's the rugged, reliable and dependable battery that customers are looking for!
Features:
Basic dry batteries mostly for older applications.
Customer must add acid (acid not included) and charge before installation.
May need periodic refilling.
1-year manufacturers warranty.
Reviews
Rated

5

out of

5
by
Dadda
from
Good deal
It got Shipped dry. I Had to source the acid locally. Before charging
Date published: 2015-10-18
Rated

5

out of

5
by
HondaRider
from
Exact fitment perfect for 6v bikes
Needed this for my Small dirt bike and it fit perfectly and has been holding a charge since it's first initial charge. Battery doesn't get weak using lights without running the bike either.
Date published: 2018-08-25
Rated

5

out of

5
by
Ddddddddd
from
Très bien
Livraison respecter dans temps bon service bonne description
Date published: 2017-09-16
Rated

5

out of

5
by
Marco
from
Awesome customer service
Got my battery exactly as ordered. Best part was the service! They called a bit over a week after saying it should have arrived and to check my PO box. And to call again if any problems arose. Happy to be on the road again!
Date published: 2017-06-24
Rated

5

out of

5
by
COLAB
from
WOW nice
All good great service and shipping !!!! Thanks' for all !
Date published: 2017-05-04
Rated

3

out of

5
by
Fearless
from
I misread the add and hadn't noticed it doesn't come with an acid pack. No biggie, I found an old time dealer who filled the little battery with acid for $5. I had to shop around though some dealers didn't have bulk acid and others wanted 7 to 10$. I don't care for the way Yausa connected the second red wire at the fuse connection. I rewired a second fuse so both reds have their own fuse like OEM.
Date published: 2016-08-13
Rated

5

out of

5
by
Lewis
from
Excellent parts and service
I have looked everywhere to find the proper battery for my 1972 Honda. And bang the first try I got the exact part with a very short waiting period.
Date published: 2015-10-17
Rated

4

out of

5
by
Anonymous
from
Good price/quality ratio
Nothing earth shattering, just a good reliable old fashioned lead/acid battery.
Date published: 2014-04-10