Yuasa High Performance Factory Activated AGM Battery
Item # : 95834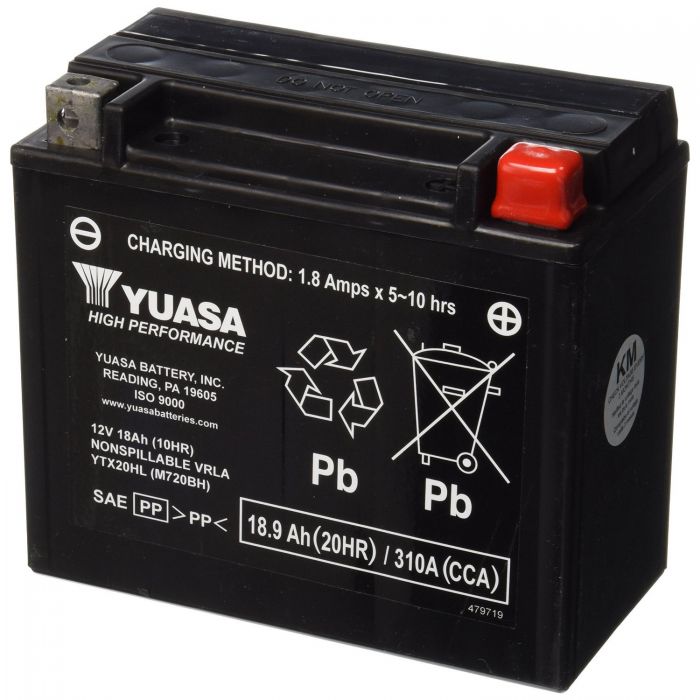 Yuasa High Performance Factory Activated AGM Battery
Item # 95834
Description
Yuasa High Performance Factory Activated AGM Battery
Cutaway with Features & Benefits
Yuasa AGM Battery Cutaway
This new generation of maintenance-free batteries delivers higher cranking amps for vehicles that require extra starting power from the largest motorcycle battery manufacturer in the world. Over 50 years of engineering expertise ensures high-quality construction for long and trouble-free service. Absorbed Glass Mat (AGM) Separators
Reviews
Rated

5

out of

5
by
Ed M
from
Strong battery
Factory activated is a great plus. I measured 12.4 volts when I got the battery and then I used my one amp charger to bring it to 100% charge of 12.8 volts.
Date published: 2019-08-30
Rated

5

out of

5
by
Mk004
from
Works great
I bought this for my '01 KLR and it is awesome. The engine spins real fast while starting no matter the temperature. I highly recommend this battery if you plan on using your bike in the early or late season.
Date published: 2019-08-27
Rated

5

out of

5
by
Jmjpk
from
As expected
Better than normal delivery, product as expected, top quality.
Date published: 2019-06-13
Rated

5

out of

5
by
Mr Tee
from
Excellent product
Great battery at a great price. Best price hands down and fast delivery
Date published: 2019-06-12
Rated

5

out of

5
by
1976 rollie
from
uh it's a battery
its a battery for my buell xb9r. i stupidly forgot to put it on the trickle charger over the winter. So prior to getting insurance i went out and did a pre trip to make sure all was good... nope, battery dead and wouldnt take a charge. Hop on to the walk-a-round hand held computer and sign in, go to my garage and select the xb. (cause you can have more bike on your profile and my wife lets me have a couple... she gets to have a cat if i get another bike.) So search up a battery and its guaranteed to fit... cool... easy checkout...email a tracking # free delivery over 49 bucks ... best part is... i was riding 2 days sooner than the expected delivery date. Its prolly not the best battery, i dont need it to start in -20. or even at +5 but it wasnt the cheapest either cause cause i need all them 12volts. i dunno how do you review something thats brand new? ask me again in a couple years to say i should have dropped more dough on it and got the more expensive one.
Date published: 2019-04-23
Rated

5

out of

5
by
Vohda
from
The great choice of products was followed by a really quick delivery. I was worried that shipping a heavy item like a battery was going to cause problems but that was not an issue at all. I will definitely do more shopping here.
Date published: 2019-04-19
Rated

4

out of

5
by
yebogogo
from
No problem on first start
I bought this a few weeks ago and finally installed it. It is factory charged and had about 85% charge. I topped it up with my motorrad trickle charger. Next day, she cranked as if never missing one day of riding. (My bike was in storage for a year due to back issues). Installation was pretty easy for a non tech likemyself and on the Revzilla beard scale, its a 1. My biggest worry was finding leftover screws as I needed to remove ten screws just to remove the battery. No wonder BMW services are so pricey. Seriously though, the biggest worry was losing the nut where the terminals screw on.
Date published: 2019-03-26
Rated

4

out of

5
by
Kent
from
Great Customer Service
Bought a new battery. The best available. So I installed it,pointed my sled for a garage exit, and waited for snow. About a month rolled by and down came the snow. My new battery needed a boost. Off I went. Long story short... the battery had a hole in the bottom of it. I found plastic in the bottom of the box it came in. HATE CANADA POST! Customer service was great, though. I'll definitely use Fortnine again.
Date published: 2019-01-18
Questions
Does this battery need charging before putting in? 
It shouldn't but you can check it with a battery tester
Date published: 2019-06-07