Yuasa GYZ High Performance Factory Activated AGM Battery
Item # : 95844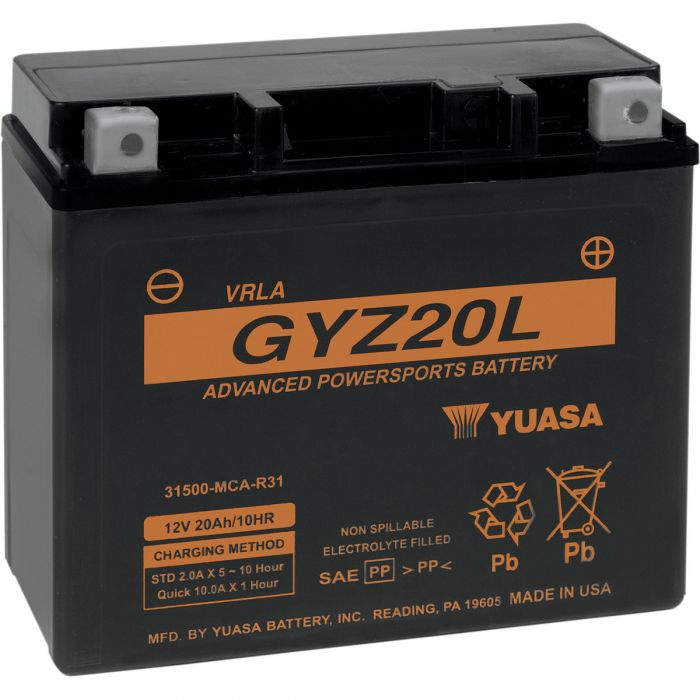 Yuasa GYZ High Performance Factory Activated AGM Battery
Item # 95844
Description
Yuasa High Performance Maintenance-Free Battery
Cutaway with Features & Benefits
Yuasa GYZ Series Battery Cutaway
Absorbed Glass Mat (AGM) Technology is an advanced battery design used in Yuasa's Maintenance Free Batteries that eliminates water loss. So you'll never need to fill it with water or check the acid level.
Features:
Heavy-duty terminals with built in brass nuts for better conductivity
Flush-mounted terminals with no spacers needed
AGM separators with superior grid and component designs
Improved charge recovery capability from a deeply discharged condition
Heat bonded cover eliminates leaks and corrosion
Features a higher capacity, longer life and more cranking power
Spill-proof design and extreme vibration resistance
Easy grip cover with leak proof valve to relieve excess pressure
1 year manufacturers warranty
Made in the USA
Reviews
Rated

5

out of

5
by
Keith B
from
Good Cranking Power
I bought this battery to replace the OEM battery that came with my 2014 HD XL1200T SuperLow. It fit perfectly. The price was competitive and slightly lower to similar batteries elsewhere. Once installed I noticed the higher cranking amps immediately, as the bike turned over effortlessly. FortNine is highly recommended. It's great to have a web based, motorcycle parts and accessory store with such a good selection in Canada. Thanks FortNine!
Date published: 2017-08-23
Rated

5

out of

5
by
Birky123
from
Awesome!
FortNine's service is excellent. After placing my order, the battery arrived the next day! Put it on the tender but didn't need to as it was fully charged. I installed the new battery in my 2014 HD Ultra Limuted last weekend. First time starting the bike after a long weekend. The battery turned the engine over and the engine started like it had just been running. The extra CCAs are worth it!!!!
Date published: 2019-03-29
Rated

4

out of

5
by
atakan
from
Great Longevity
I searched this battery for weeks. It's worth to pay $20 more to get this one instead of regular gyz-14. The only problem is Canada post. Pay couple more $$ and get it via UPS.
Date published: 2019-03-16
Rated

5

out of

5
by
Greensprout34
from
quick delivery, fit right in my 2007 harley davidson softail deluxe
Date published: 2018-03-21
Rated

5

out of

5
by
Chris
from
Top niveau
J'ai acheté la batterie en fin de saison, fonctionne bien.
Date published: 2019-11-18
Rated

5

out of

5
by
Groener1107
from
Excellent battery
Fit my 1200 sporterster perfectly , bike starts up well, delivered quickly &fair price
Date published: 2019-09-09
Rated

5

out of

5
by
David
from
Great product
I bought this as a replacement for the HD battery in my Road King. With 500 CCA, compared to the 385 CCA of my previous battery, this battery is like night and day for starting power. Engine fires right up with no hesitation at all. Wish I'd bought it a couple of years ago!
Date published: 2019-09-03
Rated

5

out of

5
by
Thunder
from
Powerful
I bought this battery for my 2010 street glide and it work's better than the OEM one. Powerful and quick start every time.
Date published: 2019-08-28