Yuasa High Performance AGM Battery
Item # : 95847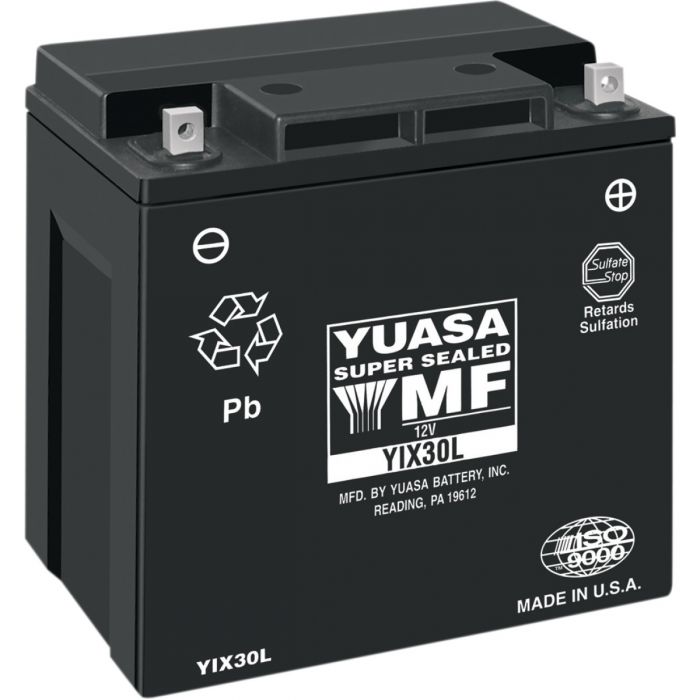 Yuasa High Performance AGM Battery
Item # 95847
Description
Yuasa High Performance Maintenance Free Battery
Cutaway with Features & Benefits
Yuasa AGM Battery Cutaway
Absorbed Glass Mat (AGM) Technology is an advanced battery design used in Yuasa's Maintenance Free Batteries that eliminates water loss. So you'll never need to fill it with water or check the acid level.
Features:
Additional plates inside battery provide up to 30% more power (cranking amps) than the Yumicron battery.
Customer fills battery from included acid tubes to create a sealed, spill-proof battery.
Never needs refilling.
High level of power (cranking amps) possible for todays big bikes.
1-year manufacturers warranty.
Reviews
Rated

5

out of

5
by
bkoehler
from
Great value
Best price I could find in Canada. Quick delivery. Loading with acid is easy-peasy when you follow the simple instructions. Then it all works like it's supposed to. Remember to never leave your bike without running to a full charge every 2 weeks or just drop on a trickle charger. Then you should regularly see 5 year + lifespans. Then remind me.
Date published: 2016-01-09
Rated

5

out of

5
by
Beemer
from
Warranty Replacement
Warranty replacement made with no questions. New battery appears to be just fine Thanks
Date published: 2016-02-06
Rated

5

out of

5
by
Fleg
from
great batterie, great after sale service
I bought a similar batterie 1 year ago, install it but did not ride the bike for a while until I finally realise it was defective. I took a chance and called customer service, they asked me to send them a picture of the serial number and did all the leg work to provide me with a full refund. I bought back the exact same model and now my 2 cyl 1800 cc motor starts better than when it was new. Sorry dealer, from now on my first choice supplier is Canada's motorcycle. BTW regular shipping only took 2 days!
Date published: 2015-07-04
Rated

5

out of

5
by
Chubby
from
Pretty impressive
My stage 3 Fatboy is running 10.5 to 1 compression with no compression relief valves... it will not start when hot with a weak battery... I was looking for a 500 cca battery when I came across this and decided for the money I would give it a try... got the bike hot, shut it down, then left the lights on for about 5 minutes.. and the pig fired right up! NICE!
Date published: 2016-05-14
Rated

5

out of

5
by
Claude
from
Product
Hi ! Product look good , very well packed, good shipping system, did not install it yet wait for spring. ordered product from them before ( tires are great ) very satisfied. Claude
Date published: 2016-02-17
Rated

5

out of

5
by
Jimbo
from
It works great, price was very reasonable too, love it
Date published: 2016-02-06
Rated

5

out of

5
by
stadABITIBI
from
Batterie haute perormance
Très satisfait, service rapide, bonne performance.
Date published: 2016-01-10
Rated

5

out of

5
by
Jeff
from
Good price for quality
Well regarded battery brand, and FortNine carries not just one or two of their product levels but almost the whole range of Yuasa for motorbikes—being able to compare and contrast the various price points, and in Canadian dollars, is something I'll (thankfully) have to get used to. Because of the selection and extensive info posted with each battery, and the good prices with shipping included, I decided to get this, the better YIX model line from Yuasa for my 1977 BMW motorbike.
Date published: 2019-12-04
Questions
What are the specific dimensions of this battery in CM or MM
Since every battery is vehicle-specific, unfortunately, not every battery has the same dimensions.
Date published: 2019-09-17
How long is the warranty for a Honda Aspencade Battery?
All Yuasa batteries have a 1 year warranty from the date of purchase
Date published: 2019-10-11