Yuasa AGM Battery
Item # : 95858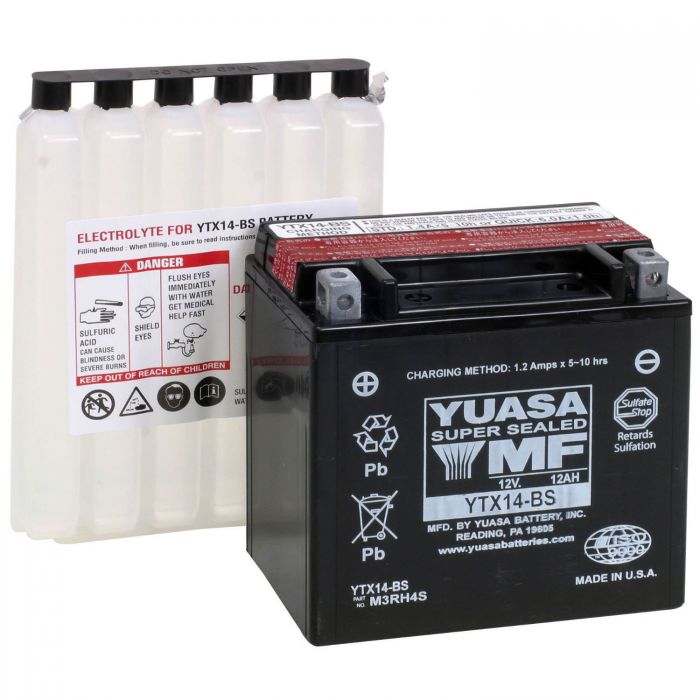 Yuasa AGM Battery
Item # 95858
Description
Yuasa Maintenance Free Battery
Cutaway with Features & Benefits
Yuasa AGM Battery Cutaway
Living up to its name, the Yuasa Maintenance Free Battery gives worry free starting for your motorcycle and ATV through its tough and stable lead calcium design that allows for sustained performance over a long period of time regardless of inactivity.
Absorbed Glass Mat (AGM) Technology is an advanced battery design used in Yuasa's Maintenance Free Batteries that eliminates water loss. So you'll never need to fill it with water or check the acid level.
Features:
Comes with pre-measured acid tubes that easily empties into battery.
Includes a seal that is then placed across top of battery to create a sealed, spill-proof battery.
Never needs refilling but may need periodic charging.
1-year manufacturers warranty.
Reviews
Rated

2

out of

5
by
dave
from
Hope this is better than the last one
I have used Yuasa batteries in the past and I know that in general, they have a good reputation, but have to say I was disappointed with the one I just had to replace in my Road King. I bought it about a year and a half ago. My bike is stored in a heated enclosure all winter and is on a battery tender. When I took it out of storage this season, I noticed the engine didn't turn quite as fast as it usually did when starting. I rode and the bike sat for three days off the tender. When I went to start it, it was very sluggish and almost didn't start. Hopefully this one lasts longer.
Date published: 2018-05-20
Rated

5

out of

5
by
Tamarok
from
Yuasa YTX 5L-BS Battery - Vino 50cc
Same battery that came with Scooter, checked others and dimensions were different for the same CCA. Battery delivered 6 days after on line purchase. Price was the best I could find for the Yuasa battery most were $20 more. Added the fluid and put on trickle charger and ready.
Date published: 2018-08-29
Rated

5

out of

5
by
rjwyn
from
Great Battery
I bought this a month ago and was impressed with how fast it arrived on my door step. A few simple steps later, all worries about will the bike start next time were gone and I have already recommended the site to a friend.
Date published: 2016-08-21
Rated

5

out of

5
by
Brg 501
from
Excellente batterie
C'est ma deuxième batterie Yuasa que j'utilise dans mon vtt et croyez moi ce sont les meilleures à date pour la durabilité.
Date published: 2017-12-12
Rated

5

out of

5
by
Crashbarluggage
from
It just works.
Battery is good quality and priced right. Buy it with confidence.
Date published: 2017-09-18
Rated

3

out of

5
by
Shadowlim
from
Bought this baterry to replace a dead baterry
I bought this yuasa battery to replace the same type of yuasa baterry I bought 2 years ago. Therefore I am not sure whether it will last more than 2 years.
Date published: 2017-08-09
Rated

5

out of

5
by
Duncan105
from
Bought this battery for my track bike. Followed the instructions and I am very happy with it. Best battery I have ever used.
Date published: 2016-08-18
Rated

5

out of

5
by
Sherry
from
fast shipping
needed a battery for a 1988 CBR600 and had a hard time finding until i hit this site. good price and fast shipping.
Date published: 2016-03-24
Questions
Can the initial charge on this battery be done with an ordinary Battery Tender? Or should I use something fancy with correct settings as shown in the YouTube video?
Yes, the initial charge can be done with an ordinary Battery Tender.
Date published: 2019-09-19
Where is this made
Yuasa batteries are made in the USA
Date published: 2019-03-28
What are the dimensions of your batteries?
The batteries vary in dimension depending on what vehicle it is for. You will need to enter the year, make and model of your vehicle to get the correct battery
Date published: 2018-12-20
It says the battery comes with acid in pre-measured tubes. So the purchaser has to inject the acid into the battery and get it ready for use ? Are detailed instructions provided ?
Yes
Date published: 2018-04-11
Is this the Glass Mat (AGM) type? I need one for my DR650.
Yes it is. It's a good battery. I have used this brand for years and it works well.
Date published: 2016-08-18