Yuasa Yumicron CX High Performance Conventional Battery (Acid sold separately)
Item # : 95934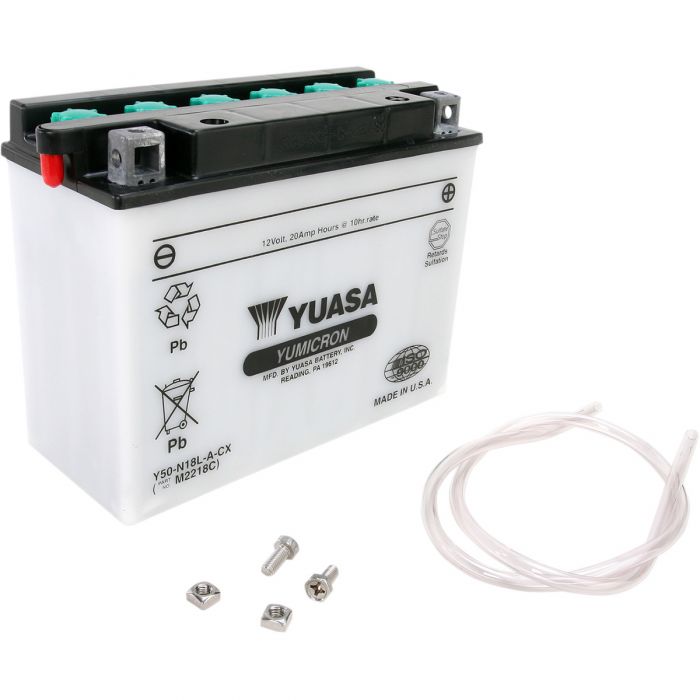 Yuasa Yumicron CX High Performance Conventional Battery (Acid sold separately)
Item # 95934
Description
Yuasa Yumicron CX Battery
Cutaway with Features & Benefits
Yuasa Conventional Battery Cutaway
The YuMicron CX was the first small engine starting battery to use "lead calcium" technology. This special technology means the YuMicron CX generates more power, requires less maintenance, and lasts longer than any other conventional battery. Because of its unique design, the CX will generate 5% to 8% more cold cranking amperage than Yuasa's high-output YuMicron lead-antimony battery. For high compression machines, this means greater reserve capacity and more starting power. The YuMicron CX lead calcium technology also reduces water loss, so the CX requires servicing (water filling) only about one-eighth as often as ordinary lead-antimony types. The YuMicron CX holds its specific gravity more than three times as long as lead-antimony type batteries resulting in a longer shelf life. This feature means longer periods between charges, especially during winter months.
Features:
For increased power, less maintenance and longer life, YuMicron CX is the battery of choice.
The first motorcycle battery built on lead-calcium technology, YuMicron CX is specially designed for todays big, complex vehicles, where higher cranking power is a must.
Delivers all the features of the standard YuMicron.
Unique CX design for higher cold cranking amps.
Lead-calcium technology reduces water loss and servicing by 66% compared to lead antimony.
CX substantially reduces self-discharge for longer time between charges.
Reviews
Rated

4

out of

5
by
BMW Bob
from
No electrolyte-but they tell you that.
The battery is shipped dry - no electrolyte (acid), just as Canada's M/C state, if you read that far. I got electrolyte at a local NAPA store - no problem. Yuasa make good batteries - they are an OEM.
Date published: 2014-03-30
Rated

1

out of

5
by
Waz Mike
from
DOES NOT INCLUDE ELECTROLYTE!!!!
This battery comes dry, without battery acid. That would be OK a few years ago when you could buy the stuff at any Canadian Tire however today it's nearly impossible to find a place that has or is willing to sell battery acid.
Date published: 2012-05-05