ZOOM All Purpose Cleaner Concentrate 3.78L
Item # : 617869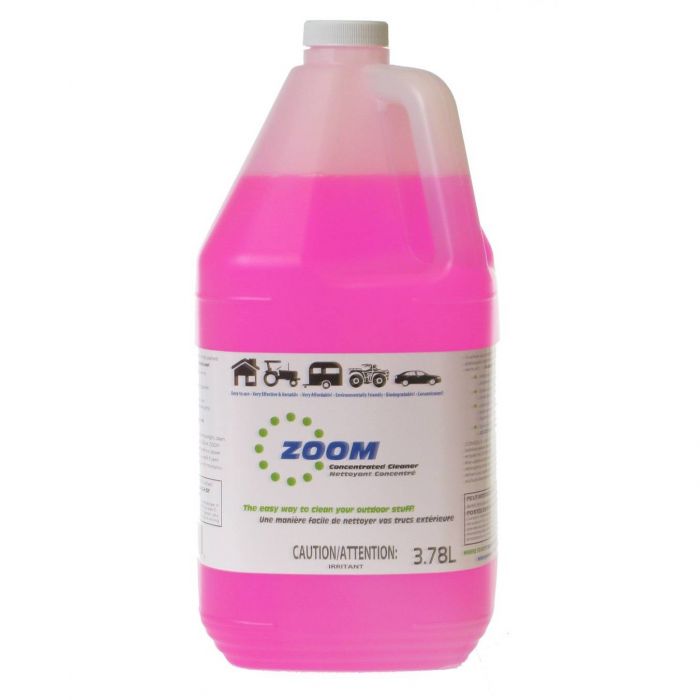 ZOOM All Purpose Cleaner Concentrate 3.78L
Item # 617869
Description
ZOOM All Purpose Cleaner Concentrated Jug 3.78L
Zoom is a product originally designed for heavy industrial and commercial use. ZOOM is a clear pink liquid detergent designed to quickly emulsify and suspend dirt and soils with little or no friction. ZOOM contains a powerful mixture of wetting agents, alkaline builders, and surfactants which loosen, dissolve and remove outdoor dirt, grime & road film regardless of weather conditions. It also helps prevent buildup of limescale when hard water is used.
ZOOM is a powerful dirt release agent which quickly loosens dirt, grime, mildew, weather streaks, algae, bird droppings, bug residue and other gunk from almost any outdoor surface. It will release dirt without the need for heavy scrubbing. Use of Zoom doesn't require the need for a lot of complementary cleaning items. Usually, all that's needed is a garden hose or power washer, a sprayer to mix and deliver the concentrate and a soft sponge, brush or wash mitt.
Simply mix with water to desired ratio, spray it on surface to be cleaned, allow to soak 30 seconds to a minute, lightly agitate with the soft brush, sponge or mitt, then simply rinse with water. ZOOM concentrate can be mixed in a small spray bottle for small jobs, or for larger jobs and general use, a weed sprayer works very well. ZOOM can be safely stored in the sprayer for an extended period of time. On large surfaces, work in sections to prevent ZOOM from drying on the surface.
Features:
ZOOM is effective for many exterior applications, such as Cars, Trucks, Offroad Vehicles, Campers/RV's, House siding & fascia, farm & industrial equipment, etc.
Mix, Spray & Lightly Agitate, Rinse
ZOOM can be used with regular household water pressure, or with a power washer.
It simply mixes with household water. A 3.78l jug of concentrate will make between 40 and 378 liters of cleaner for typical use. For the average person, a 3.78l jug can often last a whole year.
ZOOM is fully biodegradable, so it's environmentally friendly!
Reviews
Rated

5

out of

5
by
Jmac
from
Magic cleaner
This stuff sat on my shelf for the last year after wining it from a race. Figured it was another gymicky cleaner....well I was wrong. This stuff just plain works! I've never seen my bike so clean since it came off the showroom floor. Buy it. Keep this Canadian company in businesses. Make washing your bike great again!
Date published: 2018-06-25
Rated

5

out of

5
by
whym
from
Great for dirt bikes
I was very impressed after cleaning my KTM with this product. We ride in weekly in muddy conditions and this product cleaned the bike like never before. After first use, aluminum already got back to shiny state, almost like new. Very impressed.
Date published: 2019-11-18
Rated

5

out of

5
by
aooa
from
ZOOM Rocks!
I have used this product for a few years now and it is great. Wash my dirtbike, ATV, truck, Camping trailer, and my entire house. It makes white really pop back to life. It really works well and is not harsh to finishes or hands. I washed my nephews bike with it after he had been washing it with regular soap and water - he couldn't believe it was the same bike - he never thought it would look new again - it does now.
Date published: 2019-01-30
Rated

5

out of

5
by
Rolly
from
It works !!!
I picked up 2 jugs awesome stuff i use it on all the toys & siding to
Date published: 2019-01-30
Rated

5

out of

5
by
Dubbs
from
Great product
I have been using this on my dirt bikes, atv, kids outside toys, camper and my vehicles. Works great even when diluted. This stuff saves me time after my rides so I can ice my knees.
Date published: 2019-01-30
Rated

5

out of

5
by
GOJO
from
Not just another cleaner
I use it for quads and dirt bikes. My machines get dirty and sometimes I can't get to washing them as soon as I get home. My ktm has white plastics and with all the scratches that normally just absorbs and holds dirt Zoom gets out. Zoom is what keeps my ride looking new all the time.
Date published: 2019-01-28
Rated

5

out of

5
by
ExpeditionMarc
from
Dirt bikers must have!
I've been using Zoom All Purpose Cleaner for couple years now and there's nothing better than this concentrate product. Mix with water and spray on with any spray bottle wash and rinse!
Date published: 2019-01-28
Rated

5

out of

5
by
Flash
from
Great Product! Saves tons of time!
I bought a jug of this stuff about a year ago and was amazed at how well it worked. Its become a "must have" product in my shop
Date published: 2019-01-28