Battery Tender USB QDC Charger - 081-0158
Item # : 181657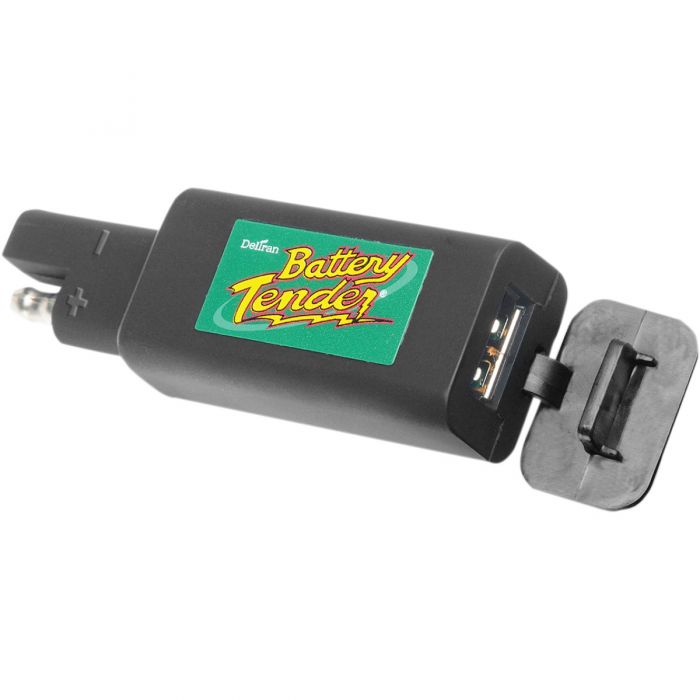 Battery Tender USB QDC Charger - 081-0158
Item # 181657
Description
Battery Tender USB Charger- QDC
Features:
To charge iPhone, iPad, iPod, GPS, Camera or any Smartphone or device that be charged via USB Designed for use on any 12v battery
Input: 12V
Output: 5V/2.1A Maximum
Requires Battery Tender Quick Disconnect Harness (sold separately)
Manufacturer Part Number: 081-0158
Reviews
Rated

5

out of

5
by
daniel
from
batterie tender
j ai achete un batterie tender. Super bon prix bonne qualite
Date published: 2016-03-23
Rated

5

out of

5
by
L E D
from
It is a great product
I like this cuz all i need to do is plug it in off my battery tender cable no wiring needed !
Date published: 2015-10-18
Rated

5

out of

5
by
dbil007
from
Génial
Permet de nous servir de plusieurs appareils en tout temps lorsque le batterie est morte
Date published: 2015-10-17
Rated

4

out of

5
by
mike
from
good product
USED THIS ON MY LAST TRIP FOR MY GPS. WORKED GREAT
Date published: 2015-08-08
Rated

5

out of

5
by
John
from
Practicality in a stick!
Bought this earlier this year and should've bought it a while ago. Combining this unit with the Battery Tender QDC Harness is so convenient and inexpensive. I ran my wire along the gas tank and only plug devices within my tank bag to avoid exposure to the elements. Works very well with my GPS, Android phone and Apple products.
Date published: 2015-07-06
Rated

5

out of

5
by
DeanVFR
from
Works Great
Bought this for a recent 2600km bike trip, I used it to keep my IPhone and GoPro 4 charged. Worked great, great purchase.
Date published: 2015-07-05
Rated

5

out of

5
by
Mosphet
from
Great little accessory for your bike.
This is a great little piece for running a usb device on your bike. Its small, and easy to use. Powers My Garmin GPS perfectly.
Date published: 2015-06-03
Rated

1

out of

5
by
Mayoo
from
Avoid this at all costs..
If you want to charge you latest smartphone, this wont cut it.. I tried on IPhone 7, Nexus 6p and Google Pixel. All said Connected but not charging. i ended up swapping this to Optimate and problem solved - https://fortnine.ca/en/tecmate-optimate-2100ma-weatherproof-usb-charger-with-sae-connector Excellent Service from Fortnine when comes to exchange and they even went one step ahead and gave me $10 off coupon !!!! Good job guys !!!
Date published: 2017-05-26
Questions
What is the parasitic/unloaded power drain of this USB port? Just wondering if it would drain the battery if the usb port was left plugged in for a few days to a week.
The draw is the same as a USB charger. And on any motorbike, I dont reccomend keeping anything constantly drawing on the battery for more than a couple of hours. If even that long.
Date published: 2016-08-02
Quand on met la moto à ''off'', est-ce que ce bidule s'arrête ou bien prend du courrant ? N'y a-t-il pas un risqué de metre la batterie à plat ? merci
Oui la charge continue même la clef a off si l'alimentation du chargeur est branchée directement sur la batterie ce chargeur est bien trop faible pour mettre la batterie a plat et de toutes façon la charge arrête quant l'appareil est complètement chargé
Date published: 2016-07-27
Can this be used WHILE riding to power any device? I bought the unit, but no instructions. Output of the battery/stator is 14.1V, not just 12V. Don't want to "fry" my GPS/phone, or the USB adapter. Thanks. 
I ended up calling the manufacturer, and yes it was designed to be used while engine is running. 
Date published: 2019-03-10