Bell Bullitt Solid Helmet
Item # : 194025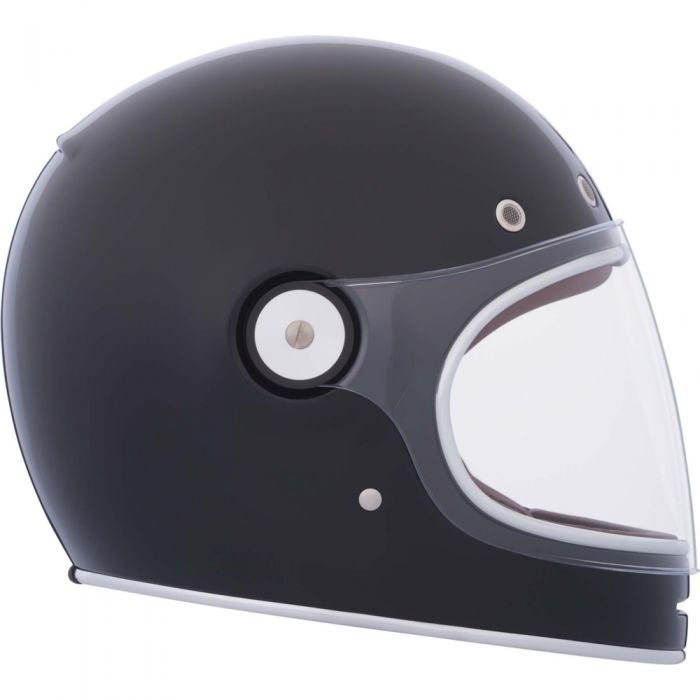 Bell Bullitt Solid Helmet
Item # 194025
Description
Bell Bullitt Helmet
Ultra low-profile fiber composite shell
3 shell sizes

S: XS and S Helmets
M: M and L Helmets
L: XL and 2XL Helmets

Multi-Density EPS liner
The Black & Cobalt Blue helmets have a brown interior liner and both face shields included have brown pull tabs
The Matte Black & White helmets have a black interior liner and both face shields included have black pull tabs
Removable, washable and anti-bacterial interior
Perforated micro-suede interior fabric with leather trim
Padded chin strap with stainless steel D-Ring closure with leather pull tab
5 Metal Mesh intake vents with 1 rear exhaust vent
3D Cut cheek pads with speaker pockets
Magnefusion shield closure system
Industry-leading five-year warranty
The Bell Bullet is a premium retro option
Certification: DOT, ECE
Reviews
Rated

5

out of

5
by
Grey Carisbrooke
from
Bell Bullitt Gloss Black Helmet
The helmet I tried on was a large and was a little loose, but I purchased a large and it was almost too small and difficult to put on at first. Definitely needed to give the leather a few hours to conform, on top of pressing the sides down with my hands as the lower padding pulls your ears when putting on/taking off. Once this padding was formed this is not an issue. Venting was not great, but the visor was so large I could just open it a crack and cool off after a minute. Wind noise was comparable to a cheaper HJC sport helmet, enough to be noticeable, but yet again, not an issue. Didn't have any difficulty hearing what was going on around me.
Date published: 2015-07-12
Rated

3

out of

5
by
Road Hound
from
Looks great, really noisy at speed.
I received this helmet in L & XL about 3 weeks ago. As always, amazing customer service from Canadas Motorcycle. I kept the XL. The L was tough to get over my ears. I've put about 500kms on it since. And there's good points and bad points. The Good: - It looks friggin awesome. Best looking helmet on the market IMO. - The interior is beautiful (I got black with the brown interior, it's awesome) - The view is basically wide open. It really pulls me into the scene I'm riding in. The Bad: - It's terrible on the highway. It basically acts like a sail, catching every breeze that blows by. - It's as loud as a bomb. The vents are brutal - they whistle like a tea kettle at highway speed. I covered the vents with electrical tape. The whistling is gone, but the it's still super loud. I'm guessing it's because the wind screen isn't sealed. This is only a problem when you get over 70kms/hr. I'm going to take the screen off and use it as an open face helmet with goggles for when I'm getting around town. Which, really, is probably what this helmet is designed for. I'm getting a more suitable helmet for the highway.
Date published: 2015-09-04
Rated

3

out of

5
by
Tazz
from
One Pony Trick
Good for hot summer days or city riding solely. This bucket will get extremely noisy at highway speeds, and will let cold thru. That being said, this bucket has a unique style (especially with tainted or bubble visor). I enjoy wearing if from time to time, althought I would not recommand this product, especially considering the price.
Date published: 2018-04-23
Rated

5

out of

5
by
ridebikesnaked
from
Great helmet.
The pros: Very happy with this purchase, fits me perfectly, not uncomfortable at all, nice and lightweight. Got about 6 or 7 people complimenting the helmet the first time I rode with it, and still get many compliments. The silver flakes are a lot more sparkly than what the photo shows, but it adds to the overall retro charm of the helmet, and I wouldn't want it any other way. The cons: -It isn't the absolute quietest helmet on the market, but that being said the noise level isn't terrible and it doesn't bother me personally at all, but something to keep in mind. -The bell logo is under the helmet laminate, so you cannot remove it, either cover it with another sticker, or live with it. -The price is insanely high for what it is, but I guess that's the price you pay for such a darn good looking lid.
Date published: 2019-06-27
Rated

5

out of

5
by
lostcats
from
wicked helmet
ive been ridin with this for a few months now and its a nice snug fit (big head lots of hair size large). great craftsmanship. i dont use the visor but with the small chin plate there are no blind spots. ive been rippin the dirt and road with my sportster this helmet is awesome.
Date published: 2016-05-06
Rated

5

out of

5
by
Sportster 65
from
Very comfortable.
Love this helmet. Fits great. Wide vision for a full face. Highly recommend. Love the colour stands out you can be seen.
Date published: 2015-10-30
Rated

5

out of

5
by
Remy
from
Love it
I bought this item twice, once in blue, but the color was too... blue :) and it was a little too tight (XL), I don't want to loose my ears. I returned it and ordered another one in dark, size 2XL. Good shot, the color is great, and now my ears are safe :) I remove the shield to wear it with sunglasses, small trip, commuting mainly, no problem at all... like a charm. Love it, will buy it again even it is really expensive.
Date published: 2015-05-31
Rated

4

out of

5
by
Twinico
from
Perfect style
I just bought the solid black Bullitt. I'm usually wearing size 55-56 / small, had Arai and Shoei helmets which perfectly fit. The Bell fits smaller, and the first one i tried put a little bit of pressure on my forehead. To put it on without ear damage, you'd better pull hard on the straps to stretch it slighly and clear your ears. Removing it is still a bit painful, i need to improve my technique... I tried a Medium which was too definitely too large. I absolutely love the style so i ordered a small despite the forehead pressure. The one i received was slightly larger, just enough so it's confortable. It still leaves a mark on the forehead but not as bad as the first one. Manufacturing tolerances? Quality and finish are good, excellent vision, wide range of optional shields, light weight, and the best looking retro fullface helmet on the market. A bit expensive vs competition but still affordable for most fashion victims like me. Yes i recommand it but try to try one in a shop before ordering one online : the fit may be an issue
Date published: 2015-04-15
Questions
Does this helmet come with the visor, or does that have to be purchased separately?
Hi, This helmet ships with the flat shield. You can purchase bubble shields and some others separately. ~Danielle, Customer Service, Canada's Motorcycle
Date published: 2019-06-11
Does it come with a smoke visor as pictured or a clear visor?
This helmet ships with a clear shield.
Date published: 2017-10-13
I already have a bell custom 500 helmet size S and this fit is perfect. Do i go with the same size for this one?
Yes that's exactly what you do. This helmet is the helmet, they're badass!!
Date published: 2018-05-21
This helmet is Gloss Black or Matte Black? In options it just says black.  Also, does it come with both clear shield and black smoke shield? In description it says it does.  Thanks 
I bought this a little while ago and it was matte black. It does come with both 
Date published: 2019-10-07
Bell Bullitt Independent Helmet: The text in the Details for this helmet states: Helmet ships with a Clear flat shield and a Dark Smoke flat shield. Can you please confirm, as comments in the reviews/questions suggest otherwise. Thanks
When I received my helmet ,  It shipped with a clear bubble shield . I called fortnine and a smoke shield was shipped out and I received within a couple days 
Date published: 2018-11-23