Bell Custom 500 Solid Helmet
Item # : 193981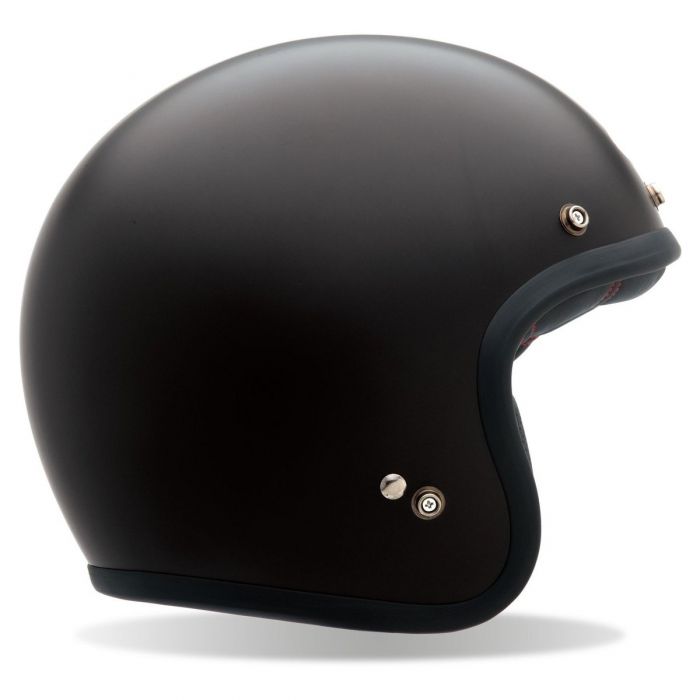 Bell Custom 500 Solid Helmet
Item # 193981
Description
Bell Custom 500 Helmet
Just when you thought it couldn't get any better, Bell went back to the lab to make improvements to the legendary Custom 500. A new headform means the Custom 500 now fits better and looks smaller on your head than ever. No more bobbleheads. The thin-profile shell allows the helmet to sit lower on the head, and with 5 shell and EPS sizes, it's now even easier to find the look you want with the perfect fit.
Features:
Integrated 5 snap pattern for aftermarket shields and visors
Padded chin strap with D-ring closure and strap keeper
Multi Density EPS liner
Stainless Steel D-ring closure
Leather D-ring pull tab
Five year warranty
Reviews
Rated

3

out of

5
by
Steve
from
Classic
I bought a small, my head measures about 7" and the Small fit was very very tight... Uncomfortable. So I returned the helmet. I bought a 3/4 face LS2 bobber style size Small (fit is amazing and comfortable).
Date published: 2016-03-23
Rated

5

out of

5
by
Adrian
from
comfortable and easy on the wallet
I bought this as a christmas present to myself and we then had the warmest christmas eve on record here. Normally below freezing and instead was 16'C. Opened it up and took the bike out of storage. Really happy with it. The helmet is light and comfortable.
Date published: 2016-02-07
Rated

5

out of

5
by
Earlbeastsavage
from
Good fit nice and light low profile design
Nice low profile design. I bought a clear face screen with it, for colder days. Nice quality.
Date published: 2015-10-17
Rated

4

out of

5
by
digitld
from
Very good helmet
I measured on the border between Small & Medium and so chose Small as recommended. At first the helmet was super tight on the sides and so I ordered a Medium. The medium was too big, so I was a bit sad that my head doesn't fit any helmet. And especially sad because I really like the colour and slight sparkly flake effect (not too loud). So then I used the round end of a screwdriver handle to very slowly work at squishing the foam on the tight spots. It wasn't much adjusting and I stopped getting a headache from having my head in a vise. Bottom line: it fits great and looks great, not a bobble head look either. Paired with a long clear Bell visor. I kept the Medium for my daughter, so now going to get another visor as a change up. The Bell visor can flip up about 20 degrees due to the slot in the plastic around the centre snap. Works great! Next I'm aiming for a full-face like the Bell or Biltwell.
Date published: 2015-08-08
Rated

5

out of

5
by
Dionski
from
Packed well, Right on time!
Exactly expected gear, no surprise, glad about this purchase
Date published: 2015-07-09
Rated

4

out of

5
by
DOANER
from
the helmet is very lite and comfortable on .
Great helmet , I find it hot after along ride. I like it people ask were I got it and I.said Canada motorcycle.
Date published: 2015-06-02
Rated

5

out of

5
by
kwiniarz
from
Great Helmet
I bought this with the bubble shield. Great fit and looks great.
Date published: 2015-02-09
Rated

5

out of

5
by
Ripper0863
from
Bell 500 Custom
As a user of the beanie type helmets for the last 12 years it is taking a little to get used to but I really love the fit of this helmet. I have a really big head and have a hard time finding anything to fit. The 2XL of this is perfect for my big noggin.
Date published: 2014-05-01
Questions
I am looking for a helmet to use for auto cross, and need a helmet that comes with a " snell 2005 " or newer sticker. Does the Bell 500 have such an approval sticker? This will be car not motorcycle use. Regards, Alex.
Unfortunately there aren't any open face helmets that have a Snell rating. Full face helmets that may have a Snell rating can be found here (please check the description to see if a helmet is Snell certified: https://www.canadasmotorcycle.ca/street-bike/motorcycle-helmets/full-face.html?pref=street
Date published: 2018-08-27
Hello , i want to know if the bell custom 500 helmet is DOT and ECE . Je suis francais, je part m'installer au Canada quelques temps et j aimerai pouvoir rouler avec en France . ( les casques au canada sont il certifier dot et ece ) ? Merci
Yes, the Bell Custom 500 helmets are DOT and ECE approved
Date published: 2018-12-20
Hi  I am looking for this helmet in a medium and was wondering if you happpen to have one. I know it's a long shot but I thought I would try. 
I have this Helmet in Size L. Love it.
Date published: 2018-01-31