Bell MAG-9 Sena Solid Helmet
Item # : 136517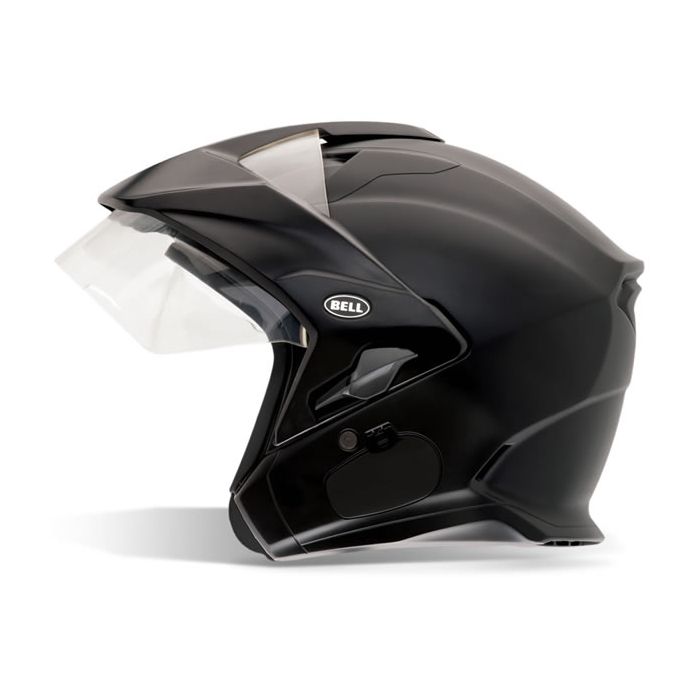 Bell MAG-9 Sena Solid Helmet
Item # 136517
Description
Bell MAG-9 Sena Helmet
Designed to easily accommodate the Sena SMH10 Bluetooth® stereo headset and intercom, the ultra-comfortable and versatile Mag-9 Sena redefines the open face helmet category.
Technologies:
Tough and lightweight polycarbonate shell
3 EPS sizes for maximum comfort and size range
Helmet can be run in multiple configurations: with or without shield and with or without visor
Fast and easy tool-free shield changes
Drop-down sunshield offers ?on the fly? protection from the sun
Velocity Flow: ventilation creates the most ventilated helmet in the open face category
Integrated speaker pockets make it easy to set up the Mag-9 with communication devices
To install the regular SMH10 on this helmet, a special bracket which is sold separately is required
Removable and washable interior for maximum comfort
Contour cheekpads for superior fit and comfort
Weight 1200 grams
DOT certified
Reviews
Rated

5

out of

5
by
Dan Champ
from
Very Nice Helmet
I was a bowl helmet guy until I tried one of these, now I always wear this helmet due to comfort weight and quietness. I was really surprized at how smooth it was, no buffeting and I'm ready for any weather, and these days the weather changes in a matter of hours so I decided I needed to be ready for all types and this helmet does it. Who cares how cool I look!! I just want to be comfortable in all situations at my age!!!
Date published: 2014-04-18
Rated

5

out of

5
by
Danchamp
from
Greathelmet
Great helmet...that's the only one you need for long trips especially
Date published: 2014-05-31
Rated

5

out of

5
by
Ramdu
from
New Bell Helmet
I was nervous about buying a helmet without trying it on. My new Bell Mag 9 came quickly,the sizing was perfect and I saved a bunch of money over locally available brands. Totally happy with purchase!!
Date published: 2014-03-22
Rated

4

out of

5
by
none
from
Bell Is Back
Bought this helmet as I have an adventure bike and want better visibility and the ability to communicate with my riding partner. Like the helmet and the feel, very comfortable. Helmet is a little loud with windnoise. Will be purchasing the Sena com unit to fit this helmet.
Date published: 2016-09-28
Rated

4

out of

5
by
Rope
from
Very nice 3/4
I bought this in December so have used it very little so far, it's a light helmet loaded with cool features! The helmet fits very well so should be a good helmet for long rides. My only concern is it is not as quiet as I would have liked.
Date published: 2016-02-07
Rated

4

out of

5
by
Handidoug
from
I bought this helmet in Dec 2014 I think and had tried one on at the local shop to get the size right. When it arrived I tried it on out of the box and it fit a size tighter. I decided to keep it and see if it will relax a bit with use. The sunglasses feature is great as I can just wear my regular glasses without the sun clip so it makes it versatile for me. The other reviews talk of the visor being in the line of view which is true to a point as I had the Mag 8 before and the Mag 9 is a lower visor but you do get used to it. Overall I would buy it again but I would have preferred it to fit like the one I tried in person at the local shop. ( I would have returned it but I didn't want to deal with Canada post and all their hassles)
Date published: 2015-06-26
Rated

3

out of

5
by
thewarrior04
from
Bell Séna helmet
I am used to wear Arai and Shoei helmets. I like the look of this helmet so i decided to try it.Sadly it is beyond my expectations,poor quality and noisy.
Date published: 2014-05-31
Rated

4

out of

5
by
Anonymous
from
Good Versatility
Good versatility
Date published: 2014-03-22
Questions
I'm considering this helmet but I'm curious about how well it protects the wearer from rain? I live on the Sunshine Coast, BC and sometimes my commute can get a little soggy. Thanks in advance.
I wore that helmet in 2 days of torrential rain during a safety course and stayed dry as a bone. The only issue I had was rain coming down my neck from the back of the helmet...which is quite normal. I have had zero issues with this helmet, and the built-in communicator works almost seamlessly.
Date published: 2016-09-01
I have a Cardo Scala RiderQ3 head set, can it be installed on/in this helmet?? (My SR controller is exterior mounted on my current helmet, with speakers in ear pockets)
The Cardo Scala Rider Q3 cannot be used with the side port, as this is designed to fit a Sena SMH10. However, it can always be mounted traditionally with a helmet clamp or sticky mount.
Date published: 2018-06-07
Can I buy a replacement clear shield for this Mag-9 Sena
Yes, you can find replacement Mag-9 shields under item #136464
Date published: 2019-07-18
Love the Bell Mag-9 helmet with price.Many folks in review comment about wind noise and noisy helmet. Can you comment on this aspect. Seems to be only real negative!
Often air flow will lead to noise. If you want to eliminate this, I would suggest ear plugs.
Date published: 2018-12-24
Presently on my second Mag8 with Senh5. Will the same mounting bracket work on the Mag9 or will I have to purchase mounting kit or hole new system ? By the way first Mag 8 was destroyed when I met up with a gravel shoulder head first worked well.
I'm running the SMH-10 on my Mag-9. I can't find a fit compatibility guide, so I'd recommend trying your Sena kit on the new helmet before investing in a replacement.
Date published: 2016-08-31