Bell Qualifier DLX Blackout Helmet
Item # : 565309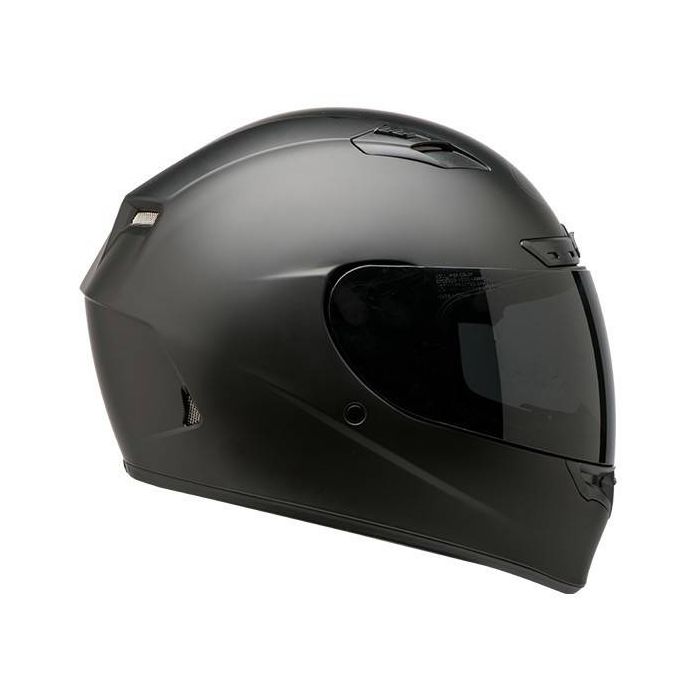 Bell Qualifier DLX Blackout Helmet
Item # 565309
Description
Bell Qualifier DLX Blackout Helmet
The Bell Qualifier DLX Helmet comes jam packed with the great features of the Qualifier at an impressive price. The DLX also has the ability to house a Sena SMH-10 Bluetooth communication unit (with the proper adapter plate). This is far-out for a helmet of any ilk, much less one that will come at an entry-level price point. Both of these features will offer a massive value-add to an already popular helmet.
Features:
Lightweight polycarbonate shell
3 shell sizes
Subtle and tonal forehead logo with no side logos for Blackout affect
Adjustable ventilation system for cooling and comfort
Padded wind collar drastically reduces wind and road noise
Moisture-wicking, removable/washable interior
Contoured cheek pads
Includes chin curtain and breath deflector
Aerodynamic profile resists buffeting and lift
Integrated speaker pockets
ClickRelease for the fastest, easiest, tool-free shield changes ever
NutraFog II superior anti-fog, anti-scratch and UV protected shield
Includes both clear and dark smoke face shield
Padded chin strap with D-ring closure
Accommodates the Bell Sena SMH10 and Cardo Scala Rider Q1/Q3 Bluetooth stereo headset and intercom (sold separately, separate mounting plate required)
Five-year warranty
DOT and ECE certified
Reviews
Rated

5

out of

5
by
Bert
from
Saved me today
It was my second day out with this helmet. Great fit, vents like mad. The auto tint visor works great. Then I hit a deer on the TransCanada and went for a ride. The helmet did what it should with style. Glad I had it. Will get a new one when the insurance gets paid out.
Date published: 2015-04-12
Rated

5

out of

5
by
Star72
from
Great value!
The qualifier has been listed as the best beginner helmet in many sites. Note that the regular qualifier DLX comes with transition shield while this one comes with a clear shield and a tinted one, hence the difference in price. I hate carrying a shield in my bag all the time and ended up order the transition shield anyway.
Date published: 2018-06-06
Rated

4

out of

5
by
Scooter
from
Transitions Lens Excellent
Received the helmet on time, damage free. After about a month of use the transitions lens is excellent. It's probably only a matter of time before other manufacturers incorporate this lens with their helmets. The only negative is the excessive wind noise you get from the bluetooth cover. There seems to be a gap somewhere which lets in the whistling wind noise. You MUST wear earplugs!
Date published: 2015-08-10
Rated

4

out of

5
by
iblastoff
from
great price for a pretty good helmet
I'm an XL in a Biltwell gringo and managed to fit in a L in this helmet, provided i sized down the cheekpads to 30mm ones. It initially fits snug (I think I'm just used to the more loose fitting non-sports oriented Biltwell) but is definiteliy comfortable once you ride around in it for a bit. I wanted a helmet with venting and and shield I can actually raise and this was perfect. People say its a noisy helmet but I don't find it too bad (at least if you're used to a Biltwell helmet). Coming from Biltwell bubble shields, the 2 shields that come up with this Bell helmet are WAY clearer to see through. I was actually amazed and felt like I didn't even have a shield on at all. I only wish they were pinlock-friendly. I read there were Bell Qualifier DLX-compatible shields that were pinlock-friendly but I can't seem to find them? Either way, the included shields are supposed to have some anti-fog coating but I haven't really tested that out yet. I can't tell if the vents really do a lot as I don't particularly feel a breeze or anything going through the helmet, but I'm sure they have to be better than no vents at all. The shell size is pretty compact compared to equivalent sized helmets I compared it to, which was another reason I picked this helmet. The helmet itself fits my head fine, but for some reason I find it hard to put it on with the removable chin curtain in the way, so I just ride without it. Some annoying whistling happens when I turn my head to the right though. The shield definitely does not fully seal when closed, allowing air to whistle in. For this I'm gonna rate the helmet as 'loud' but most of the time I don't mind it at all.
Date published: 2018-05-21
Rated

5

out of

5
by
Jharb
from
No complaints
Bought this about two months ago, great helmet for the price, comfy, lotta airflow in summer, breeze to change our lenses etc. All around great helmet, not much to complain about!
Date published: 2017-12-10
Rated

5

out of

5
by
JessikaPufahl
from
Superbe qualité-prix!
J'ai pris un guess, j'ai acheté mon casque Bell sans avoir essayer la grandeur avant. Je suis par contre allé dans un magasin de vêtements/accessoires de moto pour essayer la grandeur qui me fallait dans la marque ICON qui semble semblable aux grandeurs de Bell. J'ai été chanceuse, le casque fit super bien! Par contre, j'ai été déçu quand j'ai reçu le casque avec la visière transparente puisque sur internet, elle est noir.. J'avais comme projet d'aller m'en acheter une de Bell qui teinte au soleil la fin de semaine d'après, mais, surprise, durant mon cours pratique de moto, j'ai bien vu que ma visière devenait noir au soleil!! Pas besoin d'en acheter une.. Elle devient assez foncé! Très satisfaite! En plus, dure de ne pas se faire voir avec un casque de couleur jaune néon.. Je le recommande fortement!
Date published: 2018-05-09
Rated

5

out of

5
by
Pavel
from
Great Helmet
Got it as my first helmet but still use it once on in a while. Great fit, pretty light. Big bonus that it comes with dark shield. I bought 3 more helmets after but still Bell on of the most comfortable helmets. Above great value for the price! Highly recommend!
Date published: 2019-09-12
Rated

3

out of

5
by
Petit Agneau
from
Affordable choice
This is a decent helmet but I had to return it because of fit. My head measures 55 cm, is sort of round and I have some cheeks. I found the closed cut of this helmet didn't accommodate my cheeks. They were pretty squished and I was not confident it would've reduced much once broken in. It's a nice price but i'll have to check out more "open" full face helmets like the bell bullitt.
Date published: 2019-08-16
Questions
Does this helmet have the ability to house the Sena S20 and is there a special plate for it?
The cutout for the Bell Qualifier DLX only supports the SMH10 from Sena. The shape of the 20S is different so it will not fit in that cutout.
Date published: 2018-03-01
What size are the check pads on a small helmet?
OEM Sizing: XS: 40MM SM: 35MM MD: 40MM LG: 35MM XL: 35MM 2XL: 30MM
Date published: 2019-10-15
How does the size on these Qualifier DLX run?  I'm measuring 58-58.5cm and I currently wear a Large Icon Alliance Dark.  I'm not sure if I should go medium in this helmet or large.  My Icon does roll off a bit, but I still find it snug in the cheek pad.
According to the Bell helmet sizing chart, you land somewhere between a medium and a large. Correct helmet fitment depends on many factors that are individual to you and your particular head shape. The only way to tell for sure is by ordering either a medium or large and trying it for size. If it doesn't fit, the helmet can be returned using our Easy Return policy found here: https://www.canadasmotorcycle.ca/return-policy
Date published: 2018-04-17
So this helmet is all set up for the Sena SMH 10 (if you buy the kit) but what about the Sena 20/30??
This can only be used with the SMH 10 with a special adapter made for this helmet.
Date published: 2018-01-25
Hello, What size cheek pads come from the factory with the Large size of this helmet? Thanks.
The cheek pads for the large helmet are 35mm.
Date published: 2017-09-11
Hello, I was wondering if there where any differences between the Qualifier and Qualifier DLX other than the bluetooth and speaker pocket? It has the same name, but the price of the second is twice the price of the first. Thanks !
The DLX also comes with MIPS safety technology. (but the DLX blackout version does not)
Date published: 2018-07-18
Is there such a thing as a helmet that already has the bluetooth system installed and simply needs to be paired with your phone? Or are all Bluetooth systems installed AFTER purchase as an additional add on product?
There are some helmets in the market with integrated Bluetooth systems but they aren't very popular. Bilt and O'neal are brands that have these systems. The vast majority of helmet Bluetooth systems are add-ons.
Date published: 2015-04-09
My head size is 56.5 cm which size should I take?
Hello Majid, I find the Bell helmet to fit tight, the Bell sizing chart 55 to 56 cm. is a small and 57 to 58 cm. medium I think you will be happy with the medium. Thanks Gary
Date published: 2018-03-19