Bell Rogue Solid Helmet
Item # : 142088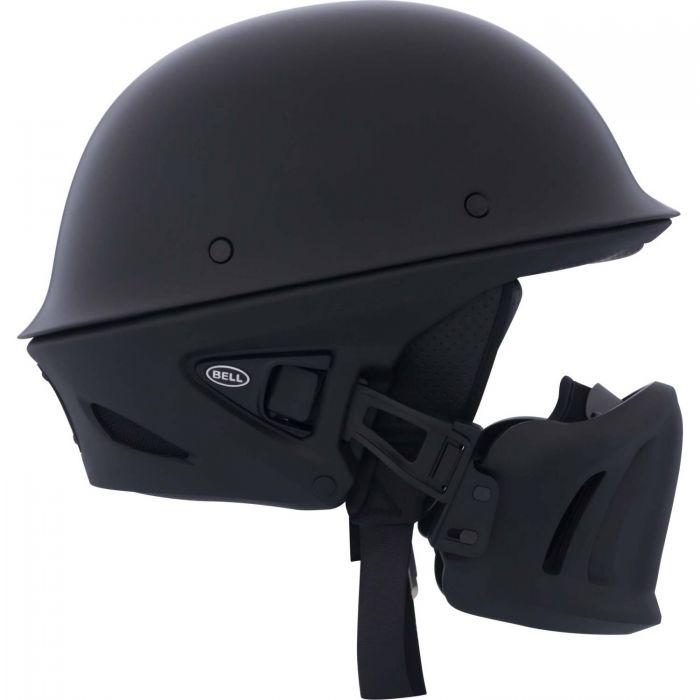 Bell Rogue Solid Helmet
Item # 142088
Description
Bell Rogue Helmet
Looking like nothing else out there, the striking Bell Rogue is the new kid on the block in the staid world of half helmets. A composite shell forms the lightweight base and on the inside, Bell has made sure to equip the Rogue with a plush and safe liner. And yet, the real show stopper is the Rogue's muzzle. Made to shield the face from wind, cold and bugs, the muzzle is a revelation on the bike and yet when needed, quickly detaches. The freedom of an open face helmet and the comfort of a 3 quarter; the Rogue is the ultimate expression of attitude on any type of motorcycle.
Features:
Lightweight composite shell
Durable and Innovative muzzle for optimal rider comfort
Adjustable muzzle features removable liner
FidLock magnetic connection makes it easy to put on/take off the muzzle
3 shell and EPS sizes for maximum comfort and size range
Removable and washable interior
Convenient speaker pockets
Premium stainless steel D-rings and metal badges
Five-year warranty
Certification: DOT
Reviews
Rated

5

out of

5
by
Anonymous
from
Great helmet
This is quickly becoming my go to helmet for town and backroad riding. Not so great on the highway but that's just my personal preference to use a full face or modular on highways. Helmet is attractive looking but makes you feel safe wearing it. The muzzle has proven valuable in keeping bugs out of my teeth although I had to purchase the longer muzzle straps to comfortably use the breath box inside the muzzle. Overall, this helmet is lightweight but well padded and very comfortable.
Date published: 2014-05-26
Rated

5

out of

5
by
Brent
from
Awesome helmte
Great helmet, very cool looking. The straps that come with the helmet that attach the muzzle are way too short for comfort so be prepared to order the longer straps when you order the helmet...it was the best price on the net for the helmet.
Date published: 2015-11-03
Rated

5

out of

5
by
Beast
from
Very Comfortable..
I bought it this summer,, still breaking it in but was very comfortable right from the start. Getting better now and great face protection from the elements, especially bugs. Not as easy to hook on the mask with gloves on as the videos make it seem. But ok once you get use to it.
Date published: 2015-10-18
Rated

4

out of

5
by
Boldrik
from
Great looking helmet!
Bought the helmet about a month ago and really like it. It fits well and is comfortable. Lot's of compliments, only issue is it's a little noisy on the highway.
Date published: 2015-10-17
Rated

4

out of

5
by
Foowillis
from
Nice style
Another excellent helmet from Bell. I love the look and functions the way I expected. Obviously a little loud while cruising but if youre okay with open faced helmets then you should consider this one. Shipped very quickly and at a great price compared to many stores I have been to.
Date published: 2015-07-04
Rated

5

out of

5
by
Drexl
from
Great helmet
Initially the face protector was very uncomfortable, I guess I have a big nose, but after a little bit of tinkering I got it to fit just right and now I'll never look back. This helmet is great for all kinds of weather and all types of riding, I woould and have recommended it to everyone who has asked about it.
Date published: 2013-10-18
Rated

5

out of

5
by
Kirbgrag
from
Bell rogue
This is a great helmet. Rear insulation provides great sound deadening for louder bikes and the helmet looks great. Just used the muzzle and a face sock for colder days. Muzzle comes from supplier with some adjustability so don't buy the extended straps right away if you find the fit too close. Excellent product.
Date published: 2015-07-04
Rated

5

out of

5
by
Anonymous
from
nice helmet fit very well
perfect fit
Date published: 2014-03-22
Questions
how much wind noise is generated by the muzzle buckles? i wear just beanie type helmets, the the wind noise thru straps can be very loud, depending on the setup. 
Like all open face helmets, wind noise is loud with this helmet. The muzzle doesn't do much to protect against this noise.
Date published: 2017-01-27
Will the muzzle fog up my glasses
No, Bell actually designed this helmet with a cheek pad that will accommodate most sunglasses and glasses
Date published: 2019-01-17
What is the muzzle like for the beginning & end of the season? I love my open face but wear a full face when it's cold. Wondering if it's worth it.
Hi, I would not suggest this helmet as a replacement for a full face in the cold weather. ~Danielle, Customer Service, Canada's Motorcycle
Date published: 2016-11-15
Has anyone mounted a blue tooth kit on this helmet yet. It has internal speaker pockets and was wondering if someone has discovered a good fit yet?
For longer trips I've clamped a Cardo bluetooth on this helmet and it works very well. Along the plastic bottom edge of the helmet the liner is held in place by snaps. (I'm guessing they're allowed to do this since it's only safety rated as a half-shell.) Pull the liner back and clamp onto that plastic lip, then tuck the speakers and wires into the pockets, and run the mic up along the bottom of the dust mask. Very clean installation
Date published: 2017-05-31
How solid is the mouth piece to the helmet? does it vibrate on the chin or lower jaw will driving?
It clips it very solidly. I have had two and neither vibrate. I choose to wear it when it is chilly or it also helps not eating all the bugs.
Date published: 2018-06-12