Cobra Street Rod Exhaust
Item # : 91741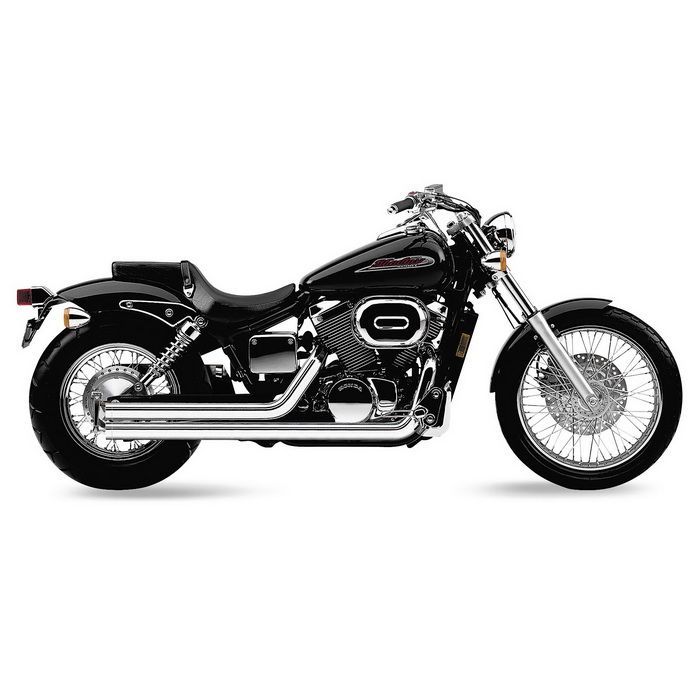 Cobra Street Rod Exhaust
Item # 91741
Description
Cobra Street Rod Exhaust
Features:
Large 2 1/2in., 222 heat shields fit from the exhaust ports to the chromed billet tips for a seamless look and non-bluing finish.
Chromed billet end caps are beautifully machined for show-custom look.
Gives overall power increase with improved rideability.
Made even better with the installation of the Cobra Fi 2000 fuel processor, or jet kit on carbureted engines.
Easy installation with all mounting hardware included.
Reviews
Rated

5

out of

5
by
Motoman2784
from
Loud!
So if you're like me you've been on YouTube to hear what the pipe sound like. Times that sound by 10...these pipes are super loud....love them.. I'm sure my neighbors do not lol. Easy to install...fit perfect ...well packaged...
Date published: 2016-03-23
Rated

5

out of

5
by
Barney
from
Cobra rod exhaust
I picked these a month or so ago. Then went on nice and easy ,could not have been easier.The only thing I can say they sound really loud, and I found out that loud is not for me or the people I ride with.I did the contoller up grade as suggested and everything and I do mean everything works as advertised and more.But reluctantly I took them off because on a road trip definitly not fun!!! I would have liked to return mthem but they say no refunds if fitted to the machine.Not very interesting.. Won't know if you like them unless u strap them on!!!!!
Date published: 2015-08-08
Rated

5

out of

5
by
Codos
from
LOUD!!!
I put these on my 2011 m50 and they fit perfectly, youtube videos dont do these justice!! they are extrememly loud! easy to install and they look amazing. great exhaust at a good price and quick delivery too. dont get these if you dont want to annoy the neighbors!
Date published: 2013-05-17
Rated

5

out of

5
by
Newfieguy89
from
Cobra Street Rod Exhaust Slashdown - Chrome
Amazing pipes for my Honda Shadow Spirit. Sound is very nice!! Thought about running with no baffles but they're plenty loud with them in!! Even feels there's a bit more pep in my bike. Couldn't be happier with my purchase!!
Date published: 2019-08-30
Rated

4

out of

5
by
G Singh
from
Great Quality
First of all quick shipping, product quality so good , great sound , easy to install
Date published: 2019-06-11
Rated

5

out of

5
by
Warhawk70
from
Incredible sound
Purchased this trying to get a more aggressive sound from the bike. Oh man did it ever deliver. It makes the bike sound like a monster.
Date published: 2018-07-15
Rated

5

out of

5
by
Rirverrat
from
Great service and great products. Products come right to your door
Date published: 2017-09-16
Rated

5

out of

5
by
jody
from
great sound
i bought these pipes about a month ago for my bike and love them great sound and great fit
Date published: 2017-09-16
Questions
are these Cobra Streetrod pipes legal in Quebec ?  
Hi Alfra, There are different regulations set out for each Province. Quebec states that a pipe cannot emit more than 100 decibels and it must be full intact. Meaning it must have a catalytic converter, exhaust, header pipe etc. It is hard to pinpoint the exact decibel output as many factors can go into this. Please contact Cobra for more information: http://www.cobrausa.com/contact_us/ ~Danielle, Customer Service, Canada's Motorcycle
Date published: 2015-06-23
Is the streetrod louder than the drag pipes?
No the Street Rod exhaust is not Louder than the drag pipes. They have baffles in them to keep back pressure in the engine. With drag pipes, you should use torque cones for back pressure. The Street Rod pipes are nice for going through town but also have a bark to them when you twist the throttle. Great chrome and an all around good performance pipe. 
Date published: 2016-07-19
Are there Cobra Quiet Core baffles available for these pipes? Just in case I need to tone it down a bit.
Information for future reference: Cobra tech say they do not make a quiet cor for the street rods. They also said the stock baffle supplied with the street rod measures 1.75" x 10.75". A US based Cobra distributor told me that they sell the 9015Q quiet core for the street rod exhaust (measurements match stock baffle). That is all the info I have. Do with it as you will.
Date published: 2019-03-26
I have a VT750 and everything is stock, I wanna swap my exhaust and get a Slashdown Cobra, I was wondering if I need to rejet or get a fuel commander just for that. I talked to so many people half of them say no and half say yes.
I put the Cobra Street Rod slash down pipes on my wife's 2014 VT750 Phantom and they worked fairly well without the fuel injection tuner. There is a very slight hesitation just off idle when the bike and the weather are cold. Definitely something most people can live with. My wife absolutely loves the difference it made to her bike. It looks and sounds like a totally different bike now.
Date published: 2018-08-16
I have a 2011 Boulevard C50 and was wondering if I have to do the fuel controller upgrade or if I can run these pipes without it. 
The bike will always run better if a tuner is installed with the pipes. I put these pipes on my wife's 2014 Shadow Phantom and there is a slight hesitation just off idle when the bike is cold that disappears once the bike is warmed up. When I installed the Cobra Hot Rod pipes on my 2010 Shadow RS, I put the Powerflow intake on as well and was very disappointed with the way the bike ran. It stalled when cold and had a significant lag in mid-range acceleration until I installed the tuner. Once the tuner was installed and set up the bike ran amazing with huge power gains!
Date published: 2017-08-03