Dunlop D404 Metric Cruiser Rear Tire
Item # : 25758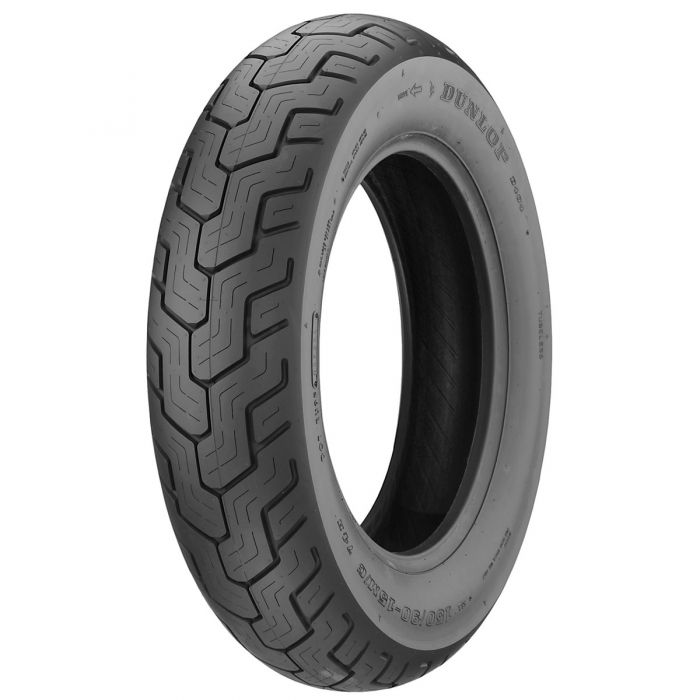 Dunlop D404 Metric Cruiser Rear Tire
Item # 25758
Description
Dunlop D404 Metric Cruiser Rear Tire
An all-around good-performing tire available in many sizes to fit a wide variety of standard, cruiser and older bikes.
Tread compound delivers impressive balance of mileage and grip.
Front and rear tread patterns designed for outstanding water evacuation and wet grip.
Bias-ply construction designed to deliver a smooth ride for maximum comfort.
Offset center groove for excellent straight-line stability.
Dunlop performance in a great value package.
Reviews
Rated

5

out of

5
by
Simokiva
from
Love it all
The tire come in the mail in two days. I put it on myself. The bike runs great with it better traction than ever!!!!
Date published: 2016-08-15
Rated

5

out of

5
by
aldkfjaads
from
very happy with performance of tire!
i have put around 1000km on the tire now. the tires perform great. even in the rain i found that the tire did very well.
Date published: 2016-08-16
Rated

4

out of

5
by
Sush
from
Great choice
It was a hard choice but I'm happy with my decision
Date published: 2016-08-14
Rated

4

out of

5
by
Dino
from
Great buy that included free shipping
Great tire for my cm400t honda. Still waiting for my collectors licence
Date published: 2016-08-14
Rated

4

out of

5
by
Erthunter
from
Awesome
I was very happy with my purchase of both tires, and was extremely happy and surprised how quickly it was delivered, I will be ordering more items in the future
Date published: 2016-08-13
Rated

5

out of

5
by
RYMSKI
from
reasonably priced
bought this a few months ago and installed befor the riding season began seems to go round and round just fine.
Date published: 2016-05-07
Rated

4

out of

5
by
Nope
from
So far so good
Don't have much to say about these tires, hold road good and felt safe in the rain
Date published: 2016-05-05
Rated

5

out of

5
by
mucker
from
very pleased
last year I purchased the front tire for my marauder and this year the rear. these tires are excellent and the service and delivery were fantastic. I highly recommend both the tires and the seller
Date published: 2016-03-23
Questions
Is the Dunlop D404 a tube or tubeless tire ?
Hi, The Dunlop D404 rear tire is a tubeless tire. The front tire will depend upon the size required. Thanks! ~Emily, Customer Representative, Canada's Motorcycle
Date published: 2017-03-24
What is considered to be acceptable mileage for a Dunlop D404? I ride heavy cruiser (Royal Star Venture) primarily in Alberta, BC and NW USA. The last 404 is finished at just over 12K km. ME880s will do twice that but more costly.
There isn't an acceptable mileage on tires. Tire life depends on the tire itself, the type of use, type of motorcycle, type of road, etc. The rear tire will also wear faster than front.
Date published: 2019-10-31
I've got a 05 Harley softail fxst, would this tire fit and perform well?....150 80/B16
I actually love this tire, fits well, as good as the factory. Handles great. 
Date published: 2016-07-20
Hi i bought a dunlop k555 170/70 b16 rear tire and still have the original front Bridgestone / exedra 130/90 16  can i run both tires or do i need to put a Dunlop on the front to
It is usually recommended to have the same model tires on both front and rears, however it isn't a problem if you don't. Riders often run different model tires especially when they are switching over to a different set of tires but one of their tires still has mileage left.
Date published: 2017-06-14
Can I get this tire (front 140/80-17) & (rear to match 170/80-15) with a wide white wall? If so, I'll need a quote.
Hi Glen, The white wall versions of the D404 can be found under our item numbers 25761 and 25763. There is no rear sized 170/80-15 available in a white wall D404. For more information on other tires that may be available to fit your criteria, please contact our Customer Service Department. ~Danielle, Customer Service, Canada's Motorcycle
Date published: 2015-04-14
Can I put a 'tube' in this tire (Dunlop D404 61H R 110/90/18) and mount it on a spoked rear rim? Thank you in advance for your reply.
yes
Date published: 2017-01-25
is it tubeless or tube type? 120/90-17
when I installed mine I used tubes
Date published: 2017-07-18