Dynojet Power Vision
Item # : 212585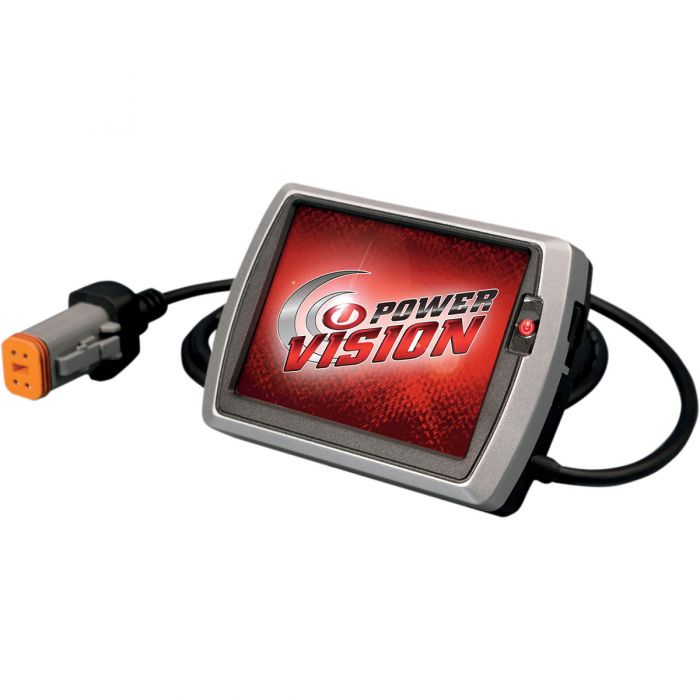 Dynojet Power Vision
Item # 212585
Description
Dynojet Power Vision
Features:
The quickest and most powerful flash tuner on the market
The sophisticated, yet easy-to-use, 3.5in. full color touch screen display mounts to handlebars with intergrated Amps 4-hole threaded inserts; also mounts to most aftermarket accesory mounts that feature Amps 4-mounting options
The displays interface cable plugs directly to the bikes diagnostic connector
NO COMPUTER REQUIRED; simply select the tune and follow the on-screen prompts to flash the bike; tunes can also be edited directly from the Power Vision
Utilizes WinPV (Windows PC-based tuning application)
Stores up to six different tunes that can be flashed to bike
Downloads and stores the stock calibration in case OEM restoration is needed; stock calibration can also be saved as an editable copy and used as a starting point
Dynojet preconfigured tunes are preloaded on the unit; Power Vision will identify the bikes information and atuomatically sort hundred of applicable, dyno-proven tunes
Custome tunes can be loaded by a tuning shop or recieved via email and loaded on the device
Displays all J1850 H-D vehicle data, wide-band air fuel ratio and various calculated channels (including MPG instant and trip MPG)
AtuoTune Basic and Pro calculates and stores fuel trims to optimize fuel curve
Checks and clears diagnostic codes
Features adaptive trims and the idle offset (with bike running)
Reviews
Rated

5

out of

5
by
Hdnik
from
Easiest Tuner I've Used
I've tuned with a SEPST and with FuelPak in the past and I have to say this Powervision is a breeze. Great support from DynoJet, and excellent videos and software. Using the Basic Autotune feature included with the PV, I did my Wife's Trike and my brother's ultra with the same tuner by buying a multi bike licence. Try that with a Harley unit! As for the people at Canadas Motorcycle - let me just say this... "WOW" - in fact let me say that again backwards... "WOW" - So nice to have a competitive supplier in Canada!
Date published: 2015-06-02
Rated

4

out of

5
by
Clutch
from
Best tuner on the market
I did a lot of research before buying this unit and after using it for a season I am very impressed. Installation and use is simple, Autotune adjusts your volumetric efficiency, set your AFR where you want it and you're in business, regardless of what mods you make to your bike down the road. Great to have it on the bike for monitoring just about everything the ECU is doing, head temps, actual AFR, mileage etc.
Date published: 2015-10-27
Rated

5

out of

5
by
Kirbgrag
from
Best OTS EFI Tuning Platform for Harley
I bought this Powervision a couple of months ago and installed it on my Stage 1 (sans tune) 2011 Street Bob (Easy). Then installed the Win PV software which is also a straightforward install. Ran basic auto tune for a few hour long rides and it cleaned up my tuning pretty good. Bike didn't run as lean and it was definitely noticeable that the bike was running a little cooler. It's worth spending the money on the mount and taking the time to route the cable underneath your tank to your bars to make it look tidy. For ultimate results, include the PV autotune pro. It's a bit of extra coin but if you're a bit handy with computers and software it's worth the money. Just need to understand a bit about VE's and AFR's before you take the plunge. Great product pro DynoJet blows the Power Commander out of the water.
Date published: 2015-08-08
Rated

5

out of

5
by
Dav01
from
Nice product!
I purchased this programmer a month ago, it was very easy to set up and tune the bike. I'm very impressed with it! Nice product and excellent service!!
Date published: 2015-10-18
Rated

5

out of

5
by
Bikerlink
from
Awesome tuner
Excellent tuner, very powerful and easy to use works well with stock 02 sensors will eventually upgrade with wide band 02 sensor package
Date published: 2015-07-04
Rated

1

out of

5
by
Dano
from
There was no preloaded tunes.Had one sent to me via email only one nothing to choose from.Loaded the tune and bike doesn't run or sound as good as it did with factory tune.Hoping the auto tune does something with this.This is my first and last tuner with this make.
Date published: 2018-05-10
Rated

5

out of

5
by
Penguin
from
Best tool ever for efi bikes
Got my dynojet tuner and the next day my bike was running stronger than ever. Real easy setup and will make my life easy as I modify intake and exhaust
Date published: 2016-06-25
Rated

5

out of

5
by
Edward
from
Great people to work with
The product is outstanding, but even better is the DynoJet Team. They are very attentive in your needs, and willing to give a hand where needed, Thanks Team
Date published: 2019-08-28
Questions
I CHANGED MY FRONT PIPES AND SLIPONS... TRUE DUALS ARE CHERRY RED FOR THE FIRST SIX INCHES. WILL THE POWER VISION HELP WITH THE LEAN PROBLEM... cool the pipes...
Yes, the powervision will help cool the pipes.
Date published: 2019-08-26
Does the Power vision need to stay mounted on the bike all the time or can it be used to auto-tune, then be removed once completed? Does it fit on the ram mount - if so, can you provide the receiver/base parts numbers that it fits onto?   
The powervision does not have to remain attached to the bike. That's only required for real time adjustments or for autotuning. Once the ECM has been flashed the unit can be removed until you want to change the tune again. The unit has standard AMPS 4 hole mounting.
Date published: 2019-01-10
Will the factory security system still function normally on late model Harley if Power Vision is installed. I have a 2007 Softail.
works on my 2013 factory security system
Date published: 2016-09-21
Is the an option for RPM of the bike to be displayed while riding?
Yes, but in most cases, rpm is not relevant. I used it to autotune while riding by data logging with it in my pocket, rather than mounted to the bike. I was interested in normal riding data because my bike was running too lean on the highway. For autotune to be accurate you want to ride the bike like normal because the narrow band sensors can only compensate by a small margin. I never looked at the data till I got back from the ride and loaded it onto the computer for editing, etc. Power vision is the best product out there because it flashes the new tune to the ecm and you have total control of the tune.
Date published: 2016-08-18