EBC R-Series Long-Life Sintered Brake Pads
Item # : 95476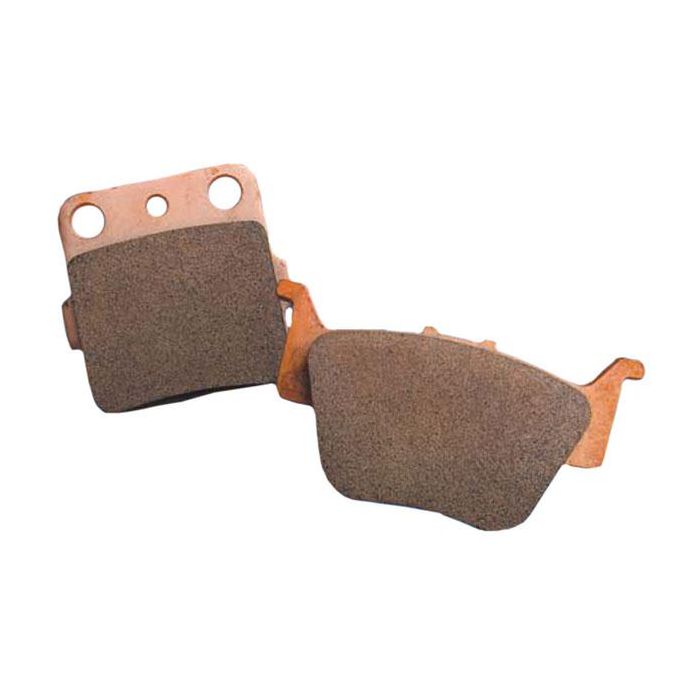 EBC R-Series Long-Life Sintered Brake Pads
Item # 95476
Description
EBC Brakes® R Series Heavy Duty Sintered Pads
For the ultimate durability EBC presents it's "R" series high density ATV & dirt sintered series pads.
A high density sintered copper material made in USA facility, the "R" Series of heavy duty ATV and moto-x pads have become an aftermarket standard offering high durability, high resistance to contamination by mud, water, sand and grit etc. offering reduced disc damage and long pad life.
Features:
Highest durability ATV/Dirt grade
Not for highway use
Target user is off road ATV rider in mud, wet, sand or dust riding
Made in the EBC Brakes USA factory
Reviews
Rated

4

out of

5
by
Captain
from
Great Brake Pads
I bought the pads last month based on the research I had done on the general use of the product with the normal use of my KLR 650. They fit perfectly and I wore them in gradually as per normal recommendations. I have only used them on the street so far and am very pleased with the results. I am looking forward to trying them on more dirt and mud trips to find out how long they last. So far though they are a great product.
Date published: 2017-08-10
Rated

5

out of

5
by
thierry
from
Le produit que j'espérais
J'ai acheté ce produit il y a plus d'un mois et j'en suis très content.
Date published: 2019-09-27
Rated

5

out of

5
by
DJ Bubbz
from
EBC easy as 1-2-3
Great quality pads for the price. So far so good! Easy installation
Date published: 2019-08-26
Rated

4

out of

5
by
Grizz
from
EBC R-Series
Product fits, brakes as well as O.E.M. pads, no noise,or fade. Time will tell on longevity, I got 1500 kms on O.E.M. front pads.
Date published: 2019-06-13
Rated

4

out of

5
by
rileyconrad9
from
Good I guess
I never use the rear brakes and idk why I bought them lol
Date published: 2019-06-12
Rated

4

out of

5
by
Dritflinger
from
Excellent product
Bought this a few weeks ago. Fit was perfect, performance wise these brake pads stop on a dime.
Date published: 2019-04-21
Rated

4

out of

5
by
Woodsman
from
Perfect fit
I have only installed them and have not used the atv since we still have 3 feet of snow. They do seem to be of a great quality.
Date published: 2019-03-16
Rated

4

out of

5
by
Steve
from
What I needed
Priced these out local and saved about $10/set. Fitment was bang on.
Date published: 2018-11-15
Questions
To clarify, for $36.65 do I receive one pad or two?
Each set includes enough pads for one caliper. You need to order a set for each caliper on the bike and check part numbers as some bikes use different numbers for each side and the rear caliper is usually different also.
Date published: 2016-09-21
I have a 2010 gio 140cc and need new back pads. I can't find parts for my specific bike. Do you think these will fit that make of bike? thanks.
No, these are vehicle specific and your model is not listed with EBC, so they do not recommend brake pads for your vehicle
Date published: 2018-12-24
Does this include 2 sets for both front wheels or do I have to order 2 sets at this price?
You need one set for each caliper. If you have dual brakes on the front wheel you will need three sets to do the front and rear brakes but check the numbers as they are rarely the same pads in each caliper.
Date published: 2016-09-21
Why do these say 'not for highway use'? The other set of EBC pads i was looking at say 'not for mud/water'... What am I supposed to buy as a dual sport rider?
I would check EBC's website to check what's best for you and then order what you need. It's what I did.
Date published: 2018-06-14