Firstgear 90 Watt Heated Jacket Liner
Item # : 297274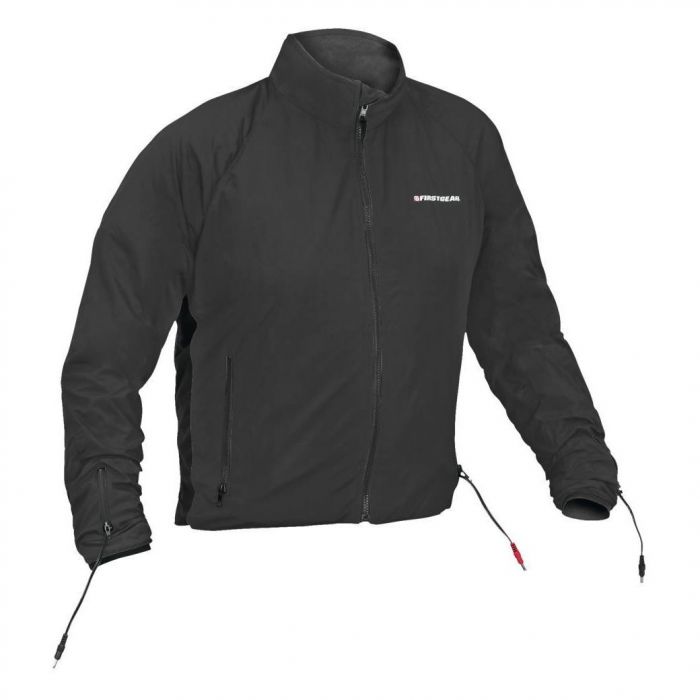 Firstgear 90 Watt Heated Jacket Liner
Item # 297274
Description
Firstgear 90 Watt Heated Jacket Liner
A cold weather workhorse, Firstgear's 90 Watt Heated Jacket Liner is a dependable companion on any motorcycle ride. Able to be used independently or paired with other heated accessories, this liner gives safe, convenient warmth that can be easily adjusted to suit your need. When it comes to cold weather riding, Firstgear and the 90 Watt Heated Jacket Liner has what it takes to keep you out there no matter what the mercury shows.
Exclusive dual-zone heating system allows you to use the single or the dual Heat-troller without rewiring the liner. Liner rated at 110 watts at 12.8 volts
Designed to be worn over a single layer of clothing, a t-shirt or other lightweight garment. A protective outer jacket should always be worn over it
Built to be temperature neutral, so that you can wear your liner all day and not have to change clothing when you need heat
Lightweight soft nylon shell for minimum bulk, non-coasted finish for maximum breathability
Form fitting, snug fit for optimum heat transfer to body
Heating pads on front, upper and lower back, sleeves and collar for full heat coverage
Integrated glove plugs and pants plug stow in their own zippered pockets when not in use
Flex panels and action back allow a full range of movement for any activity
Fleece inner collar to wick away moisture
Packs into its own zippered pouch; included
Reviews
Rated

5

out of

5
by
Oleary
from
Excellent piece of kit
I have the complete set of Gerbings gear (jacket, pants, insoles). I prefer the First gear kit. Gerbings is both a jacket and a warmer. First Gear is a pure warmer - light, thin and WARM.
Date published: 2017-10-27
Rated

4

out of

5
by
Patriot
from
Comfortable
Keeps u nice and warm for the most part. A couple of cold spots. Wish it had better heat for the lower back. Only notice this when the temp gets close to 0C. Comfortable enough to b worn all day.
Date published: 2015-07-12
Rated

4

out of

5
by
RoadRunner
from
Comfy for sure
I wore it on a cold 2degree morning and it was awesome all the way up to my collar...thanks Fortnine...
Date published: 2018-06-06
Rated

5

out of

5
by
phrip
from
Even better than I hoped for!
Great product, very glad that I bought it. Super effective, right down to near freezing days, with heat all the way up the collar. This and my heated gloves have extended the riding season right up until the snow flies!
Date published: 2017-10-27
Rated

5

out of

5
by
DEFT
from
100% Satisfied!
I've had the opportunity to use this item in cold weather on the highway and I am 100% satisfied, also with the dual wireless controller. Great product -- and you won't leave home without it!
Date published: 2017-10-27
Rated

5

out of

5
by
Haralabos
from
Exceeded what I imagined
This liner exceeded what I thought about heated gear... i bought the dual controller along With pantliner, socks, and gloves.. everything is excellent
Date published: 2017-09-17
Rated

5

out of

5
by
FGHOG
from
Great Heated Gear
One day delivery. The jacket fit perfect and is high quality. However, I returned the jacket. First Gear heated clothing are rebranded Warm & Safe and I thought this was the waterproof liner. My mistake, quick return policy and I managed to get the 65 watt waterproof version of this jacket. Regardless of the label they are excellent products. I've owned the pant liner for years and they work very well.
Date published: 2017-07-13
Rated

5

out of

5
by
Andre
from
Great product.
I love this vest. Only regret I have is not having it bought sooner! Fits perfect, very comfortable , and generates more than enough heat. Perfect for those cold rides.
Date published: 2017-05-04
Questions
Does the jacket come with wiring to attach to the bike or is this seperate? 
Yes, but if you want to control the heat setting you would also require the Heat-Troller
Date published: 2019-09-05
How would you describe the sizing of these jackets? I am 6', slim build, my Firstgear Kathmandu medium jacket fits a little large on me, and I like heated gear to fit close to the body.
I normally wear large.  This jacket in large fits very well. I wear either a Merino Wool t-shirt or UnderArmour 4.0 under it depending on the temperature. 
Date published: 2019-01-11
Using the FirstGear heated gloves and jacket liner, how much power is required and will a Goldwing be able to handle the draw at low or idle speeds?
I use the jacket, the pants and glove liners on a Honda VFR 800 and haven't had a problem. 
Date published: 2017-03-06