Heidenau K60 Scout Dual Sport Front Tire
Item # : 267063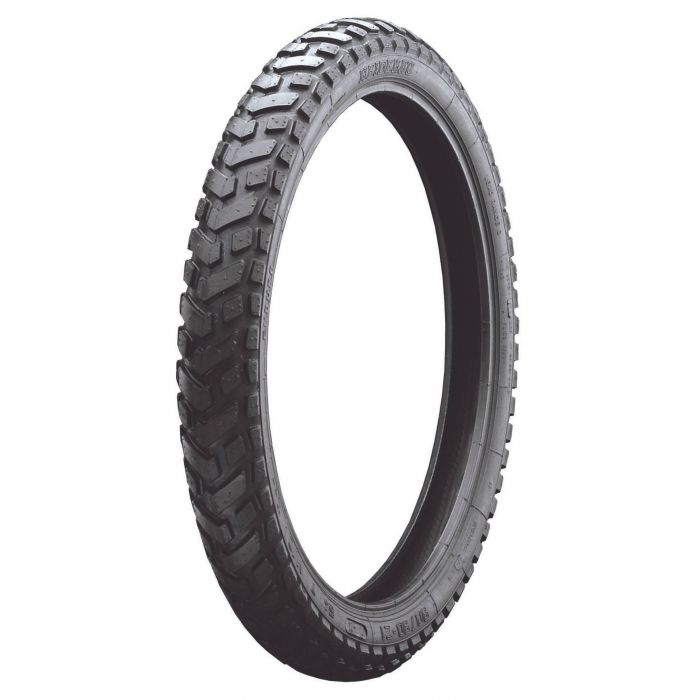 Heidenau K60 Scout Dual Sport Front Tire
Item # 267063
Description
Heidenau K60 Scout Front Tire
A true "50/50" dual sport tire, the K60 Scout brings a proven balance of performance on- and off-road. With an improved tread and compound, the Scout delivers better cornering stability and wet weather grip on the pavement, while delivering off-road as well.
The "chevron" style tread pattern is similar to full knobby designs which provides lots of open space between the tread blocks to route sand, mud and water from the contact patch while constantly keeping some rubber in contact with the road as the tire rotates. This tire is a stand-out as it does not sacrifice on-road longevity and adhesion to the pavement for off-road traction. A difficult feat for any tire to accomplish.
MS = All-Season Tires with Mud and Snow Designation
If a tire has MS, M+S, M/S or M&S on it, then it meets the Rubber Manufacturers Association (RMA) guidelines for a mud and snow tire.
TT = Tube Type Tire
Reviews
Rated

5

out of

5
by
ADV Alberta
from
Great tires
Have 6000kms on rear and still lots of tread to go. I run K60 front and rear on my 2014 KLR 650 and will replace with another set when these finally run out, great on and off road traction. They work very well in the rain on pavement too.
Date published: 2016-06-26
Rated

4

out of

5
by
Hawk
from
Solid tires with excellent life
This is my 3rd K60 rear and 2nd K60 front on this order. I have gotten more than 20,000km out of both rears and got 40,000km out of the front. The wear on the front was minimal but the rubber was cracking. They're not the best on road or off road tire but they are a solid compromise and will work adequately in either environment.
Date published: 2016-06-24
Rated

5

out of

5
by
Theiggy
from
Great tire
I originally bought the back tire and replaced the tkc80 that lasted only 4500 km and now have these tires on the front. 8000 km on the back and 5000 km on the front on a 1000 Honda Varadero. They have a harder centre that needs to be warmed up slowly when cold weather riding. Handle more like a street tire and still likes all but deep loose gravel or thick mud. Very impressed.
Date published: 2015-12-30
Rated

5

out of

5
by
DrRock
from
Best tire so far on my F800gs
10,000 km and still a little tread left. 50/50 off/on road. Great on gravel.
Date published: 2015-05-09
Rated

5

out of

5
by
Malscontent
from
Best I have had yet
Purchased my second Heidenau from Canada's Motorcycle I still have ,y first one on and it has over 23,000 km on it. I do a mixture of road and gravel and would recommend this tire. For traction ( except for in wet muddy slick but then nothing is that good ) and longevity
Date published: 2015-08-10
Rated

5

out of

5
by
Maverick
from
works great both in the mud, and on the highway
so far done about 200 km on pavement and gravel with a heavy 1990 africa twin XRV750, no vibration at all, the bike lean and is steady, done about 1 km in deep mud almost over the calliper in big root and the bike was going forward like if it was nothing, the treads didn't cug and i had very good grip. if you want a tire that can do both pavement and dirt, this is what you are looking for
Date published: 2018-04-08
Rated

5

out of

5
by
GreatCanadianMike
from
Unbelievable longevity
Second one I've had on my 800GS. Got 27,000km out of the first one. Very stiff side wall. Make sure to pick a hot day, and leave it in the sun, if you're going to spoon it on yourself.
Date published: 2018-07-09
Rated

5

out of

5
by
Stéphan
from
Tres durables
Posés à l'achat de la moto en 2013. Plus de 29k au compteur et ils sont encore bons pour un petit bout. Utilisés principalement sur la route. Environ 1000km hors route.
Date published: 2017-07-06
Questions
Hi.  Just wondering if the 100/90-19 is a tube type tire or a radial. Thanks
The 100/90-19 is a Tubeless tire, M/C.
Date published: 2018-06-07
Do you sell 110/80/19 In the k60 I didn't see it in the drop down menu. 
Hi Mark, The 110/80-19 is available for the rear application under item #267070. ~Danielle, Customer Service, Canada's Motorcycle
Date published: 2015-01-27
I understand there have been some tread pattern revisions. Does the 150 have a continuous center strip? Does the 140/18?
You may see the difference in tread pattern between the sizes here : http://imglin.com/20160219133135%5F6048003.jpg
Date published: 2016-02-19
Can a tube be used in the tubeless 90/90-21 ?
Tires are rated as TT (Tube Tire) or TL (Tube Less) the differences can be noted in the construction and speed rating of the tires. When installing a Tube in Tube Less type of tire, premature wear from overheating may occur, but is not typically a catastrophic event. I have a 2017 Africa Twin, which has tube type rims and requires tubes installed, very few tube type tire options are available so I'm stuck with putting tubes in my tube less tires. they do run hotter as a result.
Date published: 2018-12-20
90/90/21 TT vs 90/90/21 MS? There are price differences.
The MS designates "Mud and Snow" designation. This version meets the Rubber Manufacturers Association (RMA) guidelines for a mud and snow tire. The non-MS is the regular version of the tire.
Date published: 2017-12-07
What is the difference between 130/80-17 and 5.10-17? The sizing charts show these as the same size. 
There is no difference.  One is just listed in metric for the width 130 mm and sidewall depth 80 mm and the other is just the width in inches 5.10.  They both indicate inches for the wheel diameter 17.  Why the sizing charts show a difference I do not know but I think the 5.10 /17 is an earlier form for indicating size.
Date published: 2016-09-13