JT Steel Rear Sprocket
Item # : 231362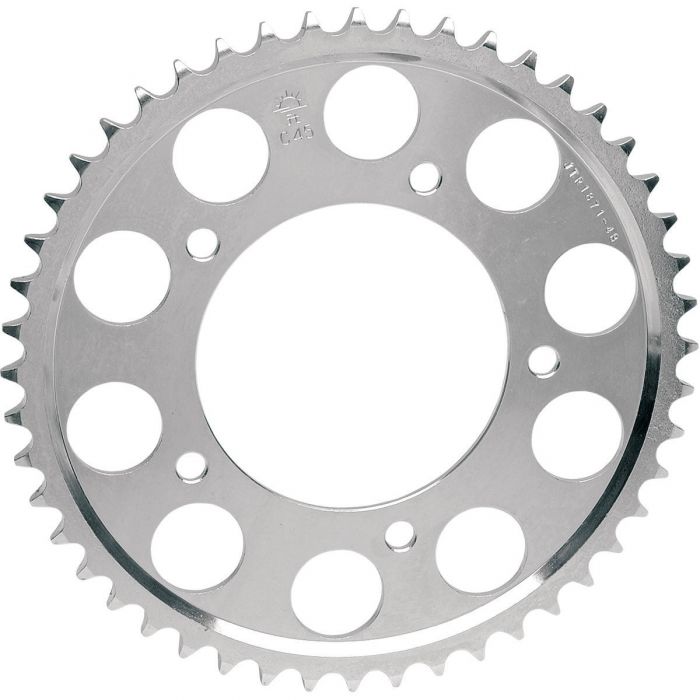 JT Steel Rear Sprocket
Item # 231362
Description
JT Steel Rear Sprocket
Features:
JT Sprockets are made from the latest generation of computer design and control metal cutting equipment for maximum durability
JT rear sprockets are made from the finest C45 high carbon steel
All sprockets are heat-treated and hand-finished to meet or exceed the highest possible quality standards
Reviews
Rated

4

out of

5
by
JP0160
from
It's a sprocket.
Fits 2015 CBR300R without issues. 38T is 2 teeth larger than stock, gives much more peppy take-offs and more wheelie juice. Speedo reads about 16% faster. Get some M10x30mm bolts with lock nuts to replace the stock sprocket bolts as they have burred nuts and cannot be removed.
Date published: 2017-08-26
Rated

5

out of

5
by
Roman
from
Great change to calm the engine revs down!
This 43 tooth rear sprocket bolts right on in place of the stock Versys 46, and drops revs by more than 500 rpm at 100 kph, with no flashing sensor codes or difference in sound or vibration from stock. A much calmer feeling engine, city and highway. Best mod so far!
Date published: 2018-11-27
Rated

3

out of

5
by
Sakl4
from
Rear sprocket
The sprocket was a great quality but differed greatly from the picture. It was powdered in semi gloss black as opposed to machined silver. Unfortunately this was going on a show Bike so I did not install the sprocket.
Date published: 2018-05-09
Rated

4

out of

5
by
tambarnack
from
VLX 600 Chain / Sprocket change
When installing my sprokets my hydraulic lift ran out of oil and began to slowly put the bike on the ground. Do yourself a favor and just get a manual bike lift and use 2 car stands under each side of the swingarm. Besides screwing around with my bike lift, the sprocket was very easy to install as long as you have the proper torque wrench, builders manual, lift and so on...
Date published: 2015-07-08
Rated

4

out of

5
by
STICKLER
from
The picture of your rear sprocket of the 89' Honda 250NX does not correspond to whats on my motorcycle. My sprocket has six mounting holes corresponding to the six bolts on my rear rim. Could you make sure that the pictures you post with the"guaranteed fit" correspond to the actual sprocket in question. This way customers do not get confused. Txs.
Date published: 2017-08-05
Rated

4

out of

5
by
Old rider
from
Rear sprocket
I am glad I bought the sprocket. It is exactly what I needed
Date published: 2019-09-17
Rated

5

out of

5
by
Champ
from
Perfect fit
Easy installation completed both bikes in less then an hour
Date published: 2019-09-14
Rated

5

out of

5
by
Janky
from
F9
Fast, cheap and fit like a glove. They always have what I need and they are so helpful. Thanks for keep my old XT 350 moving!
Date published: 2019-08-28
Questions
What is the difference between the 38T and 40T options? I assume that is teeth. What was the original factory chain?
38T and 40T indicate the number of teeth on the sprocket. Please refer to the owner's manual or an online reference to see what the original bike came equipped with.
Date published: 2018-11-08
Has anyone used this with a 1983 Suzuki GR650 Tempter I have 6 mounting studs and this only shows 5 bolt holes but is a "guarented fit"?
No problem o my side. Your bike is 33 yrs old man! One should not expect to find the perfect match on the internet, data gets lost with time, not to mention the risk the bike may have been modified (no idea i you're the original owner). Ideally you would visit a Suzuki dealership and pay the extra few bucks to get the perfect match, if any. Old timers bike need more love, but hey isn't it why we love them!?! Good luck.
Date published: 2016-09-28