Maxima Chain Wax
Item # : 44221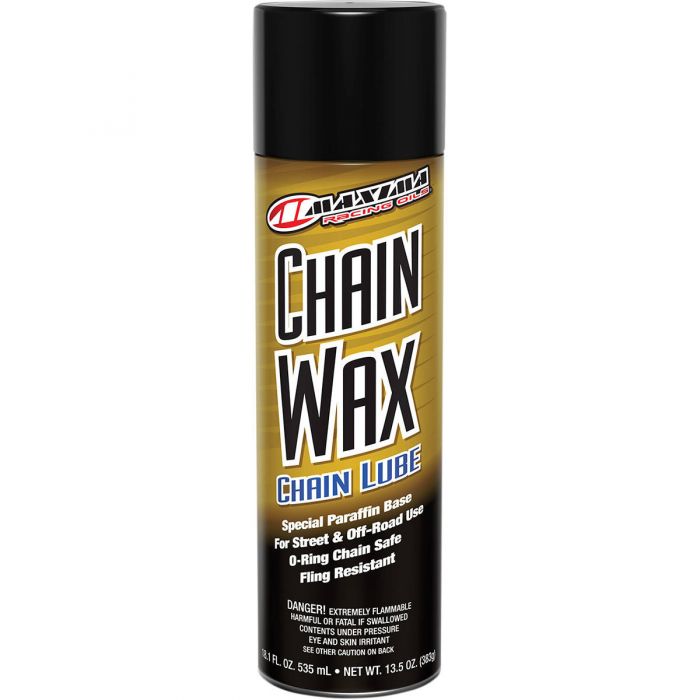 Maxima Chain Wax
Item # 44221
Description
Maxima Chain Wax
Maxima Chain Wax is a superior power spray lubricant designed for all chain care needs. It's special ParaFilm™ formula creates a waxy film similar to Cosmoline, offering long term protection especially in water and high humidity environments. Maxima Chain Wax is formulated with heavy duty, anti-wear, and extreme pressure additives that provide superior lubrication for all chains, cables, and sprockets. Maxima Chain Wax penetrates deeply, lubricating non accessible areas, reducing chain stretch and wear. Chain Wax is simply the best choice for all chain and cable care needs.
Features:
Eliminates "fling off" & seals lubricant to chain
Special paraffin base creates waxy film
Excellent rust protection
For o-ring and conventional chains
Does not attract dirt
Light amber color
20oz./13.5oz. Net wt.
8oz./5.5oz. Net wt.
Manufacturer Part Numbers:
74920 - 13.5 Ounce
74908-EA - 5.5 Ounce
Comparison Chart
| | | | | | |
| --- | --- | --- | --- | --- | --- |
| | | | | | |
| Model | Tirox Chain Wax | Motul C2 | Maxima Chain Wax | Motorex 622 Strong | PJ1 Blue Label |
| Price | Most affordable | Affordable | Affordable | Affordable | Least affordable |
| Benefits | Dry lubricant, repels water efficiently | Great adhesive properties, superb longevity | Excellent rust protection, paraffin base creates waxy film | High-pressure resistant film, very adhesive, reduces wear | Won't fly off, petroleum based, extends o-ring chain life |
| Sizes | 14.8 oz | 9.3 oz | 5.5 oz & 13.5 oz | 16.9 oz | 5 oz & 13 oz |
| Color | Clear | Clear | Brown | White | Clear |
| Offroad Version | | | | | |
| Racing Version | | | | | |
Reviews
Rated

5

out of

5
by
fireblade
from
great application and protection
Applies clear/gold-ish colour. stays put and doesnt sling off as much as other chain lubes.
Date published: 2015-07-05
Rated

5

out of

5
by
bcboy4ca
from
No more messy chain lube
I bought this after using regular chain lube on my bikes/atvs and having to deal with the oil spraying all over while riding and the chain becoming gummed up with dirt. This product is awesome goes on easy and repels moisture and dirt so no more build up, it also doesn't spray around when riding. I recommend this to everyone.
Date published: 2015-06-01
Rated

5

out of

5
by
Anonymous
from
Good Product
Been using this product on all my motorcycles and no complaints. It works as intended and I will continue to use it for keeping my chain lubed
Date published: 2014-06-02
Rated

4

out of

5
by
Sharky
from
Great Product
I've been using this product for alot of years, I have never had a problem. Clean and apply regularly and it will look after your chain for a long time.
Date published: 2011-03-19
Rated

5

out of

5
by
Jinz
from
AWESOME PRODUCT
Bought this after browsing the internet and bought it and will never switch products again ! First spray i used was from Motomaster from Canadian Tire, i let it sit for a whole day and it blew right off as soon as i hit 60km/h! this stuff is like glue ! and repels water really good and gets off easy too with Kerosene !
Date published: 2017-03-31
Rated

5

out of

5
by
Perr
from
Best lubricant and cleanest!
Since 2010 I have been using this chain lube, first on my new chain which is still installed after 51k kms. I spray my chain approx every 500 to 600 kms. I dont wait as recommended at 800 or a 1000kms. I own a street cruiser bike not a dirt bike which in comparison affects chain life substantialy in addition to riding style and technique. I attribute the long chain life mainly to this product as well to the quality of my x chain plus the fact I don't hard accelerate from stop or at low speeds. I do most of my spirted riding including moderate and sometimes heavy accelerating while in 4th or 5th gear. This factor helps considering my bikes 535lb mass is already in motion as opposed from still, or a dead stop then accelerating moderately or heavy up to speed. This product is super clean and sets up to a waxy film within a few minutes up to 10 minutes, pending OAT. It sprays on nice without dripping not making a mess or waste, but is thin enough to penetrate the links and rollers before setup time to wax. You will have the cleanest rim in comparison to any belt driven bike or another lubricating product. It stays on the chain ! It's about the wax base lubricants that contributes to excellent lubrication and clinging to the chain with very little or no fly off. And the best thing about it is you never need to clean your chain including wipping it down. There is no need, simply because this product is very clean and waxy and over time it cleans itself without buildup on the rim. This of course no introduction of dust or road dirt. Having wrote the above if you get caught in the rain driving more then 50kms or so the priduct like most will wash off, hence the chain gets cleaned, but dont continue driving many kms in the rain as you don't want an unlubricated chain !! Price point it has gone up considerably over the last few years, but if you are long term chain guy/girl I suggest buying two or three cans at one time, shopping of course for best price! In conclusion, no need to buy very expensive synethic based products which in most cases will perform the same as this product and some leave more dirt and buildup from flying off onto the rim. I hope as long as I am a chain guy that I can keep buying Maxima ! !
Date published: 2017-08-09
Rated

5

out of

5
by
Foreman
from
Bon produit répond a mon utilisation recommande celui-ci
Date published: 2015-10-29
Rated

5

out of

5
by
Zoxx
from
My posse has never been happier.
I started putting my posse on this product and it's been a fantastic experience thus far. We're all very happy with our puchases. 7/10 IGN best experience.
Date published: 2015-06-22