Michelin Road 5 Front Tire
Item # : 610788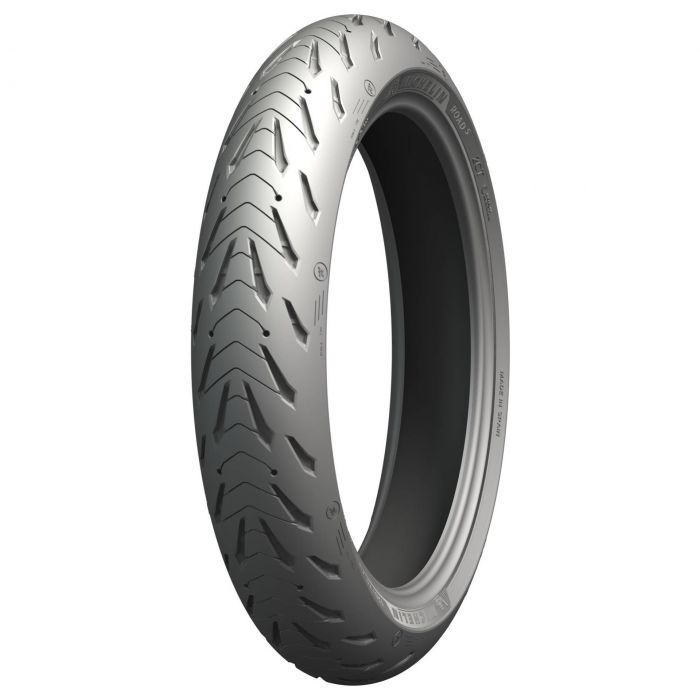 Michelin Road 5 Front Tire
Item # 610788
Description
Michelin Road 5 Tires
Building upon the success of the Pilot Road 4, the 5th generation of the popular Road series drops the "Pilot" prefix and takes on more of an all-purpose approach to an all weather sport and sport touring tire. In wet conditions, we change the way we ride. Wisdom dictates less aggressive lean angles when traction is questionable due to slick roads. In dry conditions, well, we're out having fun. The design of the Michelin Road 5 Tires takes these complimentary riding styles into account. The section of the tire that sees the most use during day in, day out, even spirited riding is outfitted with deep, water-evacuating sipes. The edges of the tire, those that are only called into action during aggressive riding on dry pavement, are uninterrupted expanses of a softer tread compound.
The biggest selling point of the Road 5 is wet-weather longevity. Michelin essentially reinvented the wheel when they engineered the water evacuation siping of the Road 5 tires. These channels actually flare outward towards the center of the tire as opposed to grooves getting narrower as they get deeper. Water needs to be displaced as a tire rolls over it. As a typical tire wears, the negative space between the tread gets progressively smaller and smaller. When the P5 wears, it maintains a more consistent volume of negative space where water can disperse. This translates into more confident wet-weather cornering and emergency braking throughout the life of the tire.
Click here to see how the Road 5 compares to other Michelin sport touring tires.
Michelin Sport Touring Tires
Features:
Patented Michelin XST Evo siping design
Patented ACT+ casing technology
2CT dual compound front tire composition
2CT+ dual compound rear tire composition
Reviews
Rated

5

out of

5
by
Surlyguy
from
Excellent, 4500km so far.
Bought a few months ago but just got to run them on a week trip to Oregon. BMW R1200s sport touring type bike. I had the Road 4s before but the GT version which was the wrong tire for this bike (too stiff) so that may influence my opinion. Compared to the 4s the 5s have a softer side compound and different carcass. It feels great. Way more feedback than the 4s I had. Allowed me to go much harder into corners with more confidence. Wear on the side is more than the 4s but I have yet to wear out the sides of a tire before the middle! Wear in the middle is no different than the 4s so far. I got 14,000km on the 4s and could have got another couple of thousand but they were squared off. Front feels similar to the 4 so far but no weird wear patterns (cupping). Only tried them a little in the wet. Seem OK but I'm not going star in a youtube video of wet weather cornering bravery anytime soon.
Date published: 2018-05-30
Rated

5

out of

5
by
CoconutWilly
from
Excellent pneu
J'utilise mes nouveaux pneus depuis maintenant 1 mois. Je suis très agréablement surpris par la différence de roulement d'avec le pneu d'origine de ma moto. Adhérence, manœuvrabilité, confort tout est amélioré. Très heureux de mon achat.
Date published: 2018-08-26
Rated

4

out of

5
by
Jasper T
from
Good but...
I have 6,000 kms on the front tire so feel it is time to give a fair review. Not to be contrary but I think the Road 5 isn't the best for a heavier bike. I have a BMW K1600 and the front started cupping early on. I bought the Road 5s thinking they would be a better version of the RP4s. And they likely are for lighter bikes. They are 'twitchier' than the Avon Storms, don't track as well, and won't last as long. But they will be better in wet weather (which is why I bought them in the first place. Bottom line - maybe not the best for heavier rides.
Date published: 2018-09-25
Rated

5

out of

5
by
ROAR
from
This is The Sport tire of the Sport Touring class
1400kms. One week. 12070/17 & 180/55/17 This is The Sport tire of the Sport Touring classification*. (see note) The rear is without fault. No slip and almost no movement in any dry condition. The front tire is super stable and sticky. Changing lines*, crossing over different asphalt surfaces on curves* goes unnoticed. The front just sticks without compromise*. The rear follows like it should. My previous Dunlop RSIII front would catch and slip making the front end stand up or fall as it slipped and gripped across different textures. The rear would spin often. 12K kms and the front is worn out and the rear looks...ok. Not this tire set. They are so much like my Metzeler M7RRs that I would not hesitate to recommend the Micheline to any dry-time rider. The on-wet performance is untested by myself but has been well stated by many magazines. If I had chosen the Micheline Power RS I think would be just as happy, but would be buying new rubber much sooner. The casing tech appears to be shared with both models. *(Spirited riding backroads with some sanity) I was going to get the new Power RS instead, but was concerned about durability. I usually run one set per season of 12k-14k. No concerns about grip now. The roads here have smooth stones in the asphalt mix. My previous Dunlop RSIII were sliding around all the time feeling sketchy by comparison.)
Date published: 2018-05-23
Rated

5

out of

5
by
Deevoded
from
Feels like a new tire!
After switching from an old, flat tire anything feels like an improvement. But right after putting this tire on it is doing it's job perfectly. Rode in the rain a few times and never anything squirrely happening. Previous tire was a Road 4GT so hoping to see similar or better endurance and performance out of this. (10,000 km+ on previous tire) This tire didn't come with an indicated heavy spot to align while mounting, but after balancing I haven't had any issues.
Date published: 2018-08-30
Rated

5

out of

5
by
Dom432
from
Great rain tire
Been on for 1500kms now, been caught out in the rain for the last 2 weeks. Standing water, wet and greasy roads , no problem. Best tire I've tried so far in the wet. The profile seems a bit slow on direction changes, the edges of tire feel really good on dry, hot asphalt.
Date published: 2018-08-27
Rated

4

out of

5
by
Allison
from
Good and bad
Just had a chance to run my Road 5's on a 3000km trip that started with torrential rain, and included standing water, damp roads, full on sunshine and 70km of packed gravel. Wet or dry, it made no difference to these tires. Through long straights, fast sweepers and twisties, they were precise, sticky and surefooted regardless of the road conditions. Defintely a fan of the way they grip and handle. However, when I got into swirling crosswinds or the wash behind a truck or a bus, they wanted to roll off the centre and on to the side constantly. It wasn't ever alarming or uncontrollable, but it was definitely noticeable. A long day of riding in the wind ended up being quite tiring, because I was constantly having to microadjust the bike to keep it going straight, and by the end of the trip I was actively avoiding getting in behind large vehicles. It could well be that the recommended inflation for my bike was the problem, so I'm going to play with a couple of lb of pressure either side, and see if it makes a difference. I hope so. I loved the 11K on my Road 4's ... really hoping I can get these sorted out.
Date published: 2018-06-28
Rated

5

out of

5
by
Dom57
from
Excellent product accompanied with excellent servi
First time user of large online purchase So I was a bit apprehensive To my amazement the items were delivered in amazingly record time well packaged and exactly what I ordered From now on Fortnine will be my go to for all my moto supplies Thanks
Date published: 2018-08-28
Questions
Is it à good tire if i put it on a cbr 600 2003??
This tire is directly recommended for your application by the manufacturer using the stock sizes.
Date published: 2020-03-11
Does it come in a GT version like the pilot road 4 GT?
Not yet. Michelin will be expanding the Road 5 lineup with a GT and a Trail version down the road. Maybe in spring 2019 but nobody knows for sure until they officially release them.
Date published: 2018-10-31