Motoz Tractionator Adventure Rear Tire
Item # : 542026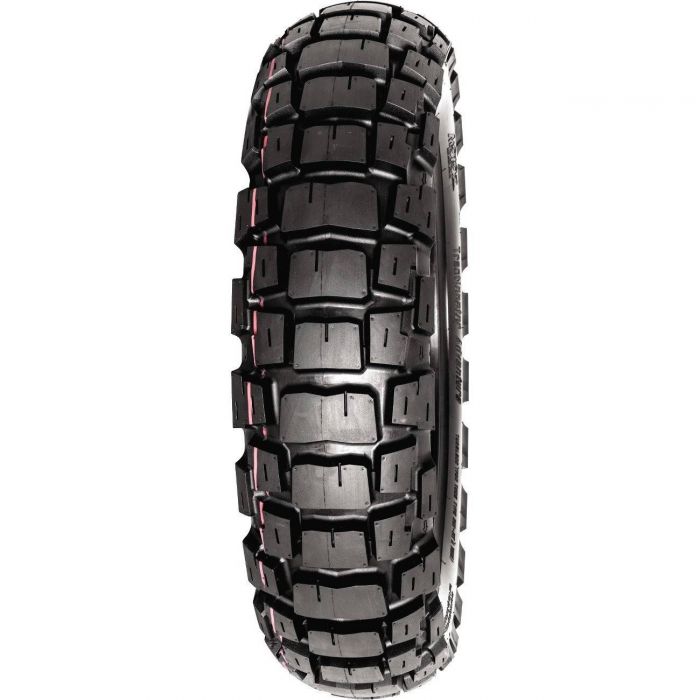 Motoz Tractionator Adventure Rear Tire
Item # 542026
Description
Motoz Tractionator Adventure Rear Tire
Motoz Adventure Tires are based on their Tractionator Series, with construction suitable for harsh conditions like desert racing, multi day enduro or long distance adventure riding. Designed by off road riders, for off road riders, for serious off road traction. Made for long wear life in all extreme conditions, these dual sport motorcycle tires are technically 25% stronger, with a deeper tread, than many other adventure touring tires. The tread of the Tractionator Adventure Tire is unique: blocks that self sharpen for better grip through the life of the tire and self protect for longer tire life. If your tires have been wearing out faster than you think they should, try the Tractionator Adventure tires.
Made from a hybrid natural rubber/synthetic compound
Special compound designed to withstand the harshest of conditions found in Australia, USA, Baja, South America, South Africa, Israel, Spain, Morocco, etc.
Technically 25% stronger than many other adventure touring tires
Tread designed to self-protect for long mileage and self-sharpen for superior off road cornering
13.5-15mm tread depth - a deeper tread than most adventure touring tires
Delivers serious off road traction with longer tire life
Superior off road cornering
Designed by off road riders, for off road riders
This motorcycle tire is tubeless
These dual sport tires are T rated for speeds up to 118 mph
DOT approved and ECER75 homologation
Reviews
Rated

4

out of

5
by
CharlieFoxTrot
from
Great offroad tire, great look, but so noisy!
I bought this tire for my R1200 GSA because I love its aggressive look and its predicted durability. The threads are very deep and the tire traction offroad is excellent. However, the grip on tarmac is not as good as my previous tire (Shinko 805), especially when cornering. I feel that the rear can slide more easily than my Shinko. It is also VERY noisy at 100-120 km. Now I definitely need to wear earplugs otherwise it is so noisy it becomes annoying after riding a few hours on tarmac (this was not a problem before with my Shinko 805 or Heideneau K60). I also found the tire a lot more difficult to install on the rim than my Shinko 805, and I had to sweat a lot to get it on... I haven't rode on wet tarmac too much yet, so I can't commment much on that aspect, but other riders suggested me to take it easy... Overall, this is a great looking tire with very agressive offroad thread, but on tarmac, I think it is not the best dualsport tire, so it is more dedicated to those that spend more time offroad than on tarmac.
Date published: 2018-08-08
Rated

5

out of

5
by
JohnnyGunn
from
Great off road tires
I have used 2 sets. On highway wears fast and funny. Keep it pressured up. Dont whine if your using an offroad tire on highway. . DUH. Off road lasts for ever. Handles great.
Date published: 2018-07-22
Rated

4

out of

5
by
690forevything
from
I was quite impressed
I figured this was going to be similar to my old set of k60 scouts. Not so much this tire on the rear tkc 80 on the front and the KTM 690 E handles pretty much anything. This rear will get a little fishy in hard off-road greasy mud. But man does it perform well in everything else's. I spooned them on myself and away I went. We will see how long they last.
Date published: 2018-07-13
Rated

5

out of

5
by
talfox
from
bon pneu tant sur la route ou off road sur gravier et dans la boue
Date published: 2017-06-27
Rated

5

out of

5
by
Johnny Gunn
from
3 Rd set.
3rd set. Depending where what how and severity of your riding. 2 rear per one front. Comfortably a rear can do up to 6500km. If I'm doing a lot of off roading I'll pull it off at 4000 to place new one on the back. Front should easily get 10000 to 12000km. I'll keep the used rear as it still has more grip than most new adv tires. If a front is still in good shape not cupping to much I throw it back on too for local bombing around. Handling. On pavement these stick like glue. I'm no knee dragger but did touch toes . Front is planted. gravel the big pads on the back float a little on top, dig in when throttle opens. Front and back allow be for very nice controled skidding and drifting. Idaho lightning Creek road was awesome. Mud. Never got into a lot. The little I did it was expected a little slippage. Big bike big tires. Sand again a little here and there. That beings said. A dirt bike isn't the easiest to control in sand or mud especially with clay underneath. A big bike. Is just harder to do it with. Hard Rock trails especially mountain. No issues all confidence. Wear character. Heavy highway use will slightly cup front tire even more so if your Hard on the brakes. If your an animal the front will get you 6k rear 4 k. If your spirited front 10 rear 6. Easy 12 and 7k. For my longer trips that see more highway longer distance I'll match up the tractionator front to a mitas e07 rear. My confidence in the front tire says do it. As I can easily decide to shoot off the road onto a trail for a look see if I get bored on the road. Overall highly stable. Great wear. Confidence. I honestly believe the tractionator front and rear are a true adv tire. Especially for use in western BDR. Only one negative. Hard tire to find
Date published: 2019-04-28
Rated

5

out of

5
by
JohnnyGunn
from
Great on off road tire
70 dirt 30 road. Great overall longterm handling millage.
Date published: 2018-07-22
Rated

4

out of

5
by
Jmor
from
Great tire
Put about 200 kilometres on it so far almost all of it off road. Great traction and control Smooth and responsive on road Easy to install my self and balancing required very little weight
Date published: 2019-11-18
Rated

4

out of

5
by
Fred
from
Works well
Installed at Whitehorse for the Dempster. Used with Shinko 805 rear. Worked well in lots of very loose gravel and a few mud sections. Definitely noisey. Have a 5000k on it now +- 60 percent left. Tracks better I rust than shinko 804. Some cupping at this time from long hwy run back south.
Date published: 2019-06-12