Plexus Plastic Cleaner Protectant and Polish
Item # : 620558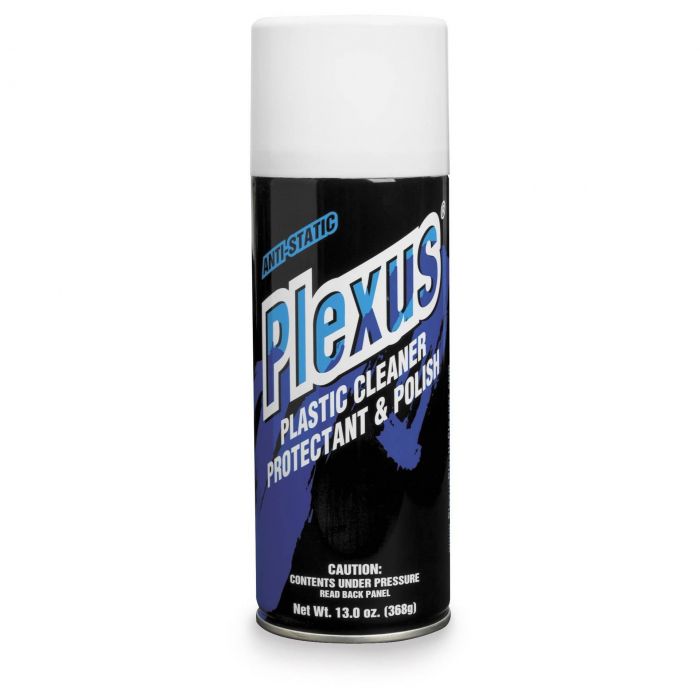 Plexus Plastic Cleaner Protectant and Polish
Item # 620558
Description
Plexus Plastic Cleaner, Protectant & Polish
Plexus Plastic Cleaner Protectant Polish was originally developed for use in the aviation industry for cleaning and protecting aircraft windshields and painted surfaces. This makes it ideal for helmets, faceshields, windshields, sunglasses and goggles
Features:
Special formula leaves a lustrous, anti-static, anti-fog finish that resists fingerprints
Suitable for all motorcycles, watercraft, snowmobiles and cars
Simply spray on and wipe off
Manufacturer Part Numbers:
20207 - 7 oz (198 g)
20214-EA - 13 oz (368 g)
Reviews
Rated

5

out of

5
by
Connor
from
Works Great!
I used to use glass cleaner on my visor, until I found out that is a no-no. I now use plexus to clean my visor and helmet. It cleans fresh or even day old bugs with ease. It smells nice, and leaves the visor crystal clear and the helmet shiny. Although it is expensive, a can will likely last years! This will always be my go-to cleaner for now on. Also, I noticed a lot less fogging while using this product.
Date published: 2016-08-16
Rated

4

out of

5
by
Big Head
from
Expensive but works great on bike windshield
Only used it a few times but cleans bugs and grime off great without leaving any residue or scratches
Date published: 2015-07-23
Rated

5

out of

5
by
Blackshadow
from
Great product
Makes the S1000RR super shiny. Great. Works well on the Xpel film as well.
Date published: 2015-08-05
Rated

3

out of

5
by
JS Bussieres
from
Ok product... Too expensive
I bought it to detail my cbr but dont use it for it anymore ... Keep it to clean my windshield, my mirror and my helmet. Too expensive to do just that in my opinion ...
Date published: 2015-07-05
Rated

5

out of

5
by
Skelee
from
This is the best plastic cleaner!
I have used plexus since my karting days. works great
Date published: 2019-12-05
Rated

2

out of

5
by
Lyle
from
Cleaner but fogs terrible
Yes it cleans well and levels out some of the tiny scratches but fogs something terrible, espeacilly in the cooler temperatures,,. With our recent 10 degree temps I am unable to close the visor due to constant fogging now that it has been cleaned with this product,,.
Date published: 2019-11-22
Rated

5

out of

5
by
Crackerjack
from
best stuff I've tried
it really works!, was skeptical, especially the price but worth the dough. Don't need much so its gonna last.Worthy investment
Date published: 2019-11-21
Rated

4

out of

5
by
Jaggy
from
Very good cleaning product
Very easy to use, smells nice and works very well.
Date published: 2019-09-08
Questions
Can it be used on painted surfaces such as the body of the motorcycle?
No problem, does an awsome job. You might need to buff it just a little when your done the whole bike just to give it that little extra shine.
Date published: 2019-10-02