Renthal Street 7/8" Handlebar
Item # : 120295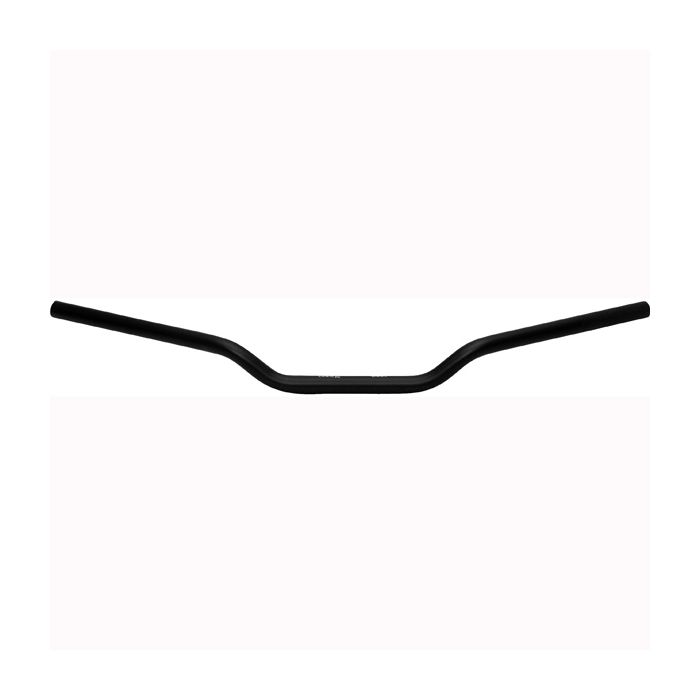 Renthal Street 7/8" Handlebar
Item # 120295
Description
Renthal Street 7/8" Handlebars
Renthal 7/8 handlebars re-wrote history when they became the first aftermarket aluminium handlebar to be fitted as OEM on a Japanese motorcycle.
All Honda CR/CRF and Kawasaki KX/KXF models (except minis) are fitted with a Renthal 7/8" handle bar as original equipment.
The exclusive aluminium alloy and the advanced manufacturing processes we use result in a handlebar which is more than capable of withstanding the extreme rigours of motocross and supercross riding and racing.
Features:
7/8" (22mm) external diameter to fit most standard sized clamps and controls
7010 T6 Aluminium, which Renthal has exclusive rights to this specially developed alloy, for the manufacture of handlebars
High impact strength, lightweight and excellent vibration dampening
Shot peened surface finish to help prevent fatigue failure
Knurling - Grip end only - increases bonding between bar and grip
No knurling in clamp area, this could cause a stress riser and lead to fatigue failure
Anodising - a 15 step anodising process forms an integral coating giving protection against corrosion
Renthal's copyrighted, bonded lightweight single bolt clamping system for the cross-brace*, greatly increases strength whilst still allowing flex
Laser etched positioning grid
The highest quality - 35 individual steps/processes required in the production of each bar and 58 separate quality checks made
**Note: Renthal road handlebars do not come fitted with a cross-brace. The cross-brace is fitted to all Renthal 7/8" MX handlebars and the street fighter handlebars.
Reviews
Rated

5

out of

5
by
Evan
from
Nice light bar
Great bar. Super light and stiff! I bought the silver one (LOW). Note that the photo for all the silver ones has the cross brace. It does not come on all models!
Date published: 2016-03-28
Rated

4

out of

5
by
Farley121
from
Great Replacement
I bought this to change out the somewhat awkward bars on my 599 Hornet. The bars are a great upgrade. The center area has index marks for easier centering of the bar. Beware though, the inner diameter is smaller than on steel bars, due to the thicker walled aluminum. Any bar end accessories that require insertion in the end of the bar, must be made for aluminum bars or you will need to do some McGuyvering.
Date published: 2016-08-14
Rated

4

out of

5
by
Barry
from
Excellent Mod for an FZ07
Bought these for my FZ-07. The way they are formed is fantastic compared to the stock bars I had on previously. I have no complaints about these bars except for the paint scuffed a bit when I was doing the install because my front brake leaver had to be slid on into position. Other than that a great bar for a great price from and excellent seller known as Fort Nine.
Date published: 2017-05-04
Rated

5

out of

5
by
Roux
from
Nice Replacement
Light and sturdy, while looking great. Needs inserts to install bar ends
Date published: 2018-07-25
Rated

5

out of

5
by
willydeee
from
Great bars!
I bought the medium silver handlebars for my '07 650 Ninja and they were a perfect match. Just drill your holes and it's good to go
Date published: 2018-03-28
Rated

4

out of

5
by
Copper
from
Good quality but didn't work for me
I bought this for my FZ6 for better wrist angle but the bend profile was the exact same as the factory bars. Renthal makes a good product just not the bend I was looking for.
Date published: 2018-03-21
Rated

5

out of

5
by
Franck85
from
excellente achat
super achat, livraison hyper rapide!! je vais remagasiner ici assurément
Date published: 2018-03-15
Rated

5

out of

5
by
Bryce
from
They are handlebars!
I have had them for a few weeks now. They offer a more comfortable riding position on my ninja 650. Factory cables were long enough to accommodate them.
Date published: 2018-02-14