Revit Sand 3 Jacket
Item # : 605851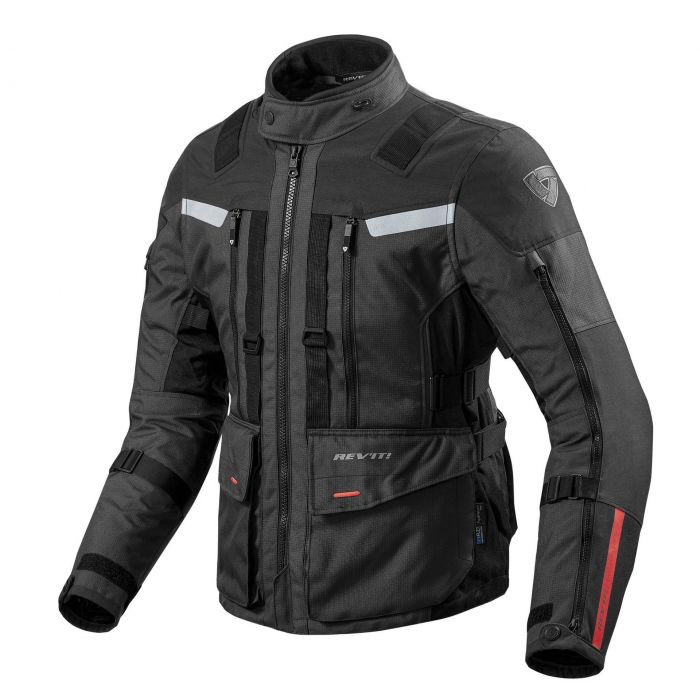 Revit Sand 3 Jacket
Item # 605851
Description
Revit Sand 3 Jacket - FJT228
The Sand 3 lives up to its versatile, Swiss Army Knife reputation. Its utilitarian character is second to none, starting with its tough outer shell, which is made of polyester ripstop and PWR | shell, ready to take on outdoor adventures. From the outside in, you'll find the highly breathable and detachable hydratex® 3L membrane to warrant a 100% waterproof jacket when installed. The detachable thermal liner further expands the use of the Sand 3, even in colder conditions. Taking into account the extreme use and abuse it withstands when developing the Sand 3, we prepared it for both the Leatt and Moveo neck brace, REV'IT!'s Challenger cooling vest, and REV'IT!'s highly visible Connector Hi-Viz Vest (sold separately).
A multitude of adjustment options - including adjustment draw cords at the hips - allow you to optimize fit depending on the configuration you choose. SEEFLEX™ CE-Level 2 armor comes standard, with the option to upgrade by installing REV'IT!'s SEESOFT™ CE-Level 2 back protector. With both liners removed, the Sand 3 offers incredible ventilation over your arms and body, which is then amplified through a waist adjustment strap that actively promotes airflow. With many storage options and the ability to attach your action camera to the shoulder bands, the Sand 3 opens the way for your next adventure, on and off road!
Ergonomic Features:
Adjustability:

Adjustment drawcord
Adjustment straps
Adjustment tab
Flexisnap
Variable height adjustment straps

Long and double short connection zipper
Prepared for Challenger cooling vest insert (sold separately)
Prepared for Leatt® and MOVEO® neck brace (sold separately)
Prepared for Connector Hi-Viz Vest (sold separately)
Fit: regular, tour fit
Pockets

Hand warmer pockets
Inner pockets
Membrane storage pocket
Stash pockets

Ventilation: VCS | zippers
Protection Features:
Protection:
Outer Shell:

Polyester ripstop
Lorica®
Polyester 600D
PWR|shell 500D

Insulation: detachable thermal liner
Waterproofing & Breathability: detachable hydratex® | 3L
Reviews
Rated

5

out of

5
by
Lyall_G
from
A must have
Incredible riding jacket, warm when riding In 3 degrees and cool in the heat. Lots of pockets, lots of venting and the elbow and shoulder armour can be adjusted to fit perfectly.
Date published: 2018-05-10
Rated

4

out of

5
by
Eddyt
from
Excellent jacket!
The jacket is as expected in regards to quality. As for fit...if you are adding the back protector, get a size bigger. The pad is 1" thick and once installed it consumes any extra space you would normally have with your normal sizing. I tried the Large size and it fit great without the back pad but could not do up the zipper comfortably with the back protector, waterproof liner and insulated liner all installed at once. Any extra room I had was consumed after installing the back protector. The only gripe about this jacket is that the weight of the back protector seems to pull the collar back and tight against the throat area. The neck material is soft so it is livable.
Date published: 2019-06-25
Rated

5

out of

5
by
Bfin
from
Great all around jacket.
Bought the jacket and pants in the lighter silver colour for a trip from Edmonton AB to Freeport Texas. Rode in every type of weather possible. Great air flow in the 40 degree heat in New Mexico and Texas. Went from sunny and 38 degrees in Moab Utah to 5 degrees and rain the next day in Montana after camping in Salt Lake City. I stayed dry and warm with both the thermal and waterproof layers zipped. Highly recommend great for an Alberta weather changing climate and all different temperature extremes.
Date published: 2019-07-07
Rated

5

out of

5
by
Bozodu450
from
Très complet
J'ai acheté couleur noir en 3XL, je fait 5' 10'' 250 livres et ventru et il me fait bien mais les manches sont longues, par contre il y a tellement de réglages des manches que en bout de ligne, les manches sont ok! Pour allez au travail le matin à 7 ou 8c sans doublure sans problème et lorsqu'il fait chaud, 25c avec les ouvertures c'est confortable. Pas encore utilisé sous la pluie mais la doublure imperméable semble très bien. Pas grand chose de négatif, sinon si vous possédez aussi un dossard REVIT qui selon la publicité se fixe au manteau, c'est vrai mais les fixations sont seulement près du zipper centrale, donc dans le dos aucune attache, ce qui fait que lorsque vous voulez mettre le manteau avec le dossard attaché dessus, quelques fois les manches ne sont plus dans les troues. Bref il aurait fallut une attache au niveau du derrière du cou.
Date published: 2019-06-21
Rated

5

out of

5
by
Bob13
from
Great jacket - had to size up
I tried on both the XL and XXL in this jacket. 6'3" and 190 lbs with wide shoulders and the XL was too small, even before I added the back armour. Fit well over my stomach but the shoulders and biceps were too tight. Jacket looks well built and I barely notice the shoulder and elbow armour. The extra back armour I ordered separately feels really noticeable at first but I think I will get used to it quickly. Also bought the Sand 3 pants and the large/tall fit well, just a little loose in the waist (wear a 34x34 jean). Euro cut of the jacket and pants is much better for the tall and somewhat thin than the American cut of some other brands, just may need to size up.
Date published: 2019-12-16
Rated

4

out of

5
by
Mar1
from
Very good Jacket
I originally wanted the Revit Defender Pro Gore-Tex Jacket, they didn't have it in my size and colour (XL), so I chose the Sand 3 instead, so far it is a pretty good jacket! I have used it it all types of weather conditions (rain, hot and cool temperatures) and it performed well. My only negative feedback with this jacket is that it doesn't have a small zippered pocket(s) to keep small items such as keys, earplugs etc, there are two large waterproof pockets out side and two medium sized pockets on the inside that are secured with velcro, but a pocket with a zipper would be nice to have.
Date published: 2019-09-18
Rated

3

out of

5
by
Klik
from
Bon mais cher
Acheté il y a un an et demi, 20 000km de fat, bon manteau agréable à porter, la poche droite ce déchire, je le trouve très chère pour la qualité général. La dorsal n'y est pas incluse..
Date published: 2019-09-07
Rated

5

out of

5
by
lselbee
from
amazing
I took a major fall with this jacket in the dirt....hit stumps, granite boulders and a bank...I'm fine just a bruise or two..and the jacket needs a stitch or two but did amazing work saving my life
Date published: 2019-07-31
Questions
Quelle grande différence y a-t-il entre le Sand 3 et le Sand Urban? Le Urban est plus cher aussi, qu'est-ce qui justifie cela? Merci!
Both jackets have different outer shell materials. Otherwise, the Sand 3 is neck brace compatible and has higher, level 2 Protection in it.
Date published: 2019-01-22
For those who have purchased this jacket I am considering it and the horizon 2.  I like the water proof idea of the horizon 2's outer shell and the lack of liners and rear pouch.  I like the cut and design of this one, why did you choose this one?
I chose the Sand 3 as I ride south and see temperatures above 30 degrees C at times. I prefer the removable liner and improved breathability for hot weather over a non removable liner. The sleeves also vent from top to bottom. This feature is great in hot weather. The Gore-Tex liner is very effective in wet or cold weather. It works well in steady rain or snow even at near freezing temperatures. The only small negative is the jacket's outer shell gets wet during a rain. I also prefer the lighter colours available in the Sand 3 for visibility and cooling. I'm sure either jacket is a good choice.
Date published: 2020-02-11
For those who have ridden in this Jacket for several miles do you find the stiffness and front pockets cause bunching in the front area when your sitting on the bike.  Does this area cause discomfort when coming into contact with the tank? 
No I don't find that to be an issue. Before you ask,  The Back protector is fine as well.  
Date published: 2020-02-05