Revit Womens Eclipse Jacket
Item # : 605801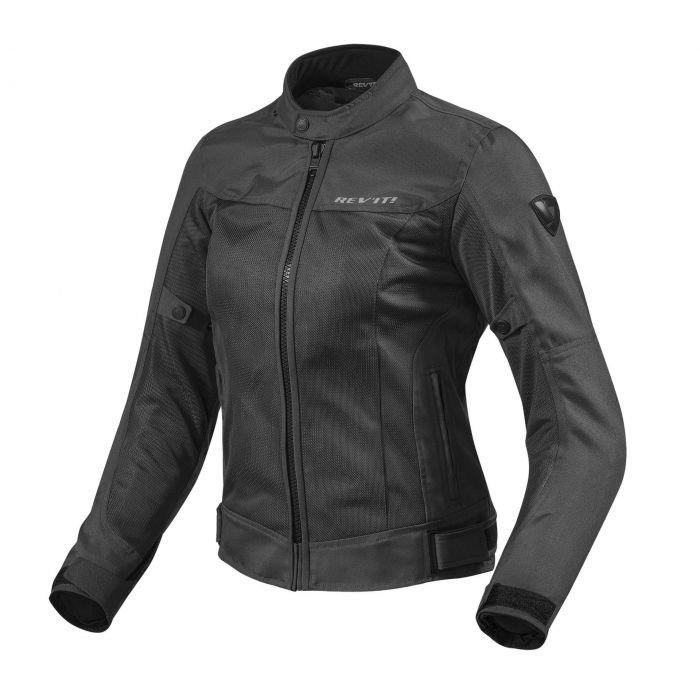 Revit Womens Eclipse Jacket
Item # 605801
Description
Revit Womens Eclipse Jacket - FJT224
The REV'IT! Eclipse Ladies motorcycle jacket brings you back to basics when riding in hot, summer conditions. By combining abrasion-resistant polyester at the impact zones, and full mesh on the rest of the jacket, we made sure you'll feel the breeze while staying protected. CE-rated protectors come standard at the shoulders and elbows, and the jacket's protection can further be upgraded by installing REV'IT!'s renowned SEESOFT™ CE-Level 2 back protector insert. For extra comfort, we installed several adjustment options, as well as a double jeans loop to keep the jacket in place when you ride.
Ergonomic Features:
Double jeans loop
Adjustability: adjustment straps and tabs
Fit: regular, tour fit
Pockets: inner pocket, slit pockets
Ventilation: ventilation panels
Protection Features:
Reviews
Rated

5

out of

5
by
Motercycle Stu
from
Love It
Riding in the Revit Eclipes in Vancouver CA for two months - love it. Looks good and feels good. It was 28 degrees Celsius yesterday - I was cool. When It was 5 degrees last month - I threw a jacket over top. When it is cool; layering over top of the Revit Eclipse is the best. XL fits nice and snug. 6'-1" 210lbs. I wish the jacket was a couple of inches longer at the waist .
Date published: 2018-05-14
Rated

4

out of

5
by
Colin
from
Great jacket
I really like the jacket the armour is nice and the jacket fits well, it does run a little bit small so go up one size. The arms where a little long for me but most should have no issues
Date published: 2019-06-19
Rated

4

out of

5
by
Dopaminez
from
Happy with purchase
I was looking for something to keep me cool during the summer. Very happy with the quality and clean design of this breathable textile jacket. Little bummed that it didn't come with a spine protector for the price.
Date published: 2018-06-20
Rated

4

out of

5
by
Levicook01
from
Great jacket, possible allergy issues with armour
I bought this jacket towards the end of the summer when my perforated leather jacket was just unbearably hot and it was amazing! It flows a ton of air, feels feather light, and is very comfortable, i did notice some issues with the felt-like material than lines the collar being really warm on my neck, a little weird for a hot weather jacket, but overall i really like the jacket, it fits a bit looser which is good for me as i'm a bigger guy, and it looks great, i recieved a few compliments about it from non riders, my main issue with the jacket was that i noticed after a short ride to run a couple errands and get lunch i had a lot of discomfort on my elbows (uncovered under the jacket as i had a t shirt underneath the jacket), when i put the jacket back on after my lunch it turned into a painful burning sensation and a lot of heat on my elbows, i checked in the mirror when i got home and noticed a big red rash on the skin around my elbows, i'm not sure if this is an allergy issue or a heat issue or something else but it was extremely irritating and the rash lasted the rest of the day, i fixed the issue by using the d3o inserts from my leather jacket which fixed the issue, overall I can't really dock the jacket any points as i think it was most likely an allergy related issue given the symptoms and how long they lasted, i'm impressed with the jacket but the armour inserts could definitely be better, i would have liked to have seen seesmart armour there in place of the cheap, rigid knox inserts
Date published: 2019-12-29
Rated

4

out of

5
by
jayhen
from
Cool in every sense of the word.
I moved to Toronto and the summer is extremely hot and humid. My light weight leather jacket that was previously used by me for summer, did not work here. I would get drenched with sweat. Most people here just ride in T-shirts but I did not want to go that route and be unprotected. I looked for a summer jacket that had mesh for cooling. This jacket works perfectly. It keeps you cool and has elbow guards. Important to also buy the matching back protector. The total price is good compared to other options. I really recommend this.
Date published: 2019-08-30
Rated

5

out of

5
by
LeeBee2018
from
Great jacket
This jacket appears to be good quality and works well. I was originally attracted to the brown colour, which is rare in motorcycling clothes. Seems most are either black or bizarre bright colors. The jacket is light and indeed airy, just as a hot weather jacket should be. I put a proper back protector in it. I have not crashed with it - yet. Sizing: I read in reviews that these jackets run small so I ordered a large rather than my usual medium. It fits well enough but I considered exchanging it for a medium. I am a largish medium person so thought a medium might be too tight, and did not exchange it. I like the slim cut of the jacket.
Date published: 2019-08-28
Rated

5

out of

5
by
Rider06
from
Hot Weather Rescue
This is the perfect lightweight jacket for summer riding. The air circulates through the entire jacket cooling you from front to back and arms as well. Highly recommended.
Date published: 2019-08-28
Rated

4

out of

5
by
shampoo
from
Quite cool in hot weather
Rode most of the summer with this jacket. As long as you are moving a little it will cool you off. Then straps at the back that hook into your pants aren't very well designed but good enough.
Date published: 2019-08-27
Questions
does the liner come completely out?
No, this jacket does not have a removable liner
Date published: 2019-01-16
Is the silver color a white (as it appears in pics/vidoes) or a silver/gray color?
The silver is an off white color, but the panels have more of a silvery tone to them. The jacket looks similar to the photos
Date published: 2019-10-17
Will this jacket accept a Alpinestars Nucleon KR-1i Back protector?
I unfortunately doubt it would fit, as the Nucleon KR-1i is a little large at the top. This jacket is made to work specifically with this back protector: https://fortnine.ca/en/revit-seesoft-rv-back-protector
Date published: 2018-02-15