RotopaX Gasoline Fuel Pack
Item # : 131850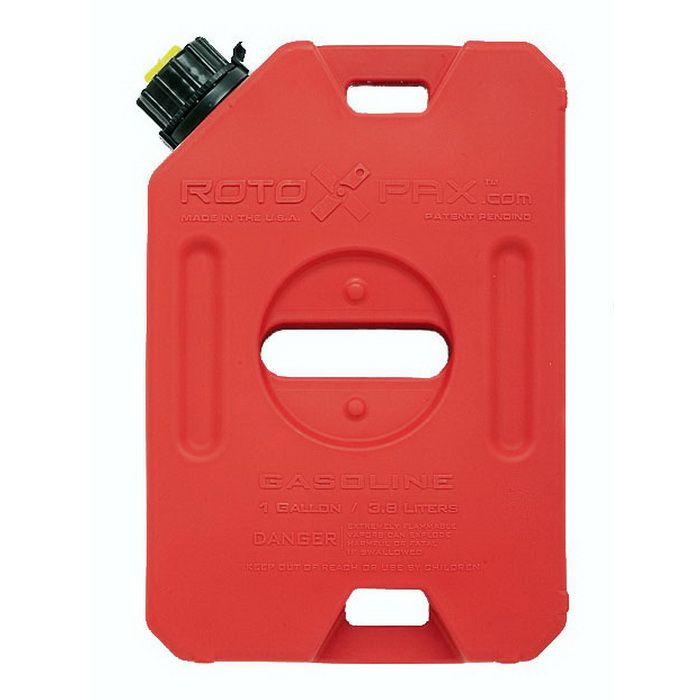 RotopaX Gasoline Fuel Pack
Item # 131850
Description
RotopaX Gasoline Pack
RotopaX Gas Packs are rotationally molded for superior strength and a leak-proof design that puts to shame traditional blow-molded carriers. RotopaX have solid thick walls and extra threads with a sure-seal gasket, guaranteeing it will not leak or vibrate loose. The rotational molded design strengthens construction and is made from colorfast materials, so they're less prone to fading or wearing out. The RotopaX packs feel solid, like you could run them over with a truck, and they wouldn't leak a drop.
RotopaX also attach to a wide array of OEM and after-market mounting brackets, as well as RotopaX Pack Mounts for a tight and secure attachment wherever you decide to mount them. The unique design of the packs and the mounts allows them to be stacked on top of the other for a lockable secure fit, even in the bumpiest of conditions.
Features:
Rotationally molded for increased strength and colorfast, leak-proof use
Solid thick walls and extra threads with a sure-seal gasket guarantee it will not leak or vibrate loose
Exclusive modular system design allows for flexible customization between multiple packs
Utilizes RotopaX mounting system sold separately
Dimensions:
1 Gallon - 9.5"L x 13.5"W x 3"H
1.75 Gallon - 14"L x 15"W x 3.5"H
2 Gallon - 18.5"L x 13.5"W x 3"H
3 Gallon - 15"L x 16"W x 4.5"H
4 Gallon - 34.5"L x 13.25"W x 3"H
Manufacturer Part Numbers:
RX-1G - 1 Gallon
RX-1.75G - 1.75 Gallon
RX-2G - 2 Gallon
RX-3G - 3 Gallon
RX-4G - 4 Gallon
Reviews
Rated

4

out of

5
by
Jsgoodwin
from
Perfect for the motorcycle.
I've only got a 10L gas tank so the extra gallon gave me some peace of mind on my last road trip. This can is nice and flat so it didn't take up much room on the sissy bar. I didnt buy the attachment bracket as the price was ridiculous, I held mine on with one bungee cord. That being said $100 for a one gallon jerrycan is pretty nuts aswell.
Date published: 2016-08-15
Rated

5

out of

5
by
Icarus040
from
Inexpensive peace of mind
I bought this for a trip across Canada. Although I haven't gone yet it already has come in handy. A bunch of us ride on the weekend and there is always one guy, who at one point, is freaking out about having to get gas. Now we ride with the comforting knowledge that I have a gallon with us at all time for those who can't remember to reset their odometer. A little fabrication needed to affix it to a V-star but nothing too complicated.
Date published: 2015-06-15
Rated

5

out of

5
by
Cheta867
from
Tough
Rode the entire Baja with this thing strapped on my carrier. Not a leak. Good stuff.
Date published: 2019-01-17
Rated

5

out of

5
by
RogerK
from
RotoPak
Works fine. Adds some range to the stock DR tank.
Date published: 2018-08-27
Rated

5

out of

5
by
Rideon
from
Exactly as described
Bought this for a road trip out west. Fit perfectly in my saddlebags. Does not mean or emit the smell of fuel. Perfect for long trips.
Date published: 2018-06-21
Rated

5

out of

5
by
Yegrandle
from
N'est plus inquiet pour le manque d'essence.
Fit très bien dans le coffre arrière de ma motoneige.
Date published: 2018-01-10
Rated

5

out of

5
by
Mark
from
Great product
I bought this to mount to the front rack of my 2015 Honda Rubicon. I use it for gas for my chainsaw when out cutting trail on my bike. The low profile design takes up little space and stays nice and low on the rack.
Date published: 2016-03-23
Rated

4

out of

5
by
Rockwoodjo
from
Expensive, but you get what you pay for...
The product itself is 5 stars, but the money value is only 4 stars (hence my rating). The cans themselves are very thick, heavy duty, and made in USA. Unfortunately, exchanges rates make them somewhat over priced here in the north. They don't bulge and contract nearly as much as those cheap Scepter ones from Canadian Tire, and they don't release vapors either. You could probably pack them in with your clothes and there would be no smell. I've ridden over them on my dual purpose (accidentally) and they held up perfectly, no splitting, stretching or bursting. Bravo.
Date published: 2018-05-13
Questions
Is there a plate to mount the rotopaX lox pack mount on the luggage rack @ rear seat on r1200 gs bmw 2012. For rotopaX 1 gallon fuel pack. Thank you for a reply.
Hi Bruce, The backing plate is located under our item #131874. These are universal products. ~Danielle, Customer Service, Canada's Motorcycle
Date published: 2018-04-20
Does this come with a mounting plate or do you have to purchase separately?
Has to be purchased separately.
Date published: 2016-06-25
Does the rotopax 1gallon fuel pack come with a spout. Thank you for a reply.
Hi Bruce, Yes it does. It is right under the cap. Thanks! ~Emily, Customer Representative, Canada's Motorcycle
Date published: 2015-06-30
What are the overall dimensions on the one gal rotopax?
8cm thick  23.2 wide x 34.3 high
Date published: 2017-03-13
Is there a mounting bracket for a Can AM Spyder RT Limited edition
Sure there is, however, would you want to destroy the look of your machine with this rough ATV Military auxiliary fuel tank? I have use these for a while on my adventure bike and unless you really need this extra range, I dont suggest it! Gaz spillage is always a concern and they could increase the risk of danger! also the filler neck is problematic and the design is poor!
Date published: 2019-01-18
Is this a Canadian (imperial) or U.S. gallon?
The question was is it an American gallon that is ment when they say it's capacity is (for instance) 1 gallon.....The answer is: it is American as deduced from your description of capacities. I have seen this in other answers you give, you overthink the question and give answers that give more information than needed and do no more than confuse the reader
Date published: 2018-07-18
Would it be sufficient to mount the 4gal tank with a single mounting bracket or would it require 2?
2
Date published: 2019-05-31