Shinko E805 Rear Tire
Item # : 478771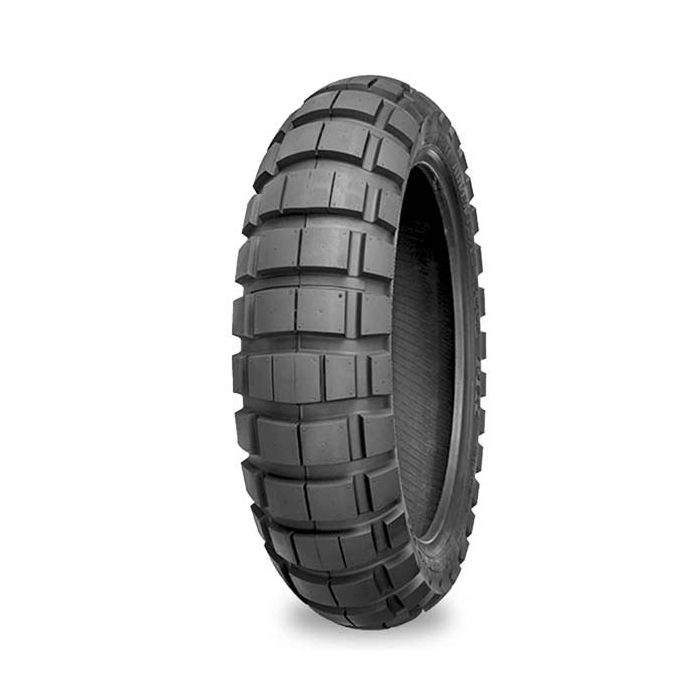 Shinko E805 Rear Tire
Item # 478771
Description
Shinko E-805 Rear Tire
Utilizing the latest in big block tire technology these adventure tires are ideal for situations where a rider spends 40% on-road and 60% off-road.
40% on-road and 60% off-road
Bias construction
Reviews
Rated

5

out of

5
by
dusty
from
Great Tire
I bought this tire from Canadian Motorcycle about a month ago. It Is really good in the gravel and gives me an extra boost of confidence on the loose gravel . Shinko 805 likes the pavement as well .Touched the pins leaning on a corner with 650 KLR . Have not tried on wet pavement yet because i don"t like the rain . The factory tires that came with bike lasted 2500 kms . I hope to get as many kms as reported in reviews on Shinko .About 3 times , or more kms. The price was very good and will probably replace front tire with Shinko 804 in a few months.
Date published: 2016-04-28
Rated

5

out of

5
by
Oaks
from
Great for 2014 Vstrom 1000
I have finally found a set of tires that will last. And all around great tire . Sand,mud,wet,dry! I'm impressed so far. One full season with these on. Already bought a new rear tire for the spring.
Date published: 2016-10-14
Rated

4

out of

5
by
R33S3
from
Good Tire
The 805 performs better than expected on road. It's quiet and cornering is good. Off road performance is good but lateral grip is deficient. Straight line and up hill grip is impressive, especially in loose rocks and medium to hard soil. Mud performance is horrible but it's expected from any 50/50 tire. Looks like I will get about 4000 good km on my DR650. The 804 front better off road but weird on road, took it about 800km to break in. Before that it felt like it was completely flat, no matter the tire pressure. Now it feels better but front is still unstable at highway speeds. Good tires, unbeatable value. In my opinion they are not 40% street 60% dirt, they are true 50/50s.
Date published: 2016-06-11
Rated

4

out of

5
by
Houseless
from
Ideal 50/50 Tire
About 1000km in on my set of 805/804 Shinkos and I gotta say I really do love them for the 50/50 balance riding i've been doing. Very quiet on road, I don't even notice them, confident in them while cornering and have been decent in the rain. Like others said you won't get much lateral grip on these but most of the trails I get to ride are quad trails where you're never able to take any turns fast and you're mostly battling lake-like puddles. Comfortable 70-80km/h on dirt roads and I'm sure that can be pushed by the right rider. Overall love them and chances are I will buy them again.
Date published: 2016-07-08
Rated

4

out of

5
by
Zoodio
from
Reliable
Worked great on and off road. Used on the NMBDR. Got a cut in the tire put a tube in and some goop on the cut and road 3000km on it
Date published: 2018-05-08
Rated

4

out of

5
by
Apester
from
So far very good tires
So far 1500 km on these tires and very happy. No noise on the Hwy. Great grip in the corners on dry pavement. No noticeable traction loss on wet pavement in the corners. Lots of confidence with this tire. Haven't got a ton of off road with it yet but so far very happy with these tires. The price point and features of this tire I will buy these again and again.
Date published: 2017-08-09
Rated

5

out of

5
by
Stewy
from
Love my new tires
Purchased Shinko 804 & 805 tires for my Suzuki V-Strom . I am pleased with their performance particularly on gravel roads .
Date published: 2016-05-11
Rated

5

out of

5
by
SmokeJumper
from
E805 Shinko
Bought this tire for rear on KTM 1090R Excellent value . Tire performs great on road and off Will get another when this one wears out
Date published: 2019-09-09
Questions
I was wondering with the shinko 805, which option is the tubeless option for the size 150/70-17? Going on a BMW F850 GS.
That size isn't offered as a tube type for this tire. It only comes as a tubeless but you can still put in a tube with that one.
Date published: 2019-02-03
What does the TT/TL/MC stand for at the end of the tire size?
TT = tube type tire TL = tubeless tire MC = the tire is for motorcycles
Date published: 2019-10-11
Is the 150/70 18 tubeless? I have a ktm 1090 adventure r
Yes, the 150/70B18 size is tubeless
Date published: 2019-10-11
Is the 150/70B17 a tubeless tire?
Yes, the tire is tubeless. If it is a tube type tire, it will have "TT" after the tire size
Date published: 2019-10-02
Anyone use the 150 80 17 on the KTM 1190 (Non R)? And the 110 80 19 on the front...I'm hoping someone has fitted them and found them to work...
Yes I did Vert happy with it good for the price only better in dry condition but vert good overall
Date published: 2016-09-13
Is this a tubeless tire?
Yes , and on my gsa 1200 it was a good riding tire , both on and off road ! Last longer than the tk80!!
Date published: 2018-06-06
I want to run this on the back of my 390 duke, what 17" front should I pair it with the conti tk? Or should I get a set of the 705's? I want confidence on smooth hwy, but mostly ride smooth to rough tar and chip roads,, gravel and fire roads & some trails
I've been running a Shinko 805 rear with a tkc80 front for the last two tire changes. Awesome setup on gravel and light trails, gives up nothing on dry asphalt, and I'm confident with this setup in the rain. Decent on the highway, if its noisy I've never noticed.
Date published: 2019-04-02
Are these tires recommended for heavy adv bikes DL 1000 GS 1200 KTM 1190?
Great for 2014 Vstrom 1000. 
Date published: 2016-08-08